Classic & Simple Family Room
Designer Rebecca Driggs creates a gorgeous living room with a simple mantra: Go custom!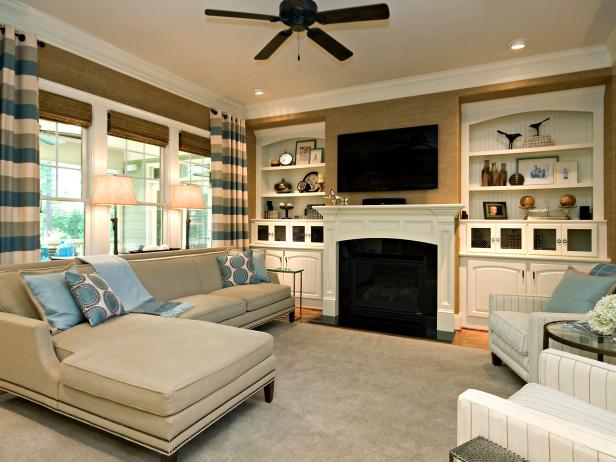 Brown and White Transitional Living Room With Striped Curtains
Custom-built furniture and printed drapery add character to this classic and comfortable family room for five.
Designer Rebecca Driggs of Driggs Designs was asked to create a comfortable living room with seating for five – the only hitch: the room had very little wall space for furniture due to multiple entryways to other rooms.
Relying on custom furniture and carpeting, Driggs created an attractive room for everyone in the house.
Driggs shares how the result is even better than what she imagined.
What was on the homeowners' wishlist?
The family wanted a stylish space in which to hang out and watch television together. They needed room for five people to lounge comfortably.
How did you overcome obstacles?
The room was difficult to furnish because it had openings to the adjacent kitchen, foyer and back hall; it also has a door leading to the screened porch. Keeping the custom-built furniture streamlined and simple was the key to achieving an open and airy space.
How did the end result match your original vision?
The family room required a large rug to accommodate the 110" sofa. We ended up using wall-to-wall carpet that we cut and surged to the exact size required. The carpet did not have as much interest as an area rug, so we compensated by selecting modern horizontal stripe drapes and coordinating pillows to bring color into the room.
What lesson did you learn from this design?
If you don't find exactly what you need for your space, don't be afraid to go custom. If we had limited ourselves to only store-bought sofas, they would have been too small or too big and bulky for the room. The same thing applies to the carpet.
What are the hidden gems in the room?
The room has beautiful built-ins, furniture and accessories but the real "wow" comes from the drapery and pillows. The horizontal stripe in the drapery has big impact on an otherwise neutral room and the accent pillows add color to the light-colored furniture.