Modern NYC Apartment Infused With Color, Vintage Collectibles
For a collector of vintage items with a love for color, bare, white walls in a modern New York apartment just wouldn't do. Designer Allison Lind repurposed furniture and materials to transform this blank space into a cozy, colorful retreat.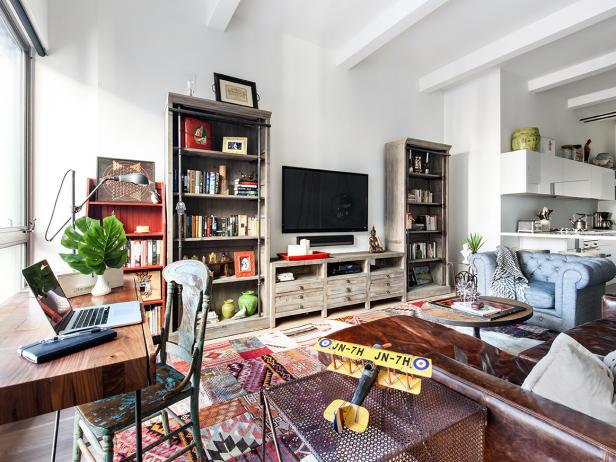 Vintage Meets Modern Living Room
Vintage accents meet a modern aesthetic in this living room complete with several bookcases. An added small work space makes this living room perfect for both work and relaxation.
With her children grown and living on their own, Allison Lind's client wanted to downsize from an industrial loft in New York City to a modest apartment. At the top of her wish list: outfit the ultra-contemporary space with her vintage collectables and complement with color.
"She has cool antiques, a lot of funky finds," says Lind, whose signature RE:LOCATE service allowed her to coordinate the move and unpacking process for her client as well as the design. "She didn't want that stuff gathering dust in storage."
Because the space was a rental, Lind and her team weren't permitted to make any changes to the pristine white walls. They couldn't paint, use wallpaper or hang light fixtures, despite the client's request for color.
Vintage Meets Modern Work Space With Wood Desk
Vintage accents give flair to this work space complete with a wood desk and two bookcases. An eclectic rug adds some color to the space.
To work around this, Lind selected vibrant accents that both enlivened the space and coordinated with her client's antiques. In lieu of painting the living room walls, the designer used a colorful, hand-stitched rug from Turkey to bring texture and energy to the floors.
Although Lind's client wasn't sure about the piece at first, she quickly fell in love with the unique design and how it softened the apartment's stark interior.
"Every square is a different piece of a rug that's been sewn together," Lind explains. "I just had a feeling that it was exactly what the space needed."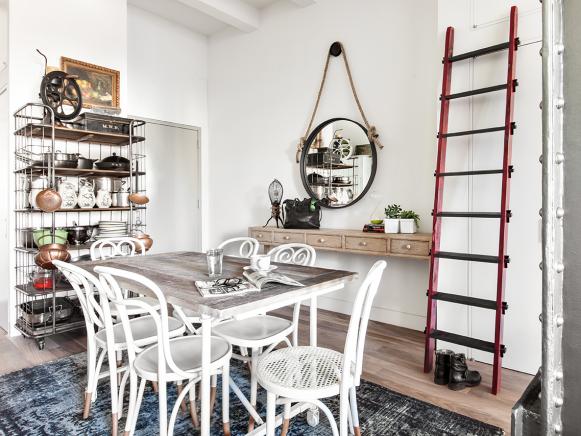 White Dining Table in Vintage Meets Modern Dining Room
A vintage dining room table is adorned with white chairs. Fun vintage accents like a hanging mirror and ladder adorn the space.
The designer's keen intuition led to another resourceful solution: a reclaimed wooden table in the dining room. Where the white-painted legs complement the modern walls, the rustic tabletop suits the client's preferences for all things vintage. As a result, this single piece bridges the gap between two sharply-contrasting styles.
Further, by pairing the table with six wired chairs and an open shelving unit, Lind provided her client with a touch of the familiar, industrial-inspired elements she once enjoyed in her loft. In this way, the designer ensured that her client's new home felt as comfortable as possible.

She moved from pre-war exposed brick, wide plane floors and towering ceilings to a very clean, contemporay space. We wanted to transfer that to her new place.
Allison Lind, Allison Lind Interiors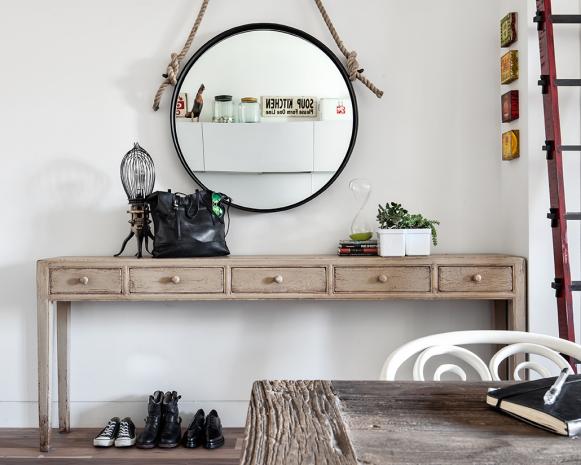 Vintage Round Hanging Mirror
A vintage hanging mirror is suspended by rope in this dining space. Jars and other vintage accents add fun to the modern aesthetic.
To make broad use of the space's limited square footage, Lind and her team introduced a hanging mirror and rustic ladder into the dining room. Positioned above a wooden console table, the mirror heightens the walls while the ladder leads to a hidden storage unit overhead.
Together, these pieces also evoke the idea of a foyer, making the narrow area seem that much larger.
Lind believes this approach helped her in outfitting the client's bedroom as well.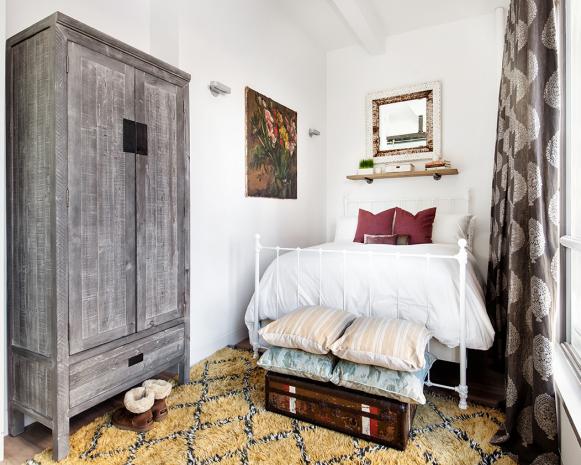 Vintage Meets Modern Bedroom
Although this bedroom space looks small, every bit of it is used. A large vintage wardrobe is perfect for storage space. Burgundy throw pillows adorn a white poster bed.
Working with a queen-sized mattress and minimal wall space, Lind needed to fashion both a nightstand and a closet without making the room feel crowded. To that end, the designer placed a floating shelf over the bed to hold basic necessities, while a vintage trunk at the foot stores extra pillows and linens.
Saturated burgundy and gold accents tie the space together. "She absolutely loves color," Lind says of her client. "I think it really enlivens and warms her home life."