Breezy Coastal Home Filled With Pops of Orange
This coastal home, by Martha's Vineyard Interior Design, is the perfect summer getaway. Throughout the home there are pops of orange that give the space a fun and energetic vibe.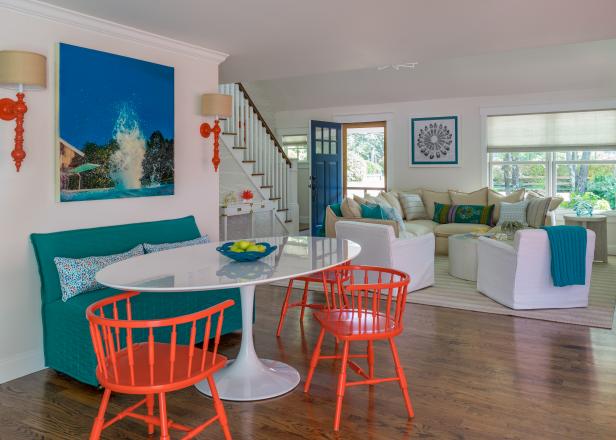 Living Room Flows Into Casual, Contemporary Dining Area
This home has a great sense of flow, as the living room easily transitions into the dining area. Here, a tulip table, cushioned banquette and several bright red chairs encourage the owners and their guests to take a seat and enjoy a quick bite.
What were the main items on your client's wish list for the design of their home?
The clients are a family of four with two boys, and a much-loved dog. The entire project was defined by our client's vibrant personality, infectious laugh and love of fun. There's no denying that it is the home of people that enjoy laughter, friends, family and entertaining. We always strive to design a home that reflects our client's lifestyle and personal style.
The clients had always dreamed of owning a summer home on Martha's Vineyard and looked for many years for just the right property. They knew broadly that they wanted a fun, casual and inviting space to enjoy with family and friends, as a respite from their life in New York. We were given quite a bit of artistic license early on, and were in sync from the first meeting. Having clients that were not only receptive, but excited with each presentation really fueled the fun factor.
What was the biggest obstacle you had to address when designing this home?
Major construction was not a part of this home's transformation. Our conceptual design needed to offer impactful changes to the space with minimal disruption, but maximum impact. Thoughtful space planning and material selection was our focus.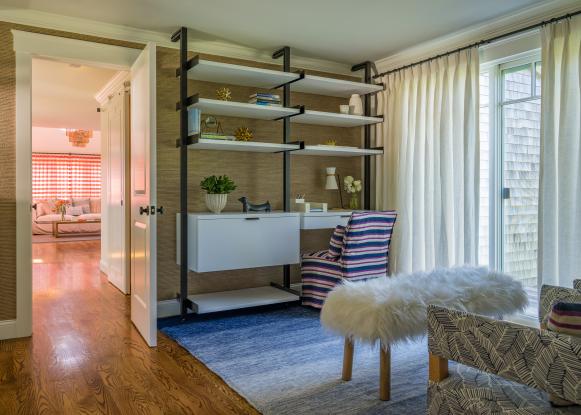 Transitional Home Office With Built-In Desk
When they need place to read or work, the owners can make use of this stylish home office, which comes with tall shelves, a built-in desk and a comfortable armchair. A blue ombre rug softens the floor and offers a touch of color.
For example, our client wanted a quiet work space, but there was no formal office or room for expansion. Our solution incorporated a modular wall hung workstation in the master suite, by Huppe, creating a private and functional office space. The wall-mounted application allowed for the addition of two lounge chairs, further defining two distinct destinations within the master. To visually connect these two areas, we selected a braided water hyacinth wallcovering, by Phillip Jeffries, that tethered the division, by only applying it to one wall. The heavily textured braid also anchored the work station and created direct connection to the woven raffia bed on the opposite wall.
What was the inspiration for your design?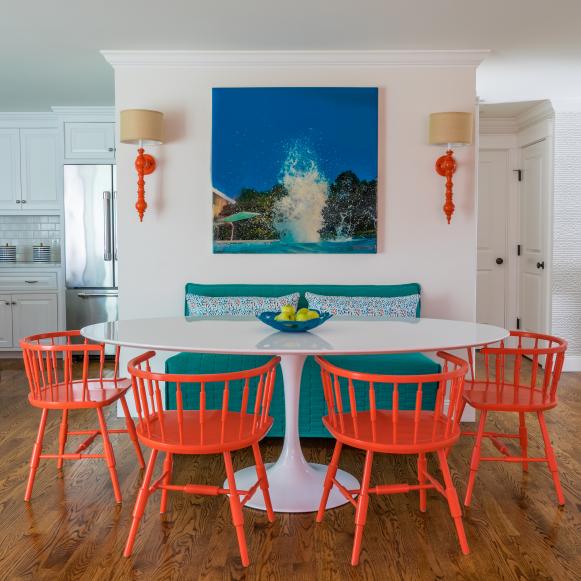 Contemporary Dining Area With Bright Red Chairs
In this dining room, crisp white walls become a canvas for two bright red sconces and a bold piece of artwork. Notice how the banquette below both complements the photograph and creates a striking contrast to the red chairs.
A piece of art titled "Cannonball", by Eric Zener, was the first item purchased after the closing of the home. This served as inspiration for the overall design direction, informing the playful approach. Like the home, the piece is undeniably fun, as the focus is a splash of water spewing in the air on a bright and blue summer day.
The home's open floor plan was also central to our decision-making. In space planning, we wanted to create separate destinations on the first floor without making things feel cluttered. When it came to color, we were focused on providing cohesion between spaces, without being overwhelming.
To achieve this, my focus was on creating a thoughtful and purposeful balance with color, lively shapes and patterns. Keeping the wall color and trim painted a calm canvas of warm white, offered the opportunity to take risks in other areas. Simple forms tempered the intensity of the colors being introduced. From the stairs, overlooking the first floor, the furniture and rugs are grounded in neutral tones and textures, and accent furniture in playful forms of concrete and bleached wood create a comfortable living space. The volume is turned up a bit with colorful pillows, glossy lacquered finishes and on-trend brass accessories.
What is your favorite detail?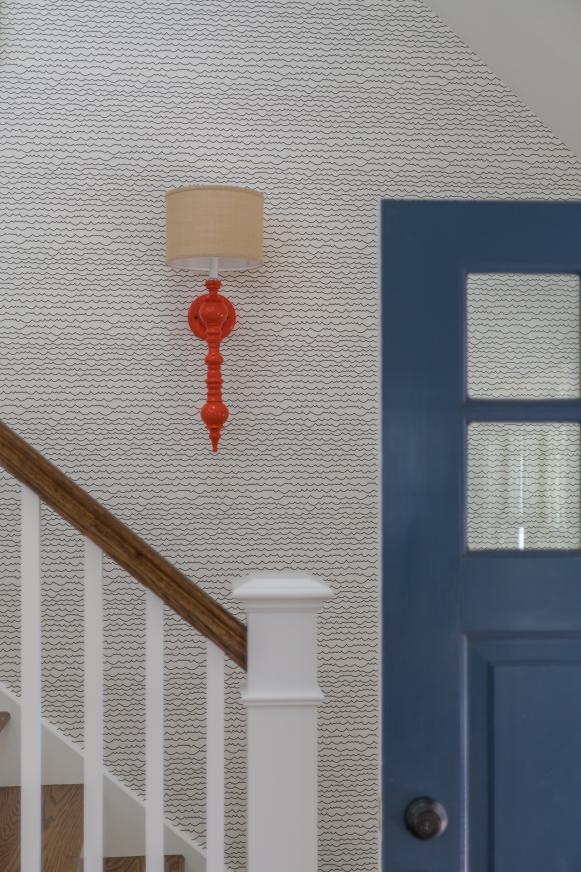 Graphic Black-and-White Wallpaper in Entryway
Black-and-white wallpaper was a smart choice for the entryway as it adds subtle visual interest to the space without being too distracting. Meanwhile, a bright red sconce offers a pop of color that will appear throughout the interior.
I love the Schumacher wallpaper in the entryway and stairwell leading to the second floor. The graphic black and white pattern that evokes hand-scribbled waves captures a nautical influence without feeling forced or routine.
My goal was to create a subtle, yet unexpected statement of "summer" upon one's initial entry of the home. I love the unexpectedly coastal influence it offers as the background for the "coast guard orange." Rachel sconces by Dunes and Duchess and the large piece of art titled "Channel Markers" by Trowbridge that depicts a calm and foggy harbor and still buoys, are the details that really help make an impactful entry.
The combination of these components set the playful tone we desired. Being visible from most perspectives of the open floor plan, these also informed many other design decisions.
How did you select the chandelier in the
foyer?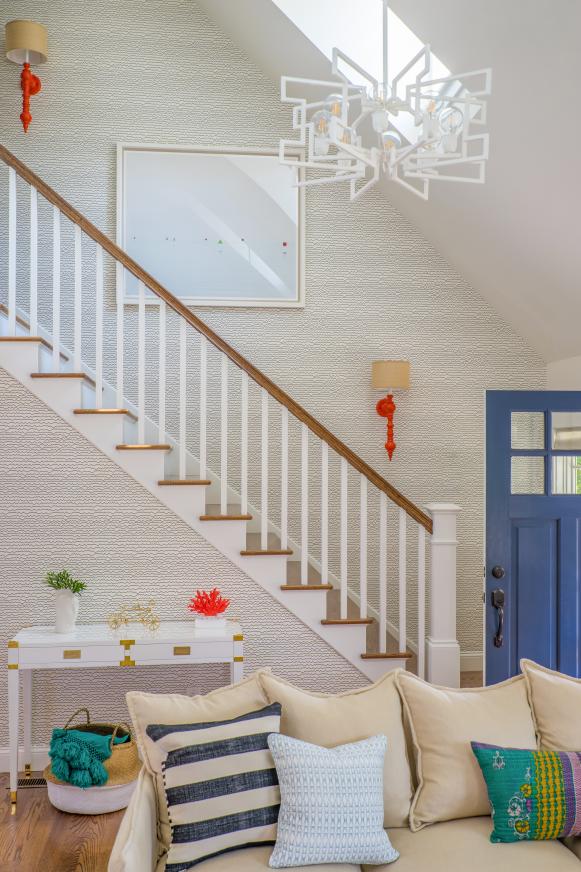 Coastal Entryway Boasts Cobalt Blue Door
A cobalt blue door sets a cheerful tone for this single family home in Edgartown, Mass., inviting visitors to step right inside the foyer. Here, a geometric chandelier brightens the space and calls attention to the skylights and soaring ceilings.
In search of a fixture that was a statement piece but not commanding, we chose the Lolita pendant from Shine by S.H.O. The white lacquered finish balances the bold geometric shape, while maintaining a casual elegance.
How did you decide to use orange accents on the main level of the house?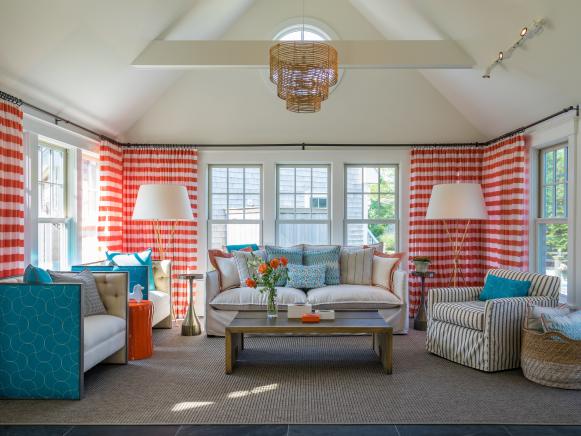 Red-Striped Curtains Enliven Coastal Sitting Room
Red curtains pack a powerful punch in this sitting room, instantly making the space feel bright and energized for conversation. A neutral loveseat and three patterned armchairs offer plenty of seats for friends and family, while a coffee table promises to keep their drinks within reach.
With the bulk of our work in coastal environments, and taking our cues from the surrounding views, we are often working with a soft coastal color palette while layering textures -- which we love. But with the freedom provided by this client, I ran with the opportunity to take a coastal palette and turn up the volume. The teal and turquoise tones were pulled from the "Cannonball" photograph, and we were excited to complement that with a bright buoy orange and graphic prints and patterns. I love that this became a bolder nod to our nautical surroundings.
What do the warm wood accents bring into the home's design?
Natural textures like woven rope, jute, and raffia are peppered throughout as a connection to our coastal environment while tempering the intensity of the more vibrant color palette and graphic patterns.
Design 4 Corners transformed this cookie cutter home into anything but ordinary, with custom finishes and a soothing blue color palette, the interior design is one to remember.
This coastal home, designed by Jennifer Mehditash, is a beautiful blue and white beachy escape. This home was voted the 2018 Faces of Design Awards overall winner and it's easy to see why.
This midcentury modern loft designed by Lindye Galloway Interiors is a beautiful culmination of colors and textures that blend together seamlessly.