Designer's Vibrant Pad Filled With Color + Pattern
Designer Sarah Wittenbraker shows off her colorful and pattern filled 1960s renovated abode. Sarah's unique style is showcased throughout this vibrant home, creating the perfect space for this designer to show off her personal style.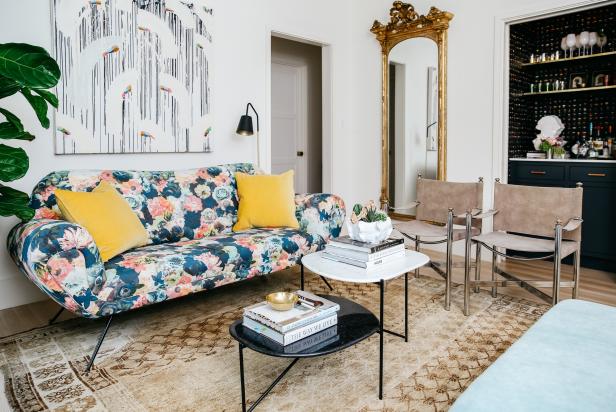 Eclectic Living Room Features Floral Sofa, Sunny Yellow Pillows
With an antique mirror, floral sofa and stacks of books, this living room is eye-catching and totally cozy. Because the rest of the space is defined by white walls, designer Sarah Wittenbraker used black cabinetry to draw guests' attention to the bar.
What were the main items on your wish list for the remodeling and redesign of this home?
With the help of my fabulous architect, Elizabeth Baird, we took the original 1960s ranch down to the studs for a total refresher, a bit of reimagining floor plan, and added a second story. Our mail goals were to create an ageless exterior that stayed away from trends and time-stamping, while creating an inspired, creative, comfortable space for our family.
What was your biggest obstacle in the remodel and redesign of the home and how did you address it?
Designer Welcomes Guests to Her Home in Austin, Texas
Down in Austin, Texas, a textured front door opens to reveal interior designer Sarah Wittenbraker and her sweet furbaby! Much like her wardrobe, Wittenbraker's home is wonderfully bold and colorful.
Our biggest challenge on the project was balancing budget and vision. Since it's our own personal home, we had to stop and meditate on certain decisions to be sure it's what we really wanted, and that we weren't following a trend or someone else's expectation. I would literally say out loud, "What would Sarah do?" when faced with a difficult choice. I've learned my gut instinct is the right answer.
What was the inspiration for the style of this home?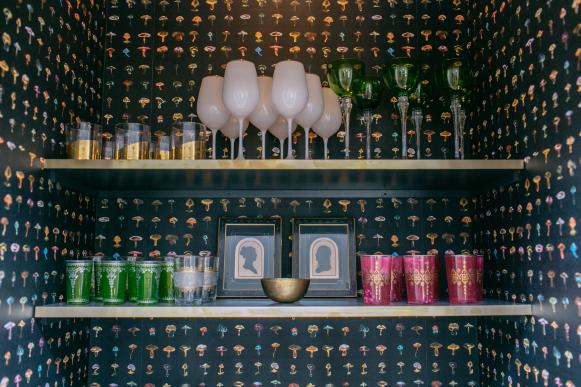 Living Room Nook Doubles As Chic Black Bar
Though small, this bar area is full of interesting details. Mushroom wallpaper speaks to designer Sarah Wittenbraker's playful personality, while pink, green and gold glasses pull in some extra color.
The first item I picked out for the decor of the home was the black bar wallpaper with the psychedelically colored mushrooms. It was dramatic, but understated at the same time - a nod to nature but with added glamour and a sense of humor. It set the color palette for the rest of the home - a black and white anchor, punctuated by glamorous, colorful, nature-inspired patterns in the wallpaper and textiles.
What was your favorite room to design in this home?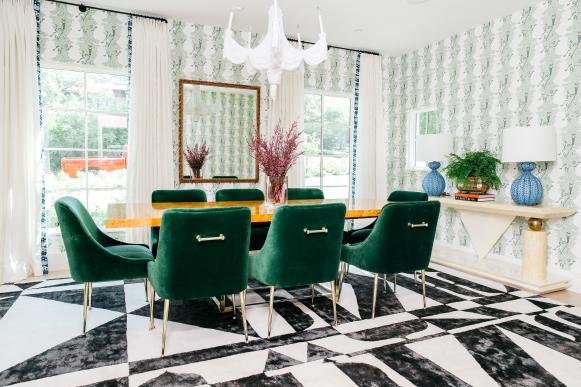 Gorgeous, Sage Green Dining Room Boasts Velvet Slipper Chairs
Hello, gorgeous! This dining room is a dream come true with sage green wallpaper, a wood table, velvet slipper chairs and a geometric area rug. A white chandelier centers the space and keeps it bright for conversation.
My favorite room to design was the dining room as it combines my two loves: angular black and white with an over-the-top botanical. I wanted the vibe of the room to be 'New Orleans with a modern twist'.
How did you select the dining room wallpaper?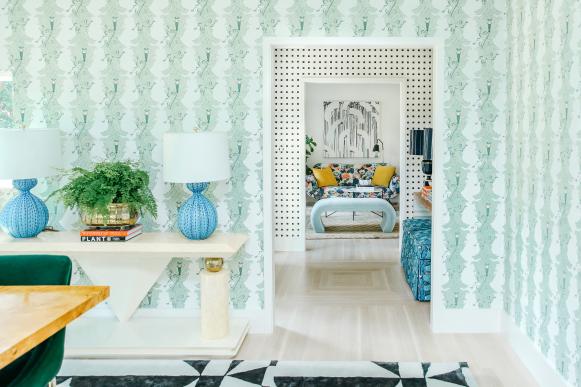 Gorgeous, Sage Green Dining Room Includes Geometric Decor
Turning right off the foyer leads guests into the owner's dining room. Here, patterned wallpaper washes the space in a gorgeous, sage green hue, while a white buffet and a black-and-white area rug bring in some geometry.
Finding the perfect dining wallpaper was a challenge. I considered going very graphic and modern, but in the end, I really wanted it to feel like we were dining in a beautiful but bold New Orleans restaurant. The pattern is quite feminine - more so than I had originally anticipated. Finding the modern rug to complement the green was truly a miracle. The room needed an edge, and this asymmetrical black and white graphic was exactly what I wanted. (It just took me a year to find!)
Do you have any tips on effectively pairing different colors in a home's design?
I would suggest finding one multi colored fabric or wallpaper that you adore and have it set the palette for the house. Pull colors and elements out of that one textile throughout the rooms, and your home will have a cohesive feel.
This design incorporates pattern, texture and color. What do these elements add to this home's overall design?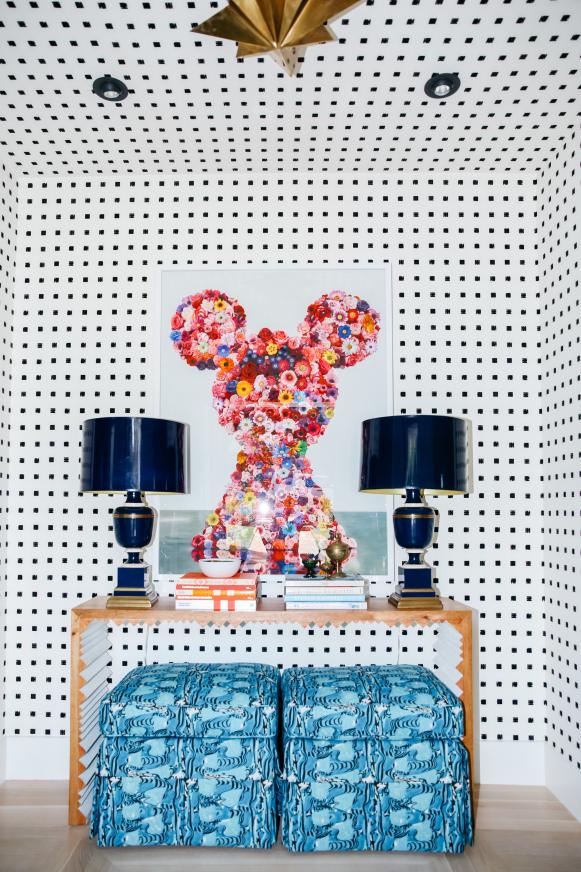 Contemporary Entryway Shines With Starburst Light Fixture
A floral print adds a fun, feminine touch to this entryway. Although the space is fairly small, designer Sarah Wittenbraker used a statement light fixture and stacks of books to pack the room with personality.
Carefully layering pattern, texture and color is what gives the home interest and longevity. Interesting and unexpected color and pattern combos keep the eye moving, and you'll notice new things each time you pass through a room. Textures provide an engaging layer that keeps the scheme from ever being dull.
Is there a design element that you incorporate into every project you work on?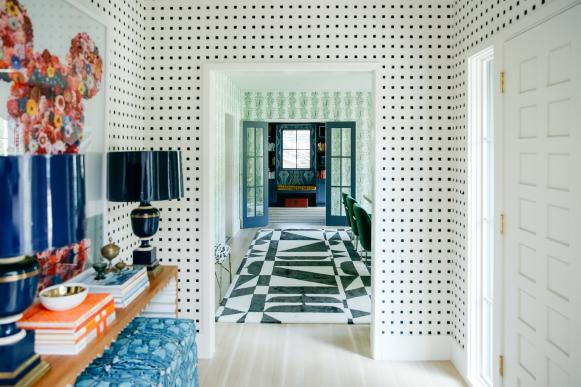 Contemporary Entryway With Graphic Black-and-White Wallpaper
This interior designer's home is full of color and pattern! Beyond the front door, guests will find an entryway with black-and-white wallpaper, a wood console table, royal blue lamps and a teal ottoman.
I incorporate black and white into almost any project. I never tire of their partnership and think a black and white palette is eternally chic. That being said, I rarely can show enough restraint to keep from tossing in a chartreuse, pink or green into the mix. I think this home is very much a manifestation of my style: an appreciate for simple lines with unexpected angles, coupled with vivid color by way of artistic and bold botanicals.
What are the "hidden gems" in your plan that really made a big difference in the overall success of your design?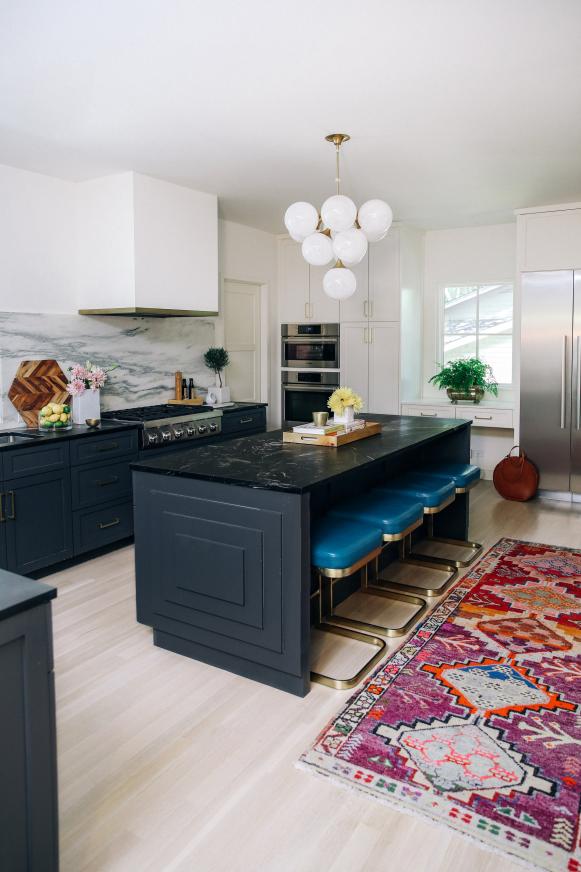 Contemporary Kitchen With Navy Blue Island
Because the rest of her home is full of pattern, owner and designer Sarah Wittenbraker kept the kitchen clean, white and fairly minimalistic. Black countertops and a navy blue island create just the right amount of contrast, though.
Paying attention to the small details is so important, like the brass trim on our bar shelves and kitchen hood. Those small design elements elevate a space and infuse personality Also, adding vintage pieces that 'only a mother could love' creates unique and memorable interiors that can't be bought off a showroom floor.