Modern Condo With a Big-City Feel
An empty-nester couple wanted to downsize from a large, traditional-style house. Amy Elbaum designed a modern condo to accommodate their changing needs, including having plenty of space for visiting children and grandchildren.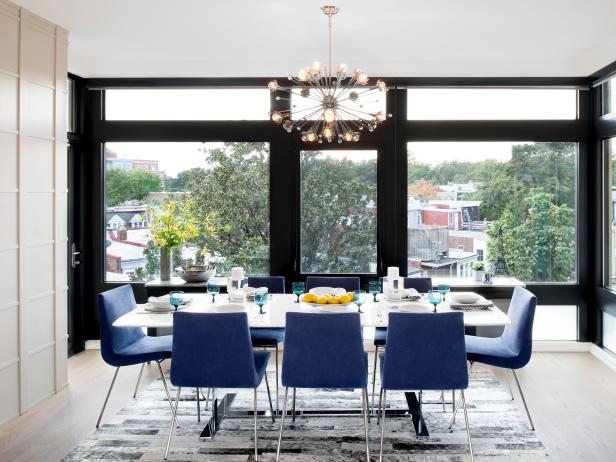 Sleek and Stylish Dining Room With Blue Chairs
In this sleek and modern dining room, color, pattern and texture bring the space to life.
What were the main items on your clients' wish list for remodeling/redesigning their condo?
This couple was relocating from a house in the suburbs to a condo in the city, looking to downsize their lifestyle. They wanted a home with a sleek cosmopolitan feel, but also wanted to have plenty of storage and space for when their children and grandchildren visit. They asked to mix neutrals with color and for an overall "homey" feel for the space.
What were the main objectives and goals you set out to accomplish for your clients? Was there a space that was most important to them?
The client had a quick turnaround time between when their house sold and when they were moving into their new condo. They chose to not reuse any furniture from their previous home, so decisions on what to purchase had to be made quickly. We were able to get everything installed in about three months, which is fairly fast in this industry. The living space was very important as they were looking to entertain as well as have a comfortable seating area to relax and watch TV. We also spent a lot of time making sure the master bedroom felt luxurious and serene, as well as making sure the office was very functional.
How well did the original layout work for your clients? What improvements and changes made the condo more functional? What makes this condo unique to your clients?
This space already had a fantastic layout and finishes. The largest issue we had to deal with was lack of storage. Coming from a five-bedroom house in the suburbs, this couple had a lot of items they wanted to display as well as keep out of sight. We added built-in bookshelves in the living room and in the office to provide additional drawers, cabinets and shelves.
Every project presents a unique set of challenges. What was your biggest obstacle during the remodel/redesign, and how did you overcome it? Any memorable moments or compromises?
The most difficult space to figure out was the office. The client wanted it to function as an office and guest room, so there needed to be a place to work during the day and a place to sleep at night. It was quite a small room so it took some time and thought to come up with the best solution. We designed a lacquer built-in desk unit with shelves, a pencil drawer and file cabinets that utilized an existing nook in the room. We then purchased a trundle daybed which can sleep two guests. We went through many, MANY scenarios before we came up with the final solution. At first it seemed like we would never be able to fulfill all the clients' requests within such a small space, but once we put enough time and effort into it, we found a great resolution.
Seeking design inspiration is what draws our readers in and makes them fall in love with a space. What was the inspiration for the style of this condo?
The clients were looking for a refined cosmopolitan look in their new downtown condo. Gray provided a baseline throughout the space, which was inspired by the ashy stain of the wood floors. To give the space a feeling of luxury, we layered many different patterns and textures throughout the rooms. From lamb's wool and velvet to cowhide and mohair, we didn't limit ourselves to just one type of textile in this space. We also combined many patterns, like pairing the Greek key rug in the living room with houndstooth throw pillows and the black-and-white-striped side table. I like to find new color combinations for each project that excite me. Mixing raspberry with slate and navy in the living room and combining lavender with black and white in the guest bedroom were fun, exciting palettes to work with.
While each room might have its own color palette, style and function, it's important for the condo to seem fluid and harmonious. How did you make transitions from room to room without losing the individuality of each space?
Each room is different and has its own personality, yet there is a definite design consistency throughout the condo. We used a mix of masculine and feminine pieces in each room, playing on the idea of contrast. For example, the guest bedroom has lavender walls paired with a houndstooth-print bed. The glamorous chandelier in the master bedroom is offset by the leather bed. In the living space, the silky mohair sofa and delicate glass coffee table counter the bold pattern of the area rug. By keeping an overall design idea consistent, each room can be different while still keeping the space harmonious.
What was your favorite room/space to design in this condo? What was the most difficult and why?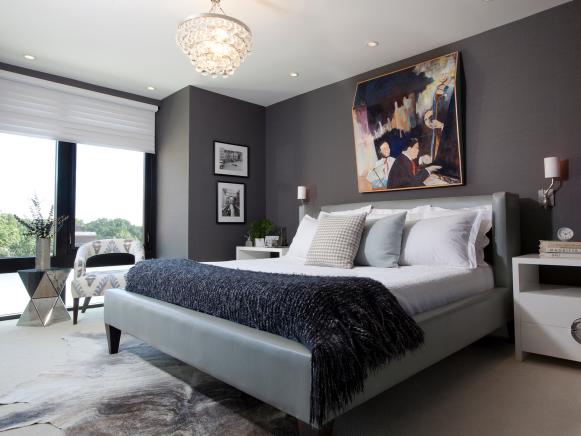 Sophisticated Gray Master Bedroom With Colorful Abstract Art
This sophisticated, modern bedroom features a charcoal gray and white color scheme with an elegant chandelier and colorful abstract art above the headboard as the focal point of the space.
My favorite room to design was the master bedroom. We covered the walls with a textured gray wallpaper that instantly added warmth to the space. On top of that we layered a seafoam green leather bed and a funky patterned chair. The finishing touches came via the wall sconces, chandelier, and nickel hardware on the nightstands and dresser. It was fun to create a space that feels both so serene and so sophisticated at the same time.
Was there a specific piece of furniture, fabric, color, texture or piece of art that was essential to bringing the design together?
The client wanted to use dramatic light fixtures to add some glamour to the space, which I was completely on board with. The fixture over the dining table completely transformed the space, as did the chandelier and sconces in the master bedroom. The unique pendant in the guest room also gives that room an edge.
After all is said and done, what do you think is the best thing about this condo? What is your favorite feature, element or detail of the space and why?
My favorite thing about this condo is that it reflects my design aesthetic while also giving the clients exactly what they wanted. Although compromises were made by both parties here and there, we were able to work together to create a space that provides both form and function — and looks good!
Your clients for this condo downsized from a home in the suburbs to this downtown condo. Talk about the challenges of downsizes and how you help your clients adjust to living in less square footage. They also had a change of design style from traditional to more modern. What was the process like to help the clients transition from one style to another?
My clients were fearless in terms of changing to a completely different design aesthetic. They fully embraced the idea of a more modern home, and their excitement and enthusiasm made my job very easy. In terms of the loss of square footage, that definitely posed a larger issue. We worked to add storage where we could, but there was only so much that could be incorporated without cluttering the space. The clients eventually decided to utilize a storage unit in the building in order to hold onto some items while not compromising the overall look of their home.
What makes this project uniquely yours? Is there a particular design element that you incorporate into every project you work on?
I make sure I try to never repeat myself as a designer. Each client is different and provides a new possibility for me to explore a new side of my design aesthetic. That is what I love most about what I do: I am constantly being presented new challenges which turn into amazing opportunities to evolve my style.
Our readers love the small details. What are the "hidden gems" in your plan that really made a big difference in the overall success of your design?
Some of the smaller side tables in this space are really dynamic. Instead of approaching these smaller pieces as less important, I like to choose more interesting tables with different patterns, textures or shapes to add a level of interest to my design. Sometimes it's the smaller details in a space that make the biggest impact.