Updated Indonesian Vacation Villa Radiates Bali Charm
Tasked with renovating an aging Indonesian villa, sisters Susanna Samaniego and Elaina Myers of Design 4 Corners brighten the interiors and add indoor/outdoor entertaining space while embracing the home's lush surroundings and honoring its Balinese charm.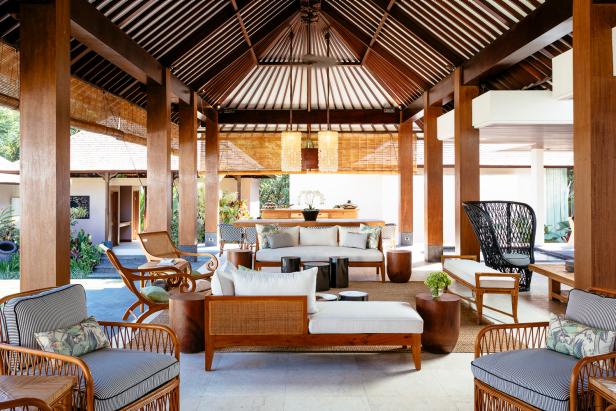 Covered, Outdoor Lounge
There's ample space to lounge around in this covered, outdoor living space. Cushioned furniture makes the space extra comfy and perfect for drinking cocktails.
Q: What were the main items on your client's wish list for the design of their home?
A: The client wanted to give the old villa a new look and feel and, at the same time, maintain its classic Bali charm. It was important that the villa appeal to the masses as it was intended to be a holiday rental. Given the fact that it is located in tropical Bali, indoor/outdoor living was expected.
Q: What changes were needed to the layout to make the home function better?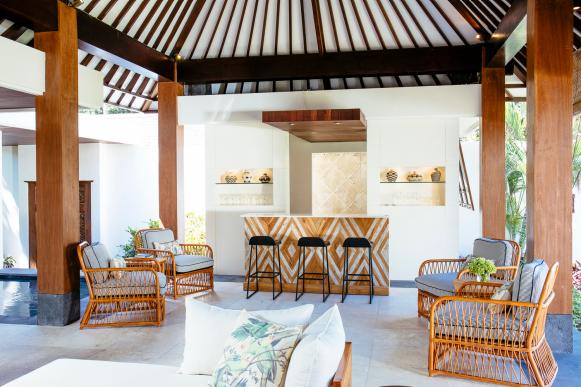 Coastal Outdoor Lounge & Bar
Imagine yourself relaxing by the pool in this outdoor lounge. Complete with a bar and plenty of cushioned seating, you'll want to spend most of the warmer months right in this spot.
A: The previous layout felt disjointed and unwelcoming. The client wanted to enhance the main living area so that it felt more like the center of the home. The outdoor dining area off the pool was not very functional as there wasn't enough space for large dinner parties and there was no lounge area.
We focused on redesigning the living area to feel warm and welcoming and to have enough seating and lounging area to accommodate upwards of 20 to 30 people. As for the outdoor dining area, we tore down the existing structure and redesigned a new area that allowed for ample dining space as well as a lounge space.
Q: What was your biggest obstacle in the project and how did you address it?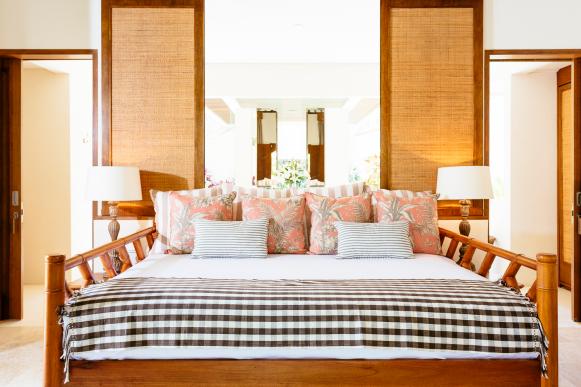 Coastal Bedroom With Mix of Patterns
The mix of patterns blend together well in this coastal bedroom design. Warm wood furnishings and trim set against crisp white walls create an inviting space to relax and unwind.
A: The biggest challenge was having to work with the existing structure, which had very heavy and dark materials and an outdated look. Our first order of business was to select materials that could lighten and brighten the space. the challenge was to do this within budget while accomplishing a seamless look.
We replaced old thatched roofs that were falling apart with new wooden shingle roofs that within two months cured into a beautiful gray color. We replaced the heavy, dark wooden floors with a brighter, white marble floor that was locally sourced. We repainted all the walls and ceilings and added new lighting.
Q: What was the inspiration for the new design of the home?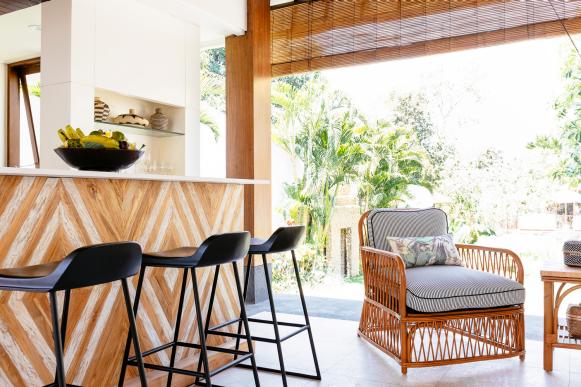 Outdoor Bar and Lounge
Stay cool during the hotter months by enjoying this covered bar and outdoor lounge. You have the option to keep the shade rolled up or down, depending on how much sunlight you're craving.
A: We wanted to create a tropical-chic look. We decided to mix colonial pieces with more modern pieces and to create an eclectic look by blending indigenous textiles from different islands around Indonesia and pairing them with more contemporary patterns.
To create a fresh look that popped, we decided to go with a black and white palette in the main living areas and from there add in a few accent colors that we picked up from the outside landscaping -- light greens and blues. We threw in a mix of patterns with the textiles and materials to give the space more depth.
For the bedrooms we went with different color palettes and followed the same theme as the main living spaces with colonial furniture and locally sourced antiques, art and accessories.
Q: What was your favorite space to design in the home?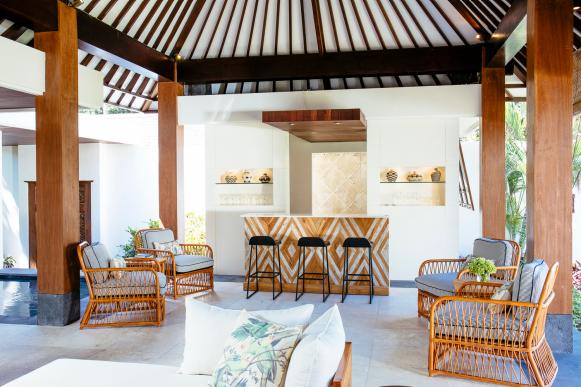 Coastal Outdoor Lounge & Bar
Imagine yourself relaxing by the pool in this outdoor lounge. Complete with a bar and plenty of cushioned seating, you'll want to spend most of the warmer months right in this spot.
Our favorite space was the open-plan living, dining and bar area. This was the showcase room that grounded the entire villa and set the tone for the rest of the spaces. The landscaping is what is so beautiful about this property, and we wanted to complement that.
Q: What are the hidden gems in the design?
A: The powder bathroom is definitely a hidden gem. it was a space that had a few details that we had to work with and, given the budget, we had to keep it simple and not expensive. We love to have fun with powder bathrooms. It's a small space that can be fabulous in big ways. We want them to be conversation pieces so that after your guests use them, they can come back and say, "Wow, that was fun."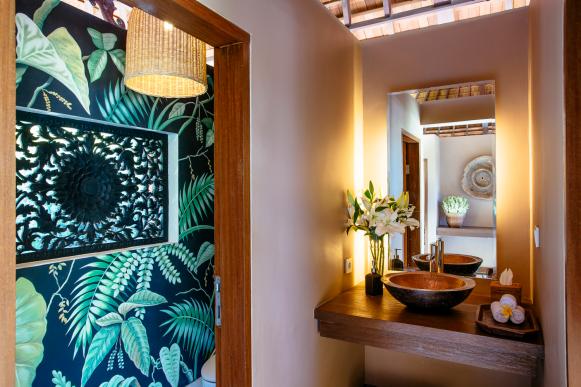 Tropical Powder Room With Cove Lighting
Complete with a floating vanity, cove lighting and a tropical accent wall, the powder room will make you feel like you've escaped on an exotic vacation.
We changed out all of the fixtures (in the powder room) for brass. We brought in a local artist and had him paint the walls with tropical trees, leaves and flowers, making it feel like you were stepping into the jungle.
It turned out to be a space that people did talk about after experiencing it. It became an interpretation of the beauty outside in a fun and fabulous way.
Q: What makes this project uniquely yours?
A: Most of our projects have a global, eclectic look about them. Our thing ahs always been to mix it up -- play with old and new, contrast modern patterns with ethnic ones and mix up styles of art and accessorizing. Our projects take us all over the world, so we design and create a well-traveled look that is both warm and interesting. This is the same thinking we applied to this project.