Designer Randall Waddell shares how dark woods added warmth to a contemporary kitchen, which featured a statement-making mosaic tile backsplash.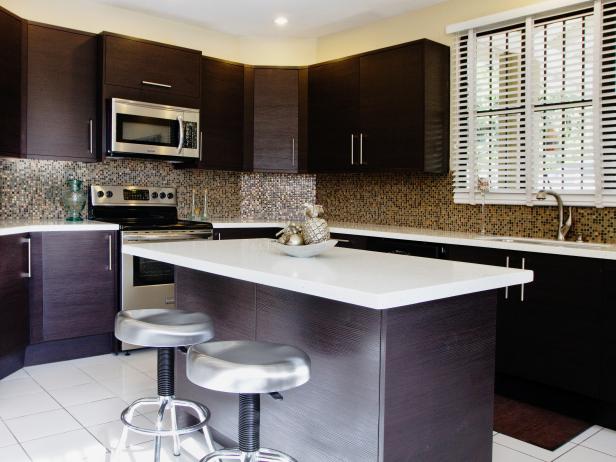 Brown Mid-Century Modern Kitchen With Metallic Mosaic Tile
Upper and lower brown cabinets provide storage in this mid-century modern kitchen from designer Randall Waddell. The island matches the brown cabinetry with white countertop. Two silver bar stools mirror the reflective quality of the small gold, black and silver mosaic tile circling the kitchen above the countertops.
Designer Randall Waddell created the perfect contrast with dark wood tones and pure white countertops for this streamlined kitchen design.
Describe the homeowner's wish list.
To start over! The previous kitchen was incredibly dated and not well built originally so function was lacking. The client wanted to maximize storage, update appliances and create a modern welcoming space.
What were the homeowner's design problems?
The function of the kitchen needed to be addressed, placement of appliances and preparation space. I wanted to make the kitchen an inviting place for socializing and a space the client would be proud to have as a visual centerpiece of her home. Her home is mostly open-planned and the kitchen can be seen from the dining and living room.
What was your biggest obstacle in this space?
The configuration of the cabinets was the main obstacle since we had to stay within the preexisting walls of the space for structural reasons. To overcome that, we had to have all our cabinetwork custom made to the most exact measurements so that it all fit neatly into the defined wall areas of the space.
How does the end result match up with your original vision?
The end result is a great reflection of my original vision. We did make changes to upper cabinet heights. The original plan called for standard cabinet heights, but the ceiling height allowed for taller cabinets so we took advantage of it.
What lessons did you learn?
How important plumbing is on a kitchen remodel and knowing where the water lines are located — as well as emergency access to a plumber when a water line bursts and you are flooding the home. Which happened three times! Going forward, I review the details with each trade so everyone is in the loop on water and electrical lines.
What are the "hidden gems"?
The gems in this kitchen are in the cabinets: beautiful wenge-style doors, all with soft-closures for a quiet close. The backsplash isn't hidden, but it's certainly a gem as the glass multicolored mosaics shimmer everywhere with tones of bronze, golds and browns highlighting the cabinets, the appliances and the countertops.