Historic Home Gets Family-Friendly Makeover
A historic house in Savannah, Georgia, got a family-friendly makeover thanks to Carter Kay's smart design. The home's coastal-meets-traditional style features natural materials paired with a neutral color palette and raw elements to create an organic feel throughout.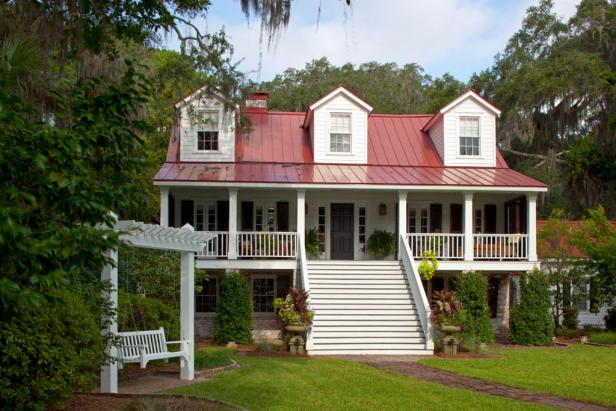 Historic Home With Cape Cod Style
A wide staircase leads to the front porch of a historic Savannah home. The Cape Cod-style house features Southern charm both inside and out.
What did your clients want for their historic home?
Our clients had been on a longtime search for a second home to share with family and friends. They eventually realized that over the years they had visited Savannah again and again. While visiting the area for a wedding they had an "aha!'' moment and started their serious hunt, which landed them in historic Isle of Hope. The house, which is on the main street overlooking the water, had been built in the 1800s. It had been refurbished over time but the color palette of gold, red and hunter green was not what our client envisioned for a restful getaway on the water.
Our first meeting at the house helped us develop the calm, peaceful plan that we quickly put in place. We took our cues from the colors of the surrounding low country: mossy green-gray, rich dark browns, tranquil beige and khaki. The house is quiet. The outdoors beckons!
How did you make the home more functional?
Guest Cottage for Historic Savannah Home
A tiny guest cottage nestled behind this historic Savannah home stands ready to welcome visitors. The cottage has a red roof that matches the main home, with both structures nestled in the shade of a large tree.
Our clients love to entertain family and friends. A quirky attic space was repurposed as a bedroom so each child could have her or his own space. The charming ground-floor kitchen got a larger center island which comfortably accommodates all hands helping with meals. A poolhouse was refurbished as a guest cottage and a smokehouse/kitchen was added for barbecues and fish fries.
As for integrity, one of our favorite features was the ceiling in the ground-floor dining room. The boards just barely touch, making for some cracks visible to a bedroom above. The smell of coffee brewing and bacon cooking in the morning entices that guest to come join the group. We couldn't change that.
What was your biggest obstacle on this project?
An addition on the back of the house proved quite a challenge — it basically looked as if a trailer had been driven into the backyard and attached to the house. As great luck would have it, our clients had hired the extremely talented architect John Deering of Greenline, and his vision for this space was masterful. This room, bar none, is the most charming, inviting and family-friendly in the house.
We had a nine-month deadline to refurbish five bathrooms, the kitchen and living spaces; remove wallpaper, dirt and grime; and repurpose that weird room on the back of the house. The contractor, Ralph Kuhn, and his team, were amazing. There were plenty of memorable moments, but let's just say that the defining one was when the jukebox was finally installed in that back room and Adele's "Rolling in the Deep" became our team theme song.
What inspired the traditional-meets-coastal style?
This house, the location of the house and our clients' desire for calm told us what to do here. The vista of the water from the upstairs living room drew our clients to the front side of the house with furniture arranged to maximize the view. In fact, they had a swimming pool removed so that they would always be paying attention to the river, the boats, the wildlife and activities out front. The color palette — warm taupes; soft, creamy whites; mossy gray-greens — throughout the house was dictated by the exterior surroundings.
How did you create room transitions?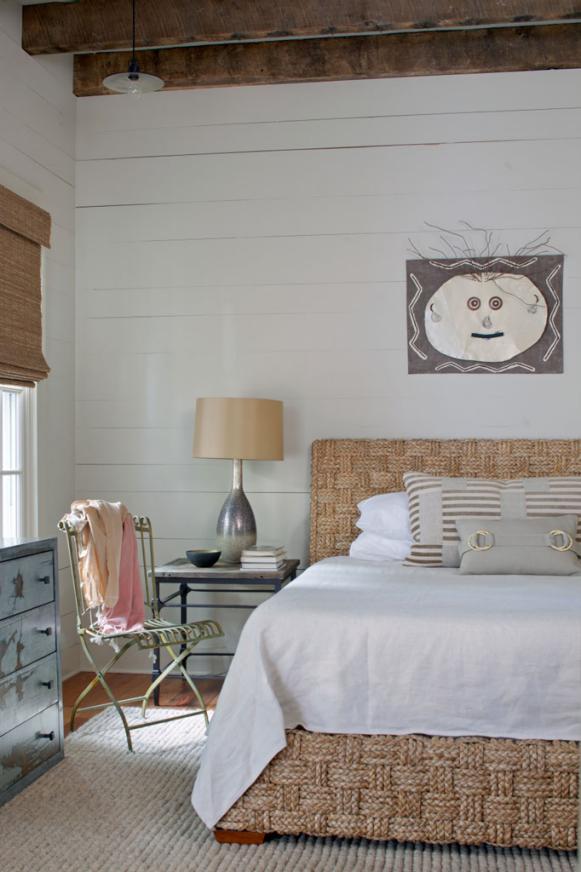 Eclectic Guest Bedroom With Folk Art
An eye-catching piece of folk art hangs above the bed in this neutral transitional guest bedroom. Painted shiplap walls, a woven wicker bed frame and natural window treatments add a touch of coastal style to the space.
While the color palette did not change much from room to room, each space has its own defining quirkiness. The master bedroom has a very large four-poster bed that looks out to the water, while a guest room on the same floor has iron twin beds placed in front of two awkwardly placed windows, Southern style. The guest cottage has a funky piece of folk art which our client enhanced with objects found on the property.
Why did you use a neutral color palette?
While the house and surroundings led us to a neutral color palette, our client has a penchant for, and looks good in, a rich mustard yellow. There are hints of that throughout the house to keep it from ever being considered drab.
What was your favorite space to design? Why?
The answer is probably that wonky, reworked and repurposed space off the back of the house. When we first saw it, it had an exercise machine, dog crates, a terribly misplaced fireplace unit, bad floors and worse walls. This space begged to be torn away completely, but John's vision was different. He removed the fireplace, and added beautiful beams, fossilized floor pavers and a built-in bar to divide the long, purposeless space. Once we understood what he had in mind, it was a delight to turn that space into a super family-, guest- and kid-friendly space. Seagrass and indoor/outdoor fabrics make it an easy room to enjoy.
Did a particular element tie the design together?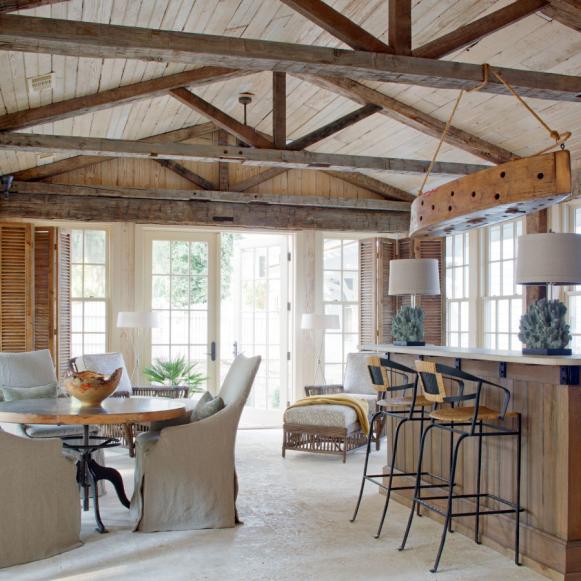 Neutral Coastal Great Room With Exposed-Beam Ceiling
Exposed beams highlight the vaulted ceiling in this neutral coastal-style great room. An antique fish trap hangs above the bar, while nearby a small round table surrounded by chairs offers another option for dining or gaming.
Several, actually. The first piece of furniture that we bought with our client for this house was an antique téte a téte for the upstairs living room. We reupholstered it in a tone-on-tone damask so it invites you to sit and look out at the water. It gives the room a very Old World, Southern charm.
Those mustard swivel chairs in the back room — what's not to love? The antique fish trap suspended by rope over the bar finishes setting the tone for that room.
What do the exposed beams add to the design?
They were already exposed in one room and we thought they were so beautiful we had them exposed in the room across the hall. We think that element speaks to the history of the house. It was grand, but not faultless, charming, not imposing.
What is your favorite feature?
This is truly a house that you don't want to leave. You walk in and you calm down. You immediately take off your shoes. I could sit in that dining room all night telling stories, making up stories, creating memories. And then drift off to bed waiting for the aroma of coffee and bacon to wake me up.
Where did you find the trunk? What about the chandelier and the sunroom cabinet?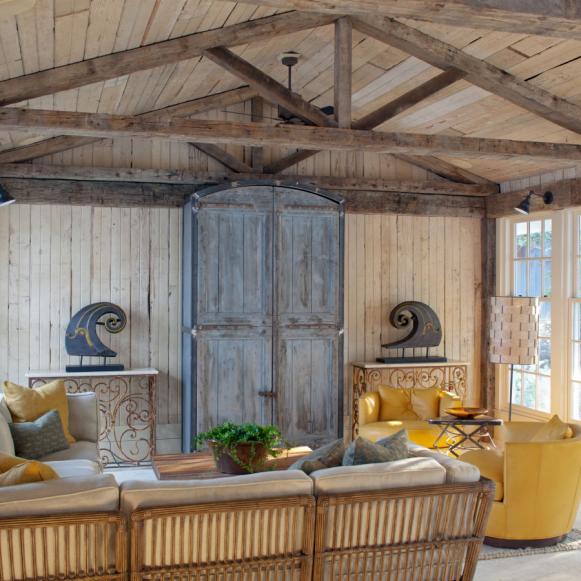 Neutral Transitional Living Room Features Natural Materials
An exposed-beam ceiling, wood-paneled walls and a wicker-frame sofa add an organic element to this neutral transitional living room. An antique cabinet draws the eye while mustard-yellow swivel chairs add welcome color to the room.
Here's where we have fun with design. The chandelier is from a source at the Atlanta Merchandise Mart, the divine trunk an antique from a local Savannah dealer. The two pieces work so well together — the old and the new. The cabinet in the sunroom is from an Atlanta store.
What makes this project uniquely yours?
Our style always focuses on our client — it's her or his style that you see shining through, particularly in this house. If anything, I'd say that we brought in a curating element to this project. It's easy to get carried away with too much stuff, even when you are striving for peace and calm.
What "hidden gems" are in your design?
I love the bronze-y metallic paint job in the library powder room. It's really a swampy-colored jewelry box.
We didn't plan for the Bob Christianson hand-painted mural to go in the dining room, but it is a defining element for this project.
I think that leaving the old, exposed brick, wood and beams was key to the overall feel and success of this project. Talk about organic — it was already all there for us.