Home Remodel Maximizes Space for Family of Five
Designer Jenn Feldman worked closely with her client, a professional organizer, to create a larger, more open living space perfect for the everyday needs of a family of five and spacious enough for easy entertaining.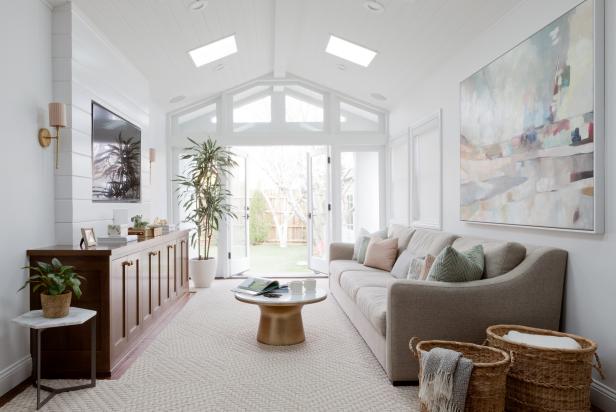 Bright, Contemporary Living Room
A carefully planned door allowed for maximum light to flood the room. A transom above was created to emphasize the height in an otherwise narrow room. Mid construction, six skylights were added to continue to keep the space light, bright and open, giving the illusion of a much grander space!
What did your clients want for their home?
They wanted to make the most out of their living space and maximize the kitchen and family room to the fullest. We designed a plan for the kitchen to expand and took an exterior courtyard space and planned to make it interior space, creating one large open family room off the kitchen. We knew the footprint of the room was going to be narrow, so we designed the space to gain as much height and light as possible. By creating a pitched roofline in the new family room addition, we were able to add several skylights and a new glass wall of doors with a large transom window above. Every ounce of space was maximized. The flood of light was incredible, creating a view straight back to their enclosed yard and large magnolia tree. We were also able to add in a new powder room and laundry/utility space into the addition as well.
What did you set out to accomplish?
My clients loved their home and location and wanted to update the home to accommodate their active life, creating a space fit for their young family of five. The old layout was functionally obsolete: a small, narrow kitchen, a tight dining room and no large open family space to entertain or live in. They also had a wonderful backyard that was hard to access and wanted better open flow for indoor/outdoor California living. Since the mom, Joni, is a professional organizer, there was no lack of function meeting good design. The collaboration between our creative concepts and her eye for detail was off the charts. Joni has always had an understanding of everything that's needed for a house with minimal clutter. Her list of what was important in the overall planning was always parallel to the design layouts so that no item was left behind. It was an incredible journey to learn from her organizational mind and carefully plan out all the small details together.
What was your biggest obstacle during the project?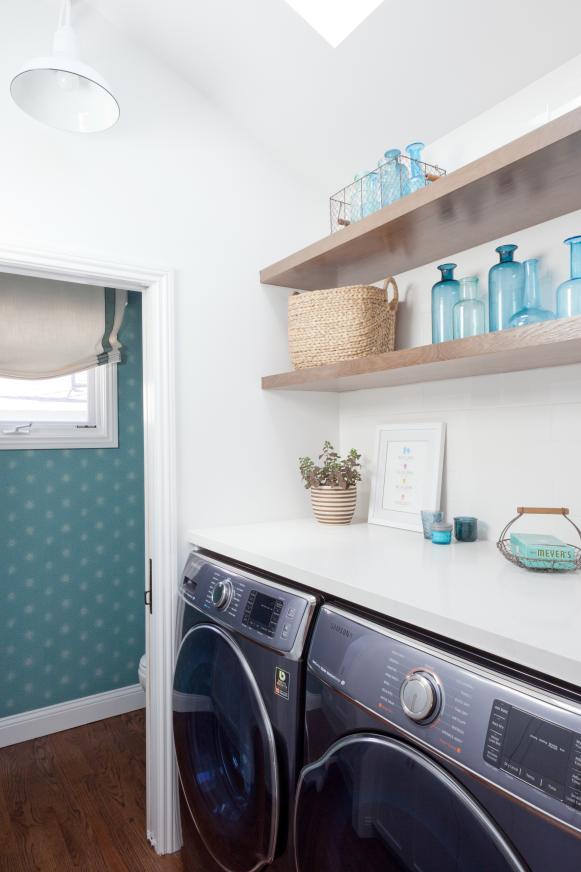 Updated Laundry Room
With merely an inch to spare, this laundry room was re-framed twice to accommodate every inch needed for the washer and dryer to stay slim and compact. With no room for a door, the family decided the gain was well worth the view, and with the mom of the house being a successful home organizer, the bet was safe that it would indeed be gorgeous & organized to look at, even when in full use. The ceiling was raised higher and skylights were added to create maximum use of this space.
The biggest obstacle came in planning the kitchen to have all the functionality desired while also including space for dining and entertaining. Since the house lacked a formal dining room space there needed to be extra thought to a flexible area for entertaining that also felt intimate for daily use. Once we unlocked the island configuration – narrow, long countertops with a drop-down banquet seating area — the space started to come together. By keeping the custom tabletop in the same Caesarstone slab material as the counters we kept all colors and materials consistent. Finding space for an additional powder room also proved challenging. By keeping the laundry room as an open passageway we were able to lay out the space for a full powder room with a pocket door. We navigated the details and adjusted things to make it all fit together like a puzzle. Only a professional organizer could commit to an open laundry room looking as gorgeous on a daily basis as Joni does.
How did you choose the color palette?
We are always committed to connecting the California colors of blue skies and green grass in all our designs, and this was no exception. With the scale of the home being smaller it was important to keep all the walls white and consistent and bright.
Once we chose the color of the kitchen cabinetry it was easy to choose the remaining colors. Neutral taupes and watercolor blues and greens accented the family living space, with pops of burnt orange to give contrast to the tonal, cool palette. There was texture in everything for an easy, layered look. Sofa arms were sloped low and round to keep the space open. The oval ottoman was designed in two pieces and on casters so the pieces could be moved when needed and multifunctional to have different uses — flipped over, the inside of the lid doubles as a table. The kitchen banquette was upholstered in a glamorous, durable faux leather. Everything counted.
The artwork in all our jobs is one of my passions. I am always shopping and buying art for clients and it's one of the strongest threads of our work at JFD. I always tell clients our job is to come in and get the whole house "dressed," and that adding art is like walking the red carpet with your best accessories on. It finishes a space and makes everything feel connected. I loved the water element on the large photograph in the family room — it's Slim Aarons Hotel Du Cap from the early 1970s, and I had the same photograph hanging in our office for a while. I showed it to my clients and asked them to think about it for a day or two; we ended up hanging it on the wall. I loved that it was hanging right across from the kitchen sink, and I imagined them daydreaming about the south of France while washing dishes. Joni called the next day and told me they loved it but there was one problem: the sunbather in the front of the photo by the pool was naked and the kids couldn't stop laughing at it. She feared it would have to go back. Luckily I knew there were two images that existed of this iconic shot and immediately went to one of my reference books to look. I called our vendor to send us a proof of the other image, and luckily the "underwear man" wasn't in it. I ordered the oversized print and sent it to the framer but I still look every time to make sure it's the right one.
What was your favorite room to design?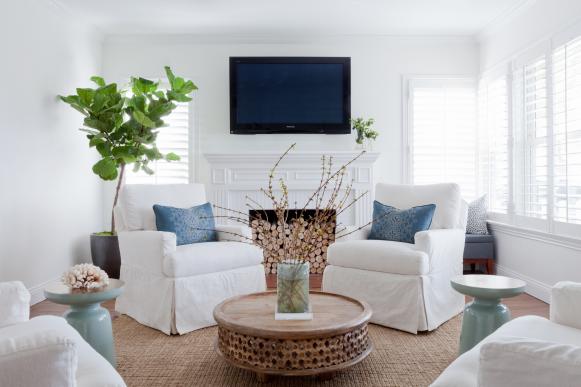 Bright, White Living Room
Light, white and bright was the theme of this space. White, slipcovered armchairs circle the coffee table, creating a cozy spot for coffee and conversation.
The front living room design came after the family room addition and the kitchen were completed. My client called and said how she couldn't keep coming into the house and walking through that empty room. We started brainstorming how to delineate the space as a more formal front room while keeping the TV in there (one of her husband's only requests) while also still making it a kid-friendly space and keeping the front window accessible for their dog. We settled on a layout of four oversized swivel chairs with informal slipcovers and linen accent pillows, adding benches to the front and back corners for the kids and dogs. Basically a cleaner grown-up version of the family room. We imported logs from Minnesota and had them cut and stacked to our liking. We used refined block linens on the accent pillows and created a treated bench in the entry where backpacks and jackets could be left. We created a custom-colored wallpaper by Galbraith & Paul for the small entry area. All the colors in the wallpaper matched the living room accents, so there was a strong common thread. The wallpaper also allowed us to "grow" the entry space by making it its own room. The paper just wrapped the whole area like a jewel box.
Was there a particular element that tied the design together?
The most special feature about this house — it's hard to say one. In this case I can start off by saying the family. There is such an authenticity to the kind of people that Joni and Danny are and the way in which they wanted their house to reflect that. You honestly don't always get that combination in your work, and they were the greatest reflection of that. They respected the process, their kids lit up every time we were over, they smiled through six months of construction and a pop-up kitchen in their hallway — the list goes on and on. They were always open to big ideas and they never, ever cut a corner on the "right way" to get this job done. This house was the perfect example of size not mattering at all — their home is warm, spacious and so well designed for their family of five. They truly make it all count and live in and love every space.
My second most favorite part of the house is the detail in the powder room. We created a pullout stepstool in the toe kick of the sink vanity. It's so discreetly hidden and yet so functional for a high-traffic house with kids and friends coming over. Only an obsessive perfectionist of a designer and a professional organizer could be so happy to have created a design that meant you never had to see a kids' stepstool out at the sink.
The entry bench was custom-designed to have scale and function while looking like a grand piece to greet you at the front door. It was covered in outdoor-treated fabric to take the wear and tear of daily family use. We waited to hang the wall sconces until the bench was placed it in just the right spot.
Why did you use floating shelves?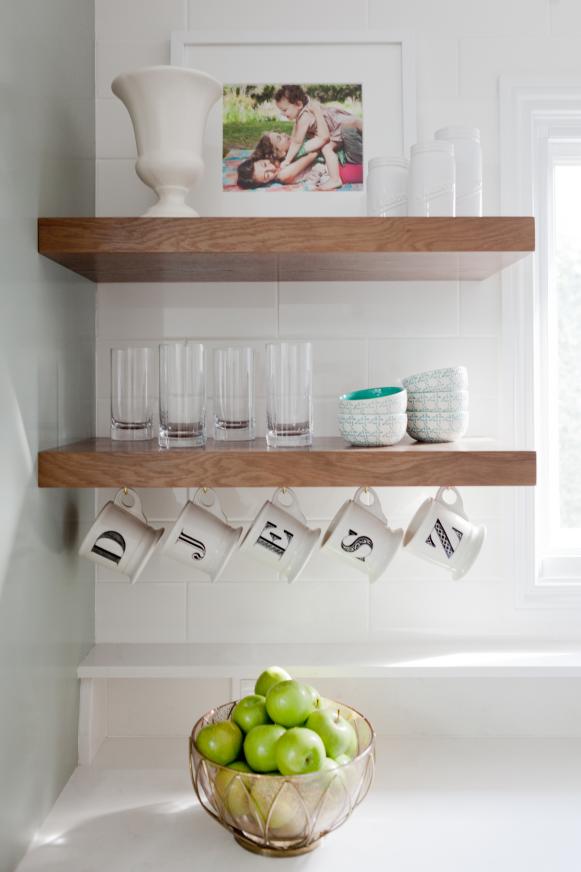 Floating Kitchen Shelves
Wood shelves above the kitchen countertop neatly display dishes, including the family's monogrammed mugs.
We really wanted to use every inch of kitchen space to the fullest. Upper cabinetry felt too heavy and didn't feel right for the open space. We liked the idea of the one and only wall we had for a full backsplash of subway tile all the way up to the ceiling. With Joni's disciplined style, we knew that clean, open shelving would always look good and had a more contemporary feel. The shelf stain color was matched to the custom media console in the family room so there was a strong trifecta of that wood color against the clean white in the open family/kitchen space.
We also repeated the open shelving stain color in the laundry room. Everything looked connected from every point of view. I also loved how we used hooks on the bottom of the open shelf and hung the family's initialed coffee mugs. Small details like that add so much personal style to a space. In the only closed cabinet of the kitchen we added electric and a pullout shelf so that the coffee machine could be used daily with ease, but could also tuck away and not take up precious open counter space.
What makes this project uniquely yours?
When I look at the overall portfolio of JFD work there are so many strong threads of design that stay consistent: thoughtful spatial planning, layers of color and textural elements, art-filled walls, and the combination of old and new. Every space tells a story for us, and every home teaches us something new about design and the art of custom work. We strive to always do better, so even the mistakes and hiccups turn out to be lessons to build off of. The individual palettes and small custom details change from client to client, but the consistency of good organization and full service are always there. I will never take my eye off the business of running a business. I always want our clients to feel like we've respected the process, their home and succeeded at our design plans. We are thinking as much about the corner plant as we are about the sofa and the construction. We work hard to remember every element needed so that a client feels like we covered it all. And then there's lighting. We are always thinking about the lighting and how it layers into a room. I must have been a lamp maker in a past life, I'm always trying to put lamps everywhere I can so clients use low lighting instead of overhead lighting. Sometimes I'll even tape down the overhead switches so they can't turn them on. Overall, I'm always proudest of a large install day when we stand back and look at the spaces we've installed that day. We never want it to look like all the pieces just came off the same truck in one day, but that it was collected over time and we just happened to be there to put it all together. When a client can appreciate that element of our work we've really succeeded. And it wouldn't be a JFD space without a lot of pillows and coffee table books.
What "hidden gems" are in your design?
Working with these clients was one of the most wonderful collaborations you could ask for — they were excited to take risks, knowing we were confident with our decisions on every step of the project. And most importantly, they really trusted us. The end result really shows that. It was months and months of daily work, on-site visits and decisions, but looking back it all felt pretty easy. That's the greatest compliment to a good client, when you wish the job never ended. Now Joni is one of my dearest friends and collaborators. There isn't a JFD job that doesn't make an introduction to Joni and her business partner. We'll renovate an entire house from top to bottom and then they will come in to organize the kitchen and make a pantry into the most gorgeous room I've ever seen. I'm constantly in awe of their work. It's really been a perfect match