Hilltop Modern Industrial Retreat
Designer Jordan Iverson worked to make this stunning modern home blend seamlessly with its lush hilltop location. Natural materials and a warm gray palette create a welcoming home that effortlessly brings its beautiful outdoor surroundings in.
What were the main items on your clients' wish list?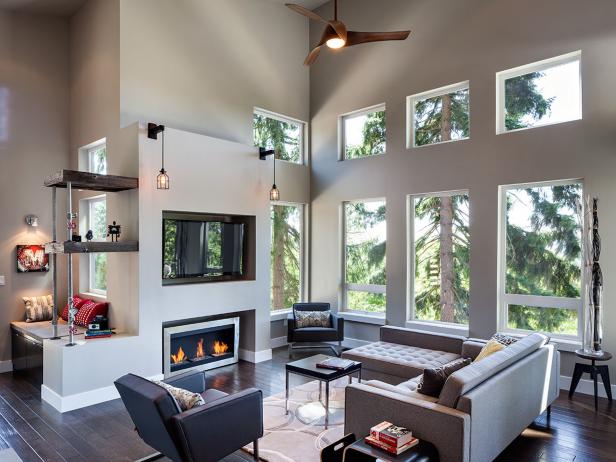 Modern Living Room With Fireplace
A bio-ethanol fireplace is used in this living room so that it can be easily moved anywhere – including outside during the summer season. Sleek furnishings pair with recessed windows for a minimal modern look, while pendant lights and galvanized pipe shelves lend industrial character to the fireplace.
It was a custom design/build and interior design project from the ground up. The goal was to create a completely unique home design that fit into the Pacific Northwest home site, which offered stunning views, and efficient living across three stories of living space.
What was your biggest obstacle in the design of the home?
The challenge definitely started with the site, which was a subdivision that sat undeveloped for eight years before I decided to bring it back to life. No builder wanted to take on the challenge. I have a lot of builder friends and they all joked I was crazy. It's a hillside lot, sitting on top of solid granite and quartz, which was extremely hard to dig through, and there were extremely restrictive tree-preservation zones as well. All this was done within a very tight budget for what the home really was. I still can't quite believe I was able to do it.
What was the inspiration for this home's style?
My inspiration was definitely bringing in whimsical touches along with something completely unique. I don't think any of my homes fall into one direct style or definition, but at the same time they are always comfortable and well thought out. I get inspired from all sorts of things, but mostly from traveling. I love hotel lobbies and restaurant and bar design. Whenever I travel I always check out these spaces, and I'll see a material or interesting touch that triggers an idea to use something like that in a completely different way. I love using common materials in new ways.
It's important for the home to seem fluid and harmonious. How did you transition from room to room without losing the individuality of each space?
The above comment is something that is lost in most new homes. There's nothing cohesive. This is so important in the homes I design and build. I start by bringing inside elements and materials that are used on the outside of the home. Then finish materials and colors can be creatively used in ways that make people look for more elements that tie things together. I'm a believer in warm gray neutrals for finish materials and brightening up a space with pops of a different "loud" color on each project.
For this project I chose red. It was a play on the custom cords of the dining room light fixture and the valve handles on the reclaimed gas piping used for supporting shelving in the great room. I also used red accents including a photo canvas I took in Vegas; large reclaimed box letters above the kitchen cabinets spelling out EAT (and then extras to spell STAR in the winter); and FLOR carpet tiles in the home office in two shades of gray with a bright red stripe running right through the middle.
The master bathroom in this home is like a mountain retreat with many luxurious amenities. Can you share what went into choosing those features and the planning that went into the space?
This space was definitely designed in every way to be a retreat. I wanted to create a space that felt like the most amazing resort or hotel getaway. You enter the space via a short entry hallway with a lowered ceiling and floor-to-ceiling mirror. There are then two large chalkboard paint-covered doors with translucent eco-resin panels on both the left and right. To the left is the vaulted sun-filled master bedroom space. To the right is the bathroom with heated tile floors in a large 12x24" subway-type pattern. Directly in front is the custom vanity I designed out of hickory, which brought a modern rustic look to the bathroom.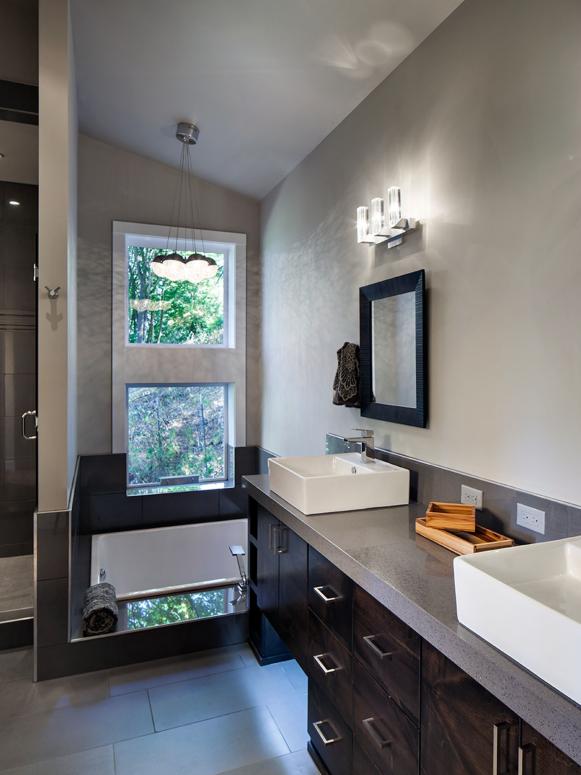 Modern Bathroom Retreat With Double Vessel Sinks
This master bathroom is truly a retreat with heated floors, a sunken soaking tub with heated backrests and a walk-in shower with a rain head. Double vessel sinks top the dark vanity, while metallic light fixture adds a hint of gleam to the cool gray wall.
The most interesting feature is the 4' x 4' Asian-influenced sunken Kohler tub with 200+ air jets and heated backrests. It was quite a challenge to engineer and install. A custom platform was designed underneath the home and the dig out on the hillside allowed for it to be dropped down into the floor. It was brought in by crane toward the end of the project to keep the rest of the home on schedule. The dining room windows were removed and the master closet was left completely unfinished so the tub would fit through the framing and into the space.
LED night-lights turn on with motion sensors to guide people at night. The view looks out on a private conservation area of protected hillside trees.
You can't forget about the shower, either. I chose a large rainfall showerhead in the center, an adjustable hand-held shower sprayer and two body sprays.
What was your favorite space to design?
The most rewarding had to be the dining room, which was fun because it was also my favorite space. I've had more comments on the custom light fixture I designed and had fabricated than any other piece I've done to date. It's a centrally located space open to the kitchen, great room and outdoor living deck, so the light fixture truly becomes a centerpiece against the reclaimed barnwood wall I handpicked, literally off of a 1920s barn. While that's the most popular part, my favorite detail is actually the handmade stainless steel serving bar that sits in front of the double casement windows. Instead of an elaborate window system or folding windows, I used two reverse casements, which swing open and allow direct access for passing food from the grill or a prime spot for sitting and enjoying a drink at sunset.
Was there a specific piece of furniture, fabric, color, texture or piece of art that was essential to bringing the design together?
A color that's repeated outside of the pops of red in the decor is gray. I've always been a believer in gray. It's become a local joke even within the design community and showrooms. I'm always asking for gray tiles, paint, counters, etc. I think a lot of people assume gray isn't going to have any warmness to it or would be too dull, especially with all the rain and long winters we get here. What's funny is that people always comment on how my homes are a "warm modern." If it's used right, gray can allow for so many other accent colors to bring it all together. That's my secret weapon: gray.
A pattern that's repeated is the clean lines not just of the home, but of the furnishings as well. The home isn't huge, but with its multiple floors and indoor/outdoor spaces and proportionally sized pieces, it lives very large. Every inch is designed to maximize natural light and functionality.
What's the best thing about this house, in your opinion?
When I sit back and look at that view, it's just amazing. I knew this was a special lot when I started, and for every single living space and all but one spare bedroom, to be able to take advantage of that view was such a good feeling. There are also connected yet distinct spaces for everyone. It's a family of five, and with three kids running around, it's great to see how the central living/dining/kitchen area brings everyone together. The third-story theater loft offers room for a separate viewing area for games and movies, the master bedroom offers a retreat, and the kids' bedrooms on the ground floor allow them to have their own spaces to be loud and messy.
The kitchen in this home has a lot of dark and metallic tones, but still seems light and airy. How did you accomplish that?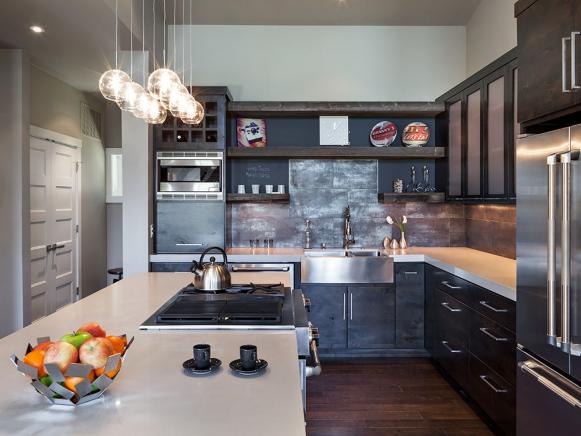 Modern Industrial Kitchen With Barn Wood Cabinetry
This kitchen was designed to be open to the nearby great room and dining space because of its lack of natural sunlight. The openness of the kitchen helps balance the kitchen's dark industrial color palette.
This was critical from the beginning. I knew that the best design layout led to an interior kitchen without the traditional window above the sink. I decided to make that wall as intriguing as possible. The large tiles were metallic, the paint above that is chalkboard and the floating barnwood shelves add nice texture. It's a great place for cookbooks, dinnerware and unique decorating pieces, and artwork that can be easily changed out since pieces aren't hanging but leaning against the wall. The ceiling also vaults up as it leads to the large window wall in the adjacent great room. Light pours in from here, the dining room and the entry hallway. Lighting itself was also important. The ET2 pendants provide good light while recessed can lights and undercabinet lighting offer task light. You'll also notice there aren't any distracting outlets in the backsplash. I used plug mold under the upper cabinets to conceal the plugs. It also helped to use a downdraft vent on the oven so there's nothing obstructing the view. The large apron-front stainless steel sink also broke up the dark materials on the back wall which added the perfect finishing touch.
Every designer has their own style that defines their work as uniquely theirs and is reflected in each project they work on. What makes this project uniquely yours?
I said it earlier, but outside of relentlessly trying to innovate and create one-of-a-kind spaces, I'm known for creating "warm modern" spaces. I call each space "artistically designed urban environments." I definitely bring gray into every project. For materials I always combine metal and wood along with everything else. My lighting choices are just as important. I'm a lighting geek, and I'm always looking for unique choices that aren't found on showroom floors. I'm a catalog guy or in the case of this project, I'll design lights and have them built for just the right look. I always say that it's all about the details. Every single choice I make all the way down to the spacing of the grout or where a piece of art is placed is deliberate. I think through every detail.
I also always bring elements of fire into each home. There are multiple bio-ethanol fireplaces in this home. I installed a large three-burner one under the TV in the great room, one on the dining room table and one beside the tub in the master bath. I love them because they have that real flame and heat, but are completely portable with no gas plumbing needed.
I'm a photographer also, so I love when I'm able to create a unique piece of art for the client as well.
What are the "hidden gems" in your plan that really made a big difference?
Since I was a kid, I've been designing spaces and homes, and one thing I always incorporate is a small reading nook or place to sit. In this home, there's an intimate space with a reading light for sitting and enjoying a book and taking in the views in the distance.
One material that everyone always gets a kick out of is the floor in the powder bathroom. I designed it to be fun like a boutique hotel lobby bathroom. The floor is leather. It's made from reclaimed leather jackets that are pressed into a crocodile-leather pattern. There is also an ET2 chandelier set into a soffit in the ceiling. The vessel sink sits atop sparkling gray quartz, which shimmers in the light.