Artisan Vacation Home Caters to Crowds in Aspen
Wanting a second home with plenty of room to entertain, an Oklahoma couple asked Colin Griffith to create their dream vacation destination in Aspen. See how the designer used artisan-crafted pieces to give the couple and their friends a warm welcome.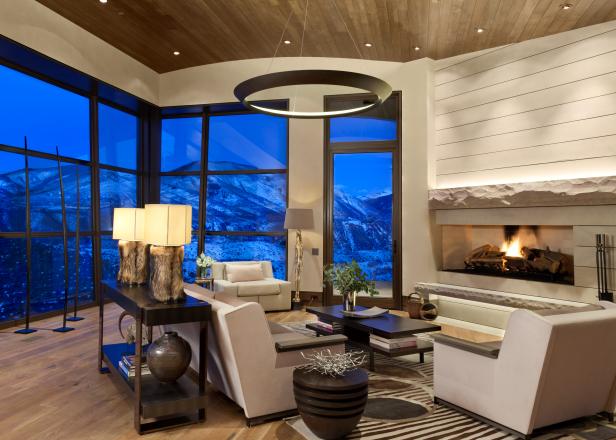 Contemporary Living Room With Stunning Mountain View
This neutral living room features floor-to-ceiling windows that offer a gorgeous mountain view, the perfect sight to take in while cozying up fireside. An ivory leather sofa and armchairs offer spots for relaxing, while a circular metal chandelier hangs from the wood plank ceiling. Faux fur lamps offer a fun touch.

From:
Griffith Interior Design LLC
Emily Redfield Photography
With a 15,000-square-foot floor plan and panoramic views of the Rocky Mountains, this rustic-modern retreat in Aspen, Colo., boasts an interior that's just as impressive as its surroundings.
The estate was co-designed by Colin Griffith, principal of Griffith Interior Design in Denver, for an Oklahoma couple who wanted a vacation home that could easily accommodate a crowd.
"People come to Aspen for a lot of reasons," says Griffith. "Skiing, art, culture, dining, etc. It's a great place to escape and enjoy time with friends and family."
The mountain views are often a driving force as well, which is why the designer showcased them throughout his clients' second home. From the stone foyer to the rooftop terrace, nearly every room includes floor-to-ceiling windows and moveable glass walls, giving the owners and their guests ample access to the outdoors.
To further draw the beauty of the outdoors inside, Griffith layered the vacation home with natural materials like wood and stone. In the foyer, a stone accent wall and granite stairs create a seamless transition from the surrounding wilderness.
At the same time, a woven area rug and bench provide space to remove shoes, which helps protect the hardwood floors from stray snow and mud.
A nearby living room with wall-to-wall windows invites guests to sit back and relax after a day of shopping or skiing. Here, visitors have their pick of ivory leather sofas, all of which sit before an expansive fireplace. A chandelier from a designer in Dallas floats overhead, both brightening the room and adding interest like a modern sculpture.
Choosing pieces from American artisans is especially important to Griffith, and so he often shares that passion with his clients. Whenever he travels for a project, the designer encourages the homeowners to go with him.
"I love taking my clients to showrooms and workshops so that they can literally see how these products are being made," the designer says. "It helps them understand that these pieces are one-of-a-kind, like artwork."
Naturally, the homeowners love to show them off to visitors. In a powder room down the hall, a handcrafted Art Deco-style backsplash transforms the small space into a showstopping feature. With LEDs illuminating the glass, the piece easily dazzles guests.
"It's like a hidden treasure in the house," Griffith insists. "If they're having a party, everyone wants to go see it."
Similar artisan features flow throughout the home, shifting from delicate glass-blown pendants in the dining room to bold, modern fixtures in the professional-grade kitchen.
To soften the sharp design, Griffith infused the kitchen with warm walnut cabinetry and hardware from a local manufacturer.
Two marble-topped islands work overtime as well, providing storage and counter space during the day, and doubling as a buffet table or bar during parties, which occur often.
Though these spaces can fit countless people at once, Griffith also wanted to create zones for more intimate gatherings. Because the home sits on a slope, he chose to carve out a wine cellar, complete with a round, high-top table for two and stone walls to keep the bottles cool.
"It wasn't meant to be an overzealous, flashy thing," Griffith says of the room. "It's a great spot where they can go with a couple of friends and pick out the night's bottle of wine, or they can enjoy a date night. It's comfortable."
It's also elegant, with the table made by carpenters in Colorado Springs and a stone sink carved in Bali. Wine racks decorate the walls for functional yet sophisticated artwork.
When not attending to their guests, the owners can retreat to their master suite, where neutral hues in gray and blue echo the calming colors of the mountains. An attached spa bathroom with his and her sinks and cabinets underneath gives each person their own space to unwind after a demanding day.
It's no surprise that the finished design pleased far more people than just the homeowners; that weekend, the home served as the backdrop for the Aspen Food and Wine Festival.
"It was selected as the venue that year," Griffith recalls. "Mario Batali was there with caters and cooks doing wine pairings for 400 people. It was the most amazing housewarming I've ever seen."