Dated Kitchen Goes Contemporary
For a homeowner in his late 60s, a kitchen that was dark and underutilized just wouldn't do. Designer John Buscarello transformed the space into the contemporary cooking area the owner always wanted.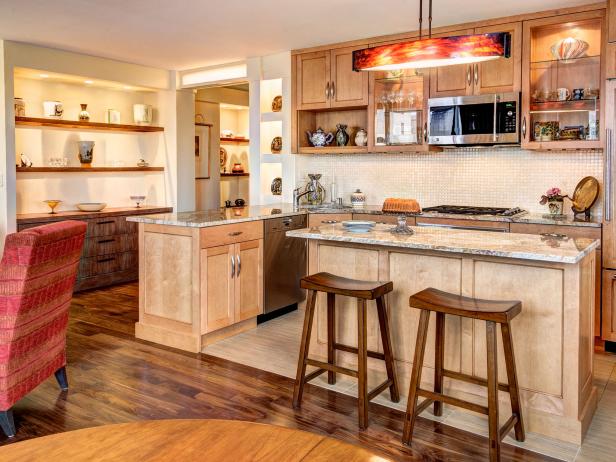 An Artsy Kitchen Display
For this kitchen renovation, the homeowner desperately wanted a place to showcase his art collection.
Ariel Camilo
For this kitchen renovation, the homeowner desperately wanted a place to showcase his art collection.
For a client with a desire to have a more fun space to cook in and a bourgeoning art collection in need a an adequate display case, designer John Buscarello was the perfect choice.
Describe the homeowner's wish list.
The owner wanted to update the apartment while he was young enough (late 60s), make the kitchen fun for cooking, and feature an art collection.
What was the biggest issue the design addressed?
The owner loved the former renovation 20 years ago. He probably would have just cleaned it up, but it was dated and heavy. We needed to show him what could be done to change and update the space.
Describe an obstacle in the space.
The open kitchen is integrated into the apartment. We wanted to create an interesting space. The owner likes color yet did not want it to clash with his art, so we used a lot of natural finishes including walnut wood flooring.
How did the end result match your original vision?
When spaces were coming together, the kitchen was so good we decided to flip the dining room table and living room. Now the dining table is right next to the island.
What lessons did you learn from this project?
It's always great to work with adventuresome clients—this client wanted space for art displayed. We designed cabinets with lighting and glass, which was not as easy to execute as I thought.
What are the hidden gems that make a big difference?
The light fixture over the island is stained glass. The countertops are Nacarado quartzite from Brazil. The floors are natural walnut with beautiful coloration. The built-in display cabinet has glass shelves with wood frames that allows light to pass through. There are no outlets in the backsplash; instead, there is a power strip with outlets under the upper cabinets.