How to Make a Sputnik-Shaped Solar Chandelier
Need a chandelier for your outdoor dining space, but don't want the expense of running electricity? Craft a space-age light fixture using solar landscape lighting and wood dowels.
We're sorry, there seems to be an issue playing this video. Please refresh the page or try again in a moment. If you continue to have issues, please contact us here.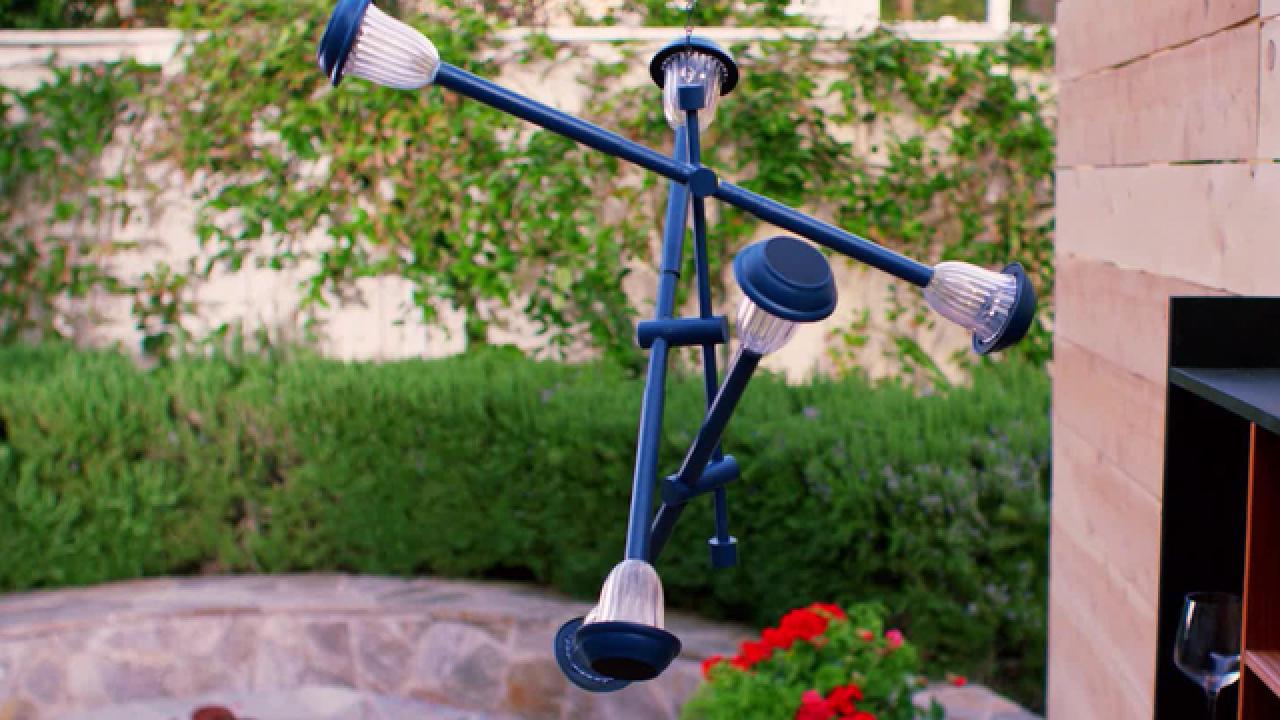 Skill Level: Intermediate
Estimated Time: 1/2 day
Estimated Cost: $50
(6) solar landscape lights
1/2" poplar dowel
3/4" poplar dowel
1-1/2" poplar dowel
drill with a 3/4" and a 1/2" paddle bit
wood glue
wood-to-metal glue
spray paint
painter's tape
miter saw
small eye hook
measuring tape
straight edge
Measure and cut the 1/2" dowel to 12 inches to be the center rod of the chandelier.
Measure and cut the 1-1/2" dowel into three 4" pieces to use as connectors.
Measure and cut the 3/4" dowel into two 16" pieces and one 13" piece to use as the arms. Then measure and cut the same-size dowel into two 1-1/2" pieces to use as the end caps.
Step 4: Drill First Connector Hole
Use a drill with a 1/2" paddle bit to make a hole in each of the three connector pieces for the center rod to slide through.
Step 5: Drill Second Connector Hole
After the 1/2" hole has been drilled, flip to the other side of the connector and roll the connector between 1/16 to 2/3 rotation and drill a 3/4" hole using a paddle bit. The three connectors should have unique 3/4" hole placement so the arms will branch out in different directions.
Insert the connectors onto the center rod. Insert the arms into the connectors. Arrange the arms and connectors however you like and then use wood glue to hold everything in place.
Drill divots about 1/2" deep into the end caps, using the 1/2" paddle bit. Glue the caps onto the ends of the center rod.
Disassemble the solar landscape lights so the rods are separate from the globes and tops. Cover the solar indicator with painter's tape so you do not get any paint on them.
Spray-paint the rods and tops of the solar lights as well as the wood dowels of the chandelier. Let dry.
Step 10: Attach Light Rods to Dowel
Use a wood-to-metal glue to attach the rods of the lights onto the arms of the chandelier and let dry. Reassemble the globes and light tops onto the metal rods on the chandelier.
Step 11: Attach Hanging Hardware
Add an eye hook to the end cap that will be at the top for hanging.