Outdoor Pizza Oven Fireplace
Explore your options for an outdoor pizza oven fireplace, and get ready to install a cozy and comfortable gathering and cooking space in your external living area.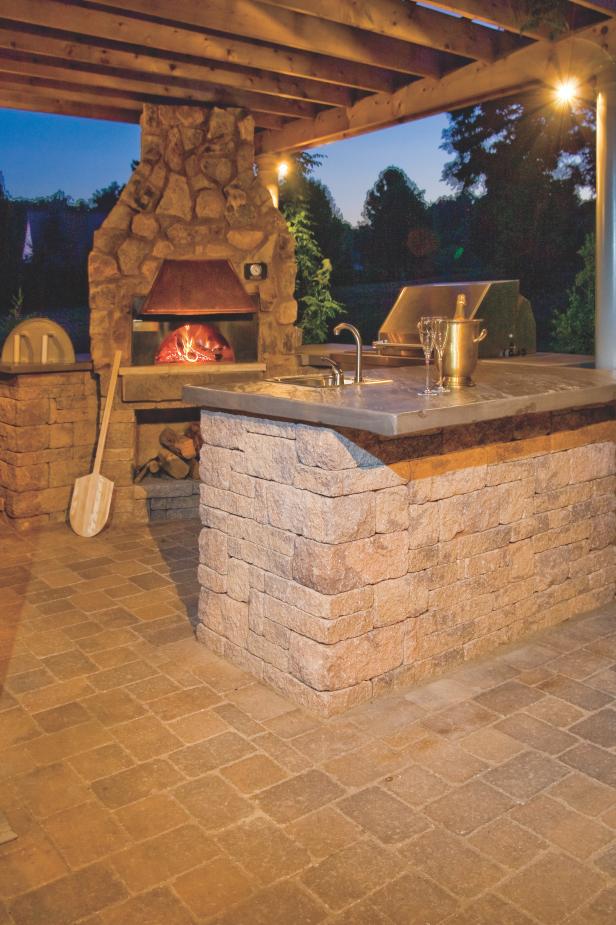 Hey Good Lookin', What's You Got Cooking?
Bored with your indoor kitchen? Move it on over to the outside with a full service kitchen that includes a pizza over, grill, sink and appliances. http://www.ephenry.com/
Outdoor fireplaces are becoming a more common feature of contemporary homes, and with good reason—they provide a natural gathering and entertaining space that offers cozy comfort and warmth through the seasons. Cooking features are an increasingly common feature of outdoor fireplaces, and one of the most popular is the outdoor pizza oven fireplace. It's a tough task to find a family without a serious penchant for pizza, and the idea of being able to cook custom pies right on the deck or patio or in the backyard has strong appeal.
If you're considering adding an outdoor pizza oven fireplace to your external living space, your first consideration will be location. Safety should top your list of requirements, and any areas with low-hanging branches, bushes or shrubs should be ruled out or sufficiently pruned to make way for a backyard fire feature. You'll also want to consider whether your outdoor pizza oven fireplace will be part of a larger cooking and dining area, or if the plan is to cook in the fireplace and then serve meals in an adjacent or separate areas. All of these factors can affect the layout and design of your fireplace area.
Speaking of design, you'll have many options in terms of style when it comes to your outdoor pizza oven fireplace. If you choose to enlist the aid of a stone mason or contractor for a custom build, you can drive the design in any direction you please, from traditional fireplace looks featuring brick, stone or stucco, to sleek modern designs in granite, ceramic or even metal. Custom builds are considerably more expensive than other options like pre-fabricated or modular units, so prepare to pay for a design that fits your exact aesthetic requirements and specifications. Alternatively, if you opt for a prefabricated or modular unit, you can often customize the veneer or façade with a thin layer of stone, stucco, brick or granite, approximating the appearance of a custom build for a fraction of the cost.
When it comes to your budget, a custom build will be dependent on the size, scope and materials you'd like to feature in the build—but in general, hiring a stone mason will automatically place you in the $3,000+ range for an outdoor pizza oven fireplace. Truly elaborate, large scale designs featuring ultra-high-end materials could cost as much as ten times that figure. For prefabricated, modular or portable outdoor pizza oven units, the costs are much lower. Prefab and modular models generally fall in the $2,000 to $10,000 range, depending on their size and materials. Portable models can cost as low as $300 to $500, offering a budget option for those looking to invest more in cheese and toppings than brick and mortar.