10 Things to Know Before You Build a Pond
Thinking about adding a water feature to your yard? Here's what you need to know before breaking ground.
A backyard water garden provides the perfect backdrop for daily unwinding. The sound of trickling water soothes and relaxes — it's free therapy for a stress-riddled schedule. Imagine sitting at the end of each day and watching fish dart among lily pads, while dragonflies zip and dive, hunting insects on the wing. A pond brings all that — and more.
Add a pond to your yard, and you'll quickly discover it's your family's favorite place to gather. Splashing, sparkling water mesmerizes with its natural beauty, and the sound draws all kinds of wildlife, from frogs and turtles to salamanders and birds. In short, a water garden makes every day a vacation with just one step outside the door.
You'll get the most out of your pond project when you dig in and do a little homework before breaking ground. To help you get started, check out this list of 10 things you should know before building a pond.
The ideal spot for a pond provides at least six hours of sun a day — think morning sun and afternoon shade. A splash of shade keeps water cool, which helps with algae control. Be wary of placing your pond beneath overhanging trees because dropping leaves or fruits can clog the system without daily maintenance. If your water garden has a fountain or waterfall, keep it within 20 feet of your home if you want to hear the sound of trickling water.
The average size pond is 176 square feet (16 x 11 feet), which holds about 2,000 gallons, but it could be as small as 6 x 8 feet (roughly 550 gallons). You can also tend a water garden in a half whiskey barrel (complete with fish), or grow a few water plants in a 12-inch-wide pot. For in-ground ponds, the best way to determine size is to use a rope or very supple garden hose to outline where you'd like your pond to be. Factor in two to three feet of planting area along pond edges.
Certainly, your budget also affects the size pond you install. With this project, bigger definitely costs more. Other factors that influence pond size include whether you want fish. Perhaps the most important factor to consider is this: By the end of the first summer, the majority of pond owners wish that their pond was bigger.
Working with a certified, professional pond installer like a Certified Aquascape Contractor, expect to pay $7,000 or more for a small pond installation (7 x 9 feet). Prices vary depending on the type of rock used in the pond and the site topography. Pondless waterfalls, which provide the sound of moving water without a pond, usually start at $4,000 to $5,000, professionally installed.
For a small DIY water garden from a kit, you can pay from $100 (box store) to $1,000 (Aquascape, Inc.) for a basic 4- x 6-foot size. The price range reflects what the kit includes. Simple round or oval pond shapes are the least expensive, with price rising as you include waterfalls, streams and extensive rockwork. Most prepackaged kits from box stores include a pump, filter and tubing, but don't include rocks or a liner or rigid plastic tub. These kits aren't always geared to create a watery ecosystem and may lack a biological filter, which you need if you want fish.
Many pond specialists offer complete kits with easy to follow instructions and videos. If your goal is to have a small pond that provides soothing sounds of water movement, consider using a DIY kit. But if you're aiming to host a backyard pondscape, complete with natural looking plantings, fish and all the wildlife that comes along with that, working with experienced professionals will exceed your expectations. They'll work with your property's natural features to craft an organic creation. Most local pond specialists are happy to show you samples of their work, either at their business or by visiting customers.
5. Needed: Water And Power
No matter how small or large your pond project, you'll need to be able to add water as it evaporates (or critters drink it). For a container water garden, it's easy enough to top off the reservoir, but for a larger pond, it's most convenient with a water source nearby. If your pond uses a pump, you need a GFCI (ground fault circuit interrupter) outlet.
Plants dress a backyard pond with natural beauty. Include a mix of floating, submerged and bog plants for the most natural look. Definitely, include a water lily — the pads shade the water, which helps with algae issues and gives fish a hiding place. Water lilies need a water depth of 18 to 30 inches. One word of caution: Use care when selecting aquatic floating plants. Some invade natural waterways if they escape your pond.
Fish add darting, flashing color to your pond. They're fun to feed and also provide a visually relaxing element. As you sit and watch the fish swim, you'll feel stress leave your body (that's why doctor's offices often have fish tanks). Ponds must be at least 24 inches deep to keep fish from overheating in summer or freezing in winter. Fish help reduce pond maintenance chores because they eat string algae and feed on sediments that gather on the pond bottom.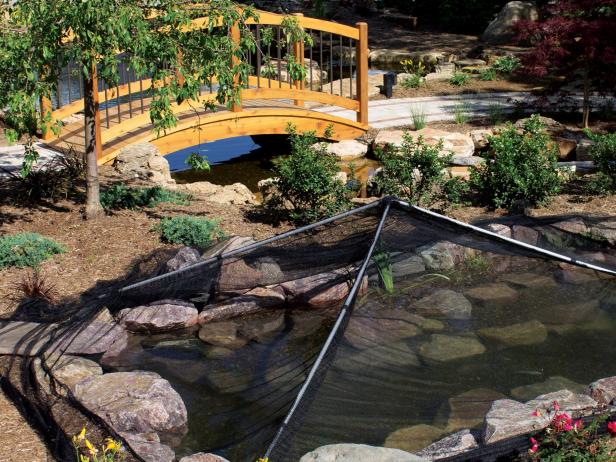 Pond Netting
Use a net to keep leaves from falling into pond water. A net stretched across the pond surface requires daily emptying when leaves are falling thickest. A pond shelter type kit supports netting on a frame that prevents leaves from ever touching the water. An elevated net is also easier to keep free of leaves. If leaves do land in water, scoop them out. Also keep the skimmer basket emptied of leaves. Decomposing leaves in a pond release materials that can harm fish and muddy the water.
With most ponds, weekly maintenance should take maybe 15 minutes. Empty and clean the skimmer basket weekly in spring, every few days in fall, every other week in summer and monthly in winter. Choose a surface skimmer or filter in a waterfall so it's easy to reach. Check and adjust the water level as necessary in summer.
Keep fall leaves out of a pond to avoid clogging the system and harming fish and other aquatic life (as leaves decompose underwater they taint water quality). Use a handheld skimmer net to remove autumn leaves, or install a pond net to keep leaves from falling into the water. In winter use a floating pond heater or air bubbler to keep water ice-free and fish-friendly.
Touch base with your local building department before breaking ground to learn requirements for permits, property line setback and fencing. Check in with your homeowner's insurance to review liability requirements for your pond.