How to Lay Sod Over an Existing Lawn
People often think that laying sod over an existing lawn makes sense and saves time. In fact, laying fresh sod over an existing lawn is no shortcut and could kill your sod and cause you twice as much work.
Laying sod is hard work, so it's no wonder why people are always hunting for a shortcut when they're installing a fresh lawn. So, in theory, it makes sense to simply mow your lawn short and lay new sod right over the existing lawn. Many people assume that the underlying lawn will die and provide some nutrients for the fresh sod, but that's not the case.
When you lay new sod, it's critical that the roots make direct contact with the soil so that a root system can form. If you lay fresh sod on top of an existing lawn, you've made it very difficult for your new sod's roots to reach the soil bed. Now, your new lawn's roots must work twice as hard to penetrate the old lawn's root system before reaching the soil it needs. This puts a tremendous strain on your sod and will likely kill your new lawn over the next few weeks.
Once your new sod has died on top of your previous lawn, you'll now have to remove two layers of sod to get any new grass to take root. At this point, you'll notice that the underlying layer of sod, instead of decomposing, turned into a matted slimy mess instead of composted nutrients.
We're sorry, there seems to be an issue playing this video. Please refresh the page or try again in a moment. If you continue to have issues, please contact us here.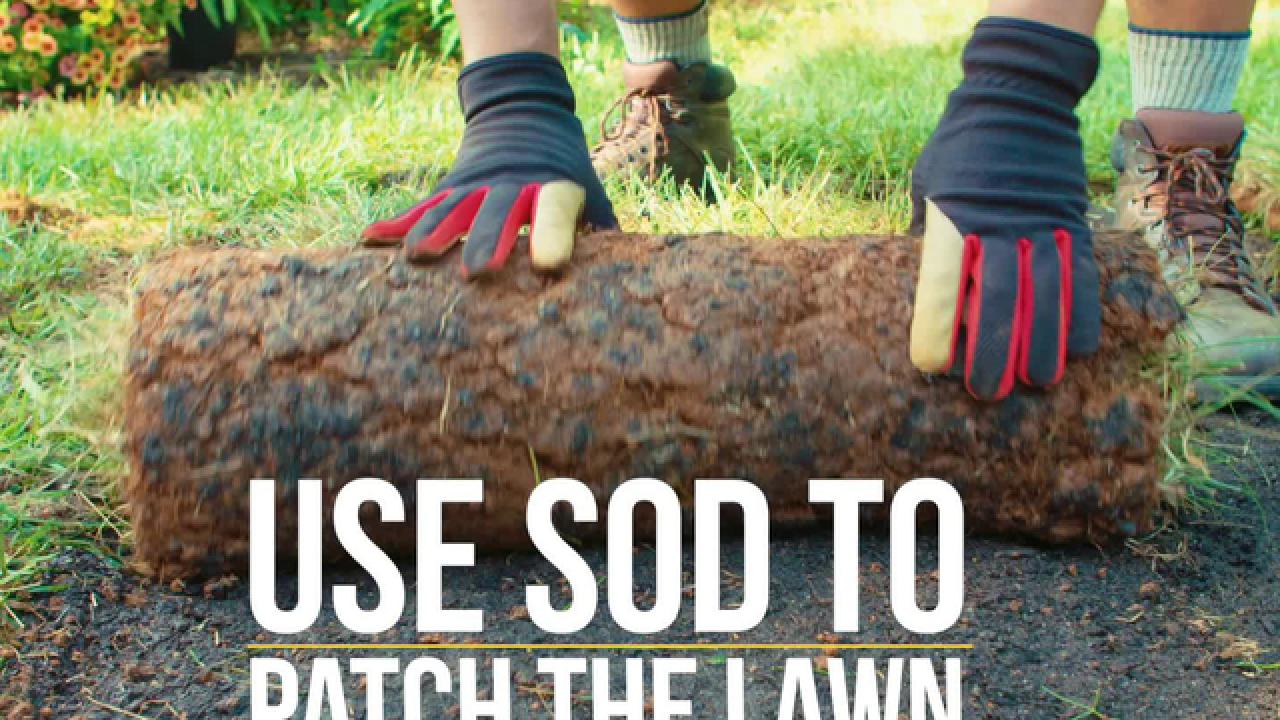 What You Should Do Instead
Properly eliminating your old lawn before laying new sod is the first critical step in ensuring that your new sod grows a strong root system. A strong and healthy root system makes your lawn more resilient, less maintenance and more attractive.
Start by mowing your old lawn as short as you safely can. Bag or rake as many clippings as possible and make sure to remove any loose debris like sticks or rocks from the lawn as you work. Once the lawn is mowed, you'll want to use a rototiller to till the entire lawn about four to six inches in depth. You'll need to rake any loose debris again during this process. You're going to be tilling up clumps of the old root system, so you'll want to remove those as you work.
Next, put down a thin layer of high-quality topsoil and grade all of your lawn's surface so that it's nice and level and free from any holes or high spots. You'll want your sod to rest about an inch below any hardscapes like walkways or sidewalks, so take that into consideration as you grade your surface. Once everything is nice and level, you need to apply a turf starter fertilizer that's right for the kind of sod you'll be laying. Your home center should be able to provide you with the proper mixture.
Now that your fertilizer is laid down, you can start laying your sod. Remember to water your sod as soon as you have an area large enough for your sprinkler to cover. Check out our watering tips and care advice for your new sod to make sure your lawn stays healthy, strong and weed-free.