Sustainable Landscape Design
Sustainable landscaping pairs plants that benefit each other – and you.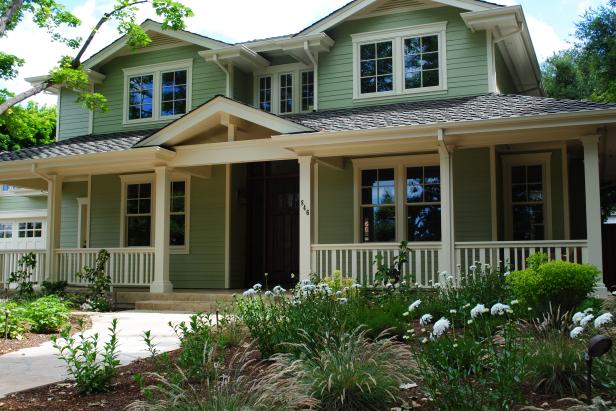 Low-Maintenance Ornamental Grass Sustainable Yard
Julie Orr of Julie Orr Design created an affordable front yard for this Arts and Crafts home in Los Altos, California by removing the water-thirsty lawn and replacing it with low maintenance ornamental grasses. The composting and mulching create rich soil and reduce the need for watering.
Sustainable landscape design for residential properties includes environmentally-friendly materials, plants that benefit the local ecology and a design with a renewable lifestyle in mind.
It may be difficult to create an entirely sustainable landscape design plan unless you're starting from scratch. However, small changes to your own yard or garden cane make a big impact.
Start by replacing materials that could be harmful to plant life, animals and your family. Old railroad ties containing the chemical creosote should be removed and replaced with non-pressure-treated landscape timbers. Untreated wood is not termite resistant but is generally fine to use in landscaping that does not border the house structure.
Natural rocks and stones are perfect additions to sustainable landscaping because they can be used to protect beds, create low maintenance pathways and enhance the water flow through your property.
Solar lights are a great addition to a sustainable landscape plan. Not only are they long-lasting, but they also bring peace of mind to a design that requires plentiful outdoor lighting – without the energy consumption or costs of electrically wired lights.
Choosing plants for sustainable landscaping is easy: go local and organic. Which plants are indigenous to your region and climate? Make a list of flowers, shrubs and grasses that thrive in your area and design your landscape plan to include varieties that, when planted as companions, attract a balanced variety of bugs and bacteria and thrive in local soil types.
Did you know that native gardens require up to 77% less water than non-native plants, especially in hot or dry climates. Keep exotic or non-native plants inside your home, where you can care for them without the additional water usage required to cover an entire yard.
Vegetables and fruits that are native to your region can be the centerpieces of your sustainable landscape plan. They'll grow well, seasonally, with minimal care and can yield produce for you to consume and share with neighbors. That, of course will cut down on your carbon footprint. You'll no longer be driving a car to the grocery store to buy tomatoes and when you can walk into your sustainable garden and pick them straight off the vine!
Don't forget to think about how your property affects your lifestyle choices. Would adding a natural patio or sitting area in the garden get you outdoors more often? Gardening as a hobby can provide health benefits beyond the sustainability of your landscape: it can provide activity and pleasure for a lifetime.