25 Things You Can Compost (Some May Surprise You!)
Did you know you can compost hair, dryer lint and nail clippings along with your kitchen scraps? It's not gross; rather, it helps amp up the quality of your garden soil.
Rich soil? Yes. Less waste? Yes-Yes. Environmental benefits? Yes-Yes-Yes! Next time you're taking out the trash, consider whether you're wasting space in that bag with items that could have been composted. In all likelihood, yes.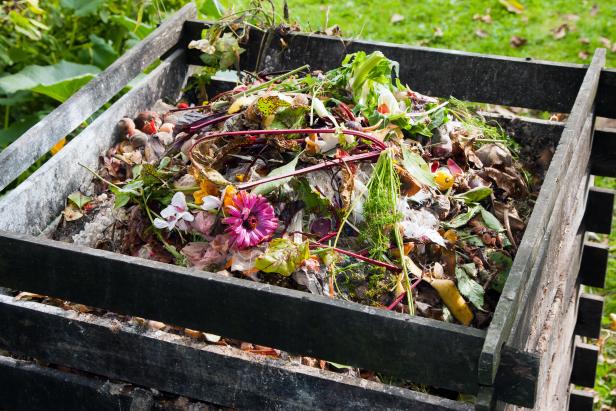 Compost Bin
Composting can be a fun, exciting process. Just like it's a good idea to slow down and plan a garden bed before rushing out to buy your plants, it's also smart to do a little planning before starting a compost heap. Taking a little extra time to plan ahead can save a headache or simply make composting a little easier later on.
Compost organic scraps, and immediately cut back on the volume left to rot in landfills. Improving your habits will have a direct effect on the environment, as the organic materials we throw away undergo anaerobic decomposition (rotting without oxygen) and produce methane gas, which is among the most dangerous of the greenhouse gases. Alternatively, transferring your scraps into a compost pile is advantageous for eco-enthusiasts and gardeners of all levels, because the items discarded are rotting in an open space undergoing aerobic decomposition (with oxygen), and producing carbon dioxide instead of methane.
If you're just starting your own at-home compost (or have even made a container to accessorize your kitchen), or even if you think you're doing a fair job at composting food scraps instead of putting them through the disposal, remember that a nice balance of green and brown organic materials is important to generating a good pile of compost.
Turn the kitchen scrap bin into a conversation piece instead of an eyesore. A simple wood box with a removable (and dishwasher safe) insert makes it easy to compost.
Think beyond "ordinary" compost additives like orange peels and eggshells, and challenge yourself to add more variety to your bin. Your resulting compost will be nutrient-rich, and you'll have a lot more of it.
So, What Else Should I Put In My Compost?
Natural Fibers:

More fibers qualify for composting than you might think: silk, leather, cotton, wool or wool felt, linen are all carbon-rich and will decompose with time. Cut the fibers into smaller pieces to help them break down faster.
Hair:

Add nitrogen to the soil by composting hair pulled from hairbrushes, from pet grooming, or (yes, gross) from the shower drain.
Nail Clippings:

Keratin is good for the soil, and those nail clippings, though they're tiny, will decompose well and add to the earth.
Wood:

All kinds of small pieces of wood add carbon to the soil; add layers of natural wood chips, short branches or even toothpicks, burnt matches and sawdust generated from outdoor landscaping (not treated lumber) to make the microbes in the compost more balanced.
Pine Needles:

Slower to decompose, pine needles are a great brown organic material that aids air circulation in the soil. They are acidic, however, so keep the amount you add balanced with other additives. Next holiday season, add the needles swept from beneath your Christmas tree to the compost bin.
Dryer Lint:

The collected fibers from your lint trap are still carbon-rich and will decompose easily in the compost, so keep a jar next to the dryer to make it easier to remember to harvest it with every load.
Unbleached Paper Products:

Opt for unbleached "disposable" products such as napkins, paper plates and paper towels for your next picnic, and set up a separate bin to collect the throw-aways. These carbon-rich items will break down relatively quickly in the compost, but be wary of adding too many at one time. Also, consider folding in the items to help expedite decomposition. (Better yet, skip the paper products and ask your friends and family to use reusable items — it's really not that inconvenient.)
Newspaper:

These days, newspaper ink is non-toxic, so shred it up into narrow strips so that when you add it into your compost, it remains light and fluffy and has an easy time breaking down.
Dust:

Deposit the dust you sweep from your home into the compost. What you collect from the floors is typically all organic matter from our bodies or from soil we track into the house.
Eco-friendly Packaging:

Check packaging for compostability; cornstarch- and wheat-based styrofoam, which dissolves when put underwater or added to your compost, as well as BioBags, made of a plant-derived compostable resin named Mater-Bi®, are becoming more mainstream. (Special claps to

Misfits Market, whose bi-weekly grocery deliveries are an absolute treat for my compost bin.)
Corn Cobs:

Post-picnic, toss them in the compost to help with soil aeration. Remember to compost the husks, even if grilled, too.
Rabbit or Bird Droppings:

Whether from caged pets or free-roaming animals, droppings from non-carnivorous pets are a super nutrient-rich additive for your compost.
Coffee Grounds:

This daily addiction's good for something! Add nitrogen to your soil by sprinkling grounds into the compost. Many coffee shops will offer their grounds too, so even if you're not caffeinated, there are easy ways to get your hands on this great additive. (Throw in the coffee filter too, as long as it's unbleached paper.)
Tea Bags:

Choose tea bags without a staple — or opt for loose-leaf — and deliver additional nutritional value to your compost.
Ashes:

Natural wood, burnt, is an excellent source of potassium for the soil.
Old Jars of Spices:

Have they gone stale? Compost the remnants instead of simply tossing the jar.
Freezer-Burned Foods:

They might look gross, and it might be pretty mushy when it thaws, but freezer-burned food is still organic matter, and it'll compost perfectly fine. What about old, freezer-burned ice cream? Sure, but only add dairy in small amounts because it's more likely to attract pests.
Gelatin (jelled or powder):

This protein-rich product is a great additive to the soil, as it acts as a fertilizer for plants.
Cut Flowers:

When they begin to wilt and dry, the cut flowers can be transferred into your compost as brown material. However, avoid putting weed flowers, such as dandelions, into the compost as it's more likely to become a spot for them to self-seed.
Cotton Swabs (if paper):

If the product has a plastic stem, skip the compost, but if it's paper, you can throw your used swabs into the compost to break down.
Tissues:

Relatively quick to disintegrate, used tissues are safe to compost. We already know it'll free up a lot of space in your garbage cans during allergy and cold season.
Limestone:

While it naturally acts to balance any topsoil, limestone is a soft rock that you can buy pre-crushed if you need to neutralize your compost.
Blood Meal:

A natural additive to spike nitrogen levels in soil, blood meal doubles as a weapon against garden pests such as deer, moles, and squirrels. Use it in your compost to reap the nutrient.
Peat Moss:

If you're fertilizing plants that favor acid-rich soil, add peat moss into your compost. It's good for holding moisture too, making it especially ideal if you plan to use compost for potted plants.
Water:

Yes! If you live in a dry climate or are experiencing a lack of rainfall, add water to your compost to keep it moist. Your compost should never be soggy (and should have adequate drainage) but water is essential to help break down materials.