From mower options to lawn care products, get tips for growing a healthy and eco-friendly yard.
This year give yourself a reality check on lawn care. Which products do you really need and which ones are overkill? Even though it's important to store gasoline, fertilizers and pesticides properly, it's even better to start cutting out the chemicals and fossil fuels altogether. Jennifer Schwab and Hannah Malan of Sierra Club Green Home have practical advice for you to get started.
Switch to a Reel Lawn Mower
Make no mistake: Gas-powered lawn equipment is a dirty business. It spews tons of carbon monoxide and VOCs into the air, and the EPA says that Americans spill 17 million gallons of gasoline a year just filling their mowers!
Do you really need your gas mower, or are you just keeping it out of habit? If you have a small lot with even terrain, a reel (human-powered) mower could be perfect for you: It eliminates the pollution hazards and maintenance expenses of a gas mower. Plus, reel mowers actually scissor your grass cleanly instead of tearing it like gas mowers do, which produces rough surfaces that invite disease. Forget the old-fashioned reel mowers that needed annual sharpening and were hard to push — new versions are better. Some brands need no sharpening and use a flywheel-type technology to store energy for extra power through thick stands of grass
Electric Mowers Work for Larger Lots
The next-best thing to reel mowers is electric, which can work well if you have a bigger lot or trickier terrain but you can still mow your lawn in less than an hour — that is, before the battery discharges on cordless models. Black & Decker recommends a mowing area of 10,000 square feet or less for its cordless mowers (your lot size minus your house, driveway and flower beds); compare to about 6,000 square feet for reel mowers.
Stay Away From Synthetic Ingredients
Choose new lawn care products without synthetic ingredients. The words "Caution," "Warning" or "Danger: Poison" on a product label are a cue to seek out natural alternatives. If going 100% green seems too daunting, make a resolution to choose organic in one category this year — for example, use a compost-based lawn food instead of chemical fertilizer. This will protect the microbes in your soil that promote lush, healthy grass, making your lawn healthier over the long haul.
Get Rid of Old Synthetic Products Safely
After you buy that awesome lawn food, you may still have a half-full bag of traditional fertilizer with pre-emergent herbicide sitting around, but don't throw it in the trash (or, heaven forbid, down a storm drain). Either give it to a neighbor who's going to use fertilizer anyway or take it to a qualified hazardous waste disposal facility. Find one near you at earth911.com.
A bug-free lawn and garden isn't actually healthy — if you spray chemicals indiscriminately, you kill beneficial insects as well as the bad ones and damage your yard's ecosystem. Try a little tolerance instead, spot-treating with horticultural soaps or oils instead of mass-spraying with chemicals.
Of the myriad products crowding your garage utility shelves, how many labels have you actually read? Those labels contain important information about storage and use that can affect your health and safety. Keep chemicals in their original containers, and the next time you pull one off the shelf, read the label completely before using. You might be surprised what you learn.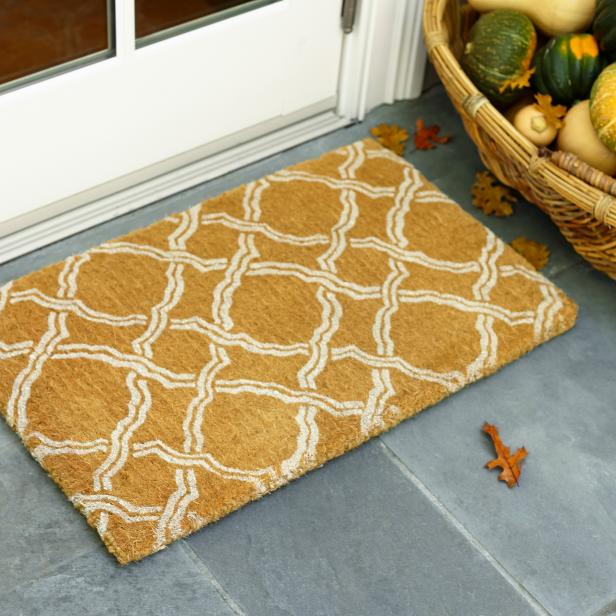 Modern Trellis Pattern
Pottery Barn's Kendra Trellis Doormat is inspired by the design of structures that can add charm and beauty to gardens. Made of coir fibers, the doormat is 100 percent biodegradable.
Photo courtesy of Pottery Barn
Use Doormats Inside and Outside Your Doors
Even if you aren't using many lawn chemicals, your neighbors likely are (after all, you did give them your leftover fertilizer, right?). Use a dual doormat system to catch as much outside debris as possible, and once inside, leave your shoes at the door. This can significantly reduce the amount of chemicals you're tracking through the house.