The mighty shrub: revamp your yard with attractive landscaping shrubs that are easy to grow.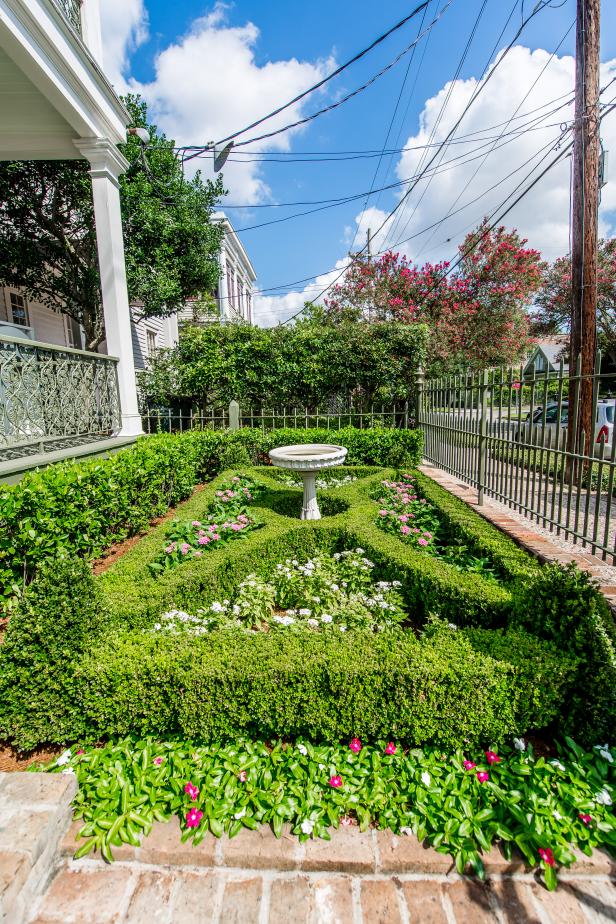 Beautiful Boxwood Parterre Garden
This front yard features a formal boxwood parterre garden with pockets of annuals to brighten up the curb appeal of the home.
Landscaping with shrubs can be a breeze if you choose the plants that match your level of expertise – and dedication. If you're like me, then you want everything in your yard and garden to require low maintenance. Below are five ideas for landscaping shrubs that will make you (and your yard) look good.
Gardenias are flowering plants that come in a shrub variety and produce amazingly fragrant flowers that make breathtaking arrangements. The bush, when planted with others of its kind, will grow to resemble a hedgerow, yet it's not stiff. The frost-proof variety of gardenia grows best in the southern half of the U.S.; although it won't die if the temp dips below 32 degrees, it doesn't like prolonged freezes.
Although they're famous for being the official plant of the Augusta National Golf Club where The Masters golf tournament is held in Georgia each spring, azaleas are more than just colorful landscaping shrubs. You can purchase them in pots and plant them in partial sun – and just watch them grow. They rarely need pruning, which makes them perfect for the hard-to-reach areas of your property.
Junipers are very popular groundcover shrubs used throughout most of the U.S. Not only are they low-to-the-ground and evergreen, they're resistant to drought and can withstand high temps and dry air. The one caveat: when planting many junipers together to form a "carpet effect," keep in mind that weeds will still have room to pop up in between the plants. Careful weeding is needed until the plants are mature.
Boxwoods are the ultimate multi-tasking shrubs. They can be adapted and shaped to assume almost any garden style, and make landscaping a breeze by acting as a hedgerow fence when mature. They can be planted in rows or solo or in pots. Boxwoods require regular watering during their first year and must never be pruned more than 1/3 from the top of the plant. Once the plant is mature, it becomes less thirsty. Mulch makes a good cover for the boxwood roots – too much harsh sun or a long freeze may kill the plant; not much else will.
The nandina is a beautiful rust-colored leafy plant that can grow to about seven feet tall. It proliferates quickly and will outlive practically everything in your yard. Its berries and foliage are toxic to cats and other small animals (not recommended for human consumption, either), but its care is minimal. Beware: if you live in the southeastern U.S., you must purchase the sterile variety of the plant – it's considered an "invasive" plant in many states due to how well it thrives and spreads.