Contemporary Landscape Design
Contemporary landscape design is all about natural beauty.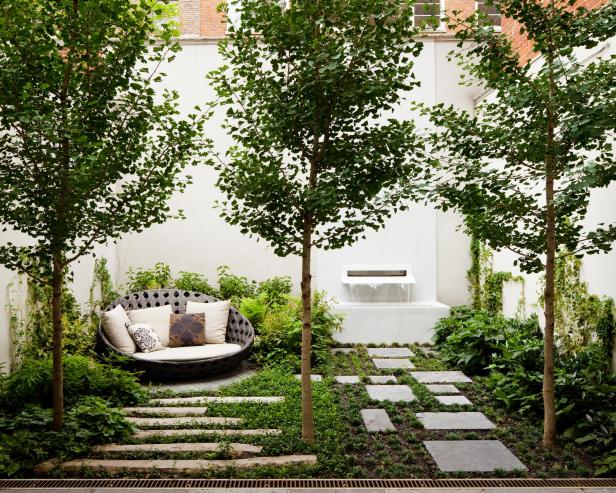 Contemporary New York Garden with Stone Pavers and a Fountain
Stone pavers lead to a re-circulating fountain in the garden of a contemporary Manhattan townhouse. To the left, locust slabs lead to a reading nook. The area is framed by ginkgo trees. The project by Nelson Byrd Woltz Landscape Architects of Charlottesville, Va., was an American Society of Landscape Architects award winner.
Contemporary landscape design isn't exactly the same thing as modern landscaping. While modern landscapes are defined by their clean, hard-edged minimalism and use of materials such as concrete and metals, contemporary landscape design goes for a natural look with wood accents.
It's perhaps easiest to describe contemporary design by saying what it's not: It's not rigid, it's not formal, yet it's not without structure. Contemporary landscaping can be eclectic, but it's not a hodgepodge of styles. The biggest difference between contemporary landscaping and traditional landscape designs is volume; although contemporary landscaping doesn't have the same set of hard and fast rules as modern landscape design, it still upholds the principle that less is more.
When designing a contemporary landscape, your primary goal is to work with what's already in place and make it better. Are there native trees that need trimming and a fresh sprinkling of mulch, chips, or straw around their bases? Are there hardscapes that could be removed or modified to create cleaner lines on the property? Could flower beds and shrubbery be relocated, streamlined or edited for a simpler, more natural look? Conversely, would an overly plain yard benefit from abed defined by landscape timbers or railroad ties?
Combining straight-line wood elements with shapely rocks adds a contemporary touch. Flowers aren't unwelcome but should be placed strategically and kept within borders by groundcover or within beds.
Unlike modern landscape design, curves are not off-limits. Rocks and gravel make be used, and the rounded edges of winding paths can be tamed by wood or tile spacers.
This landscape design aesthetic is family friendly and forgiving, which makes it easier to landscape around swimming pools, play sets and patios. Seating areas and furniture should have definitive lines, but neighboring plant life can be softer (i.e., yes you can bring your pansies to the party).
Contemporary landscape design works well with contemporary architectural styles, especially wood or concrete homes with dynamic angles. But it also gives traditional home styles a clever update. A two-story brick colonial with a concrete path line by landscape timbers and filled with monochromatic river stones really makes a statement.