Mediterranean Villa has Private Old World-Style Courtyard
A trip to Italy inspired this Mediterranean villa's Old World-style landscaping and hardscaping. A gated entrance leads to a courtyard, which provides and extra layer of privacy. Ivy-covered walls and stone-tile pavings add texture to the outdoor spaces, while increasing curb appeal.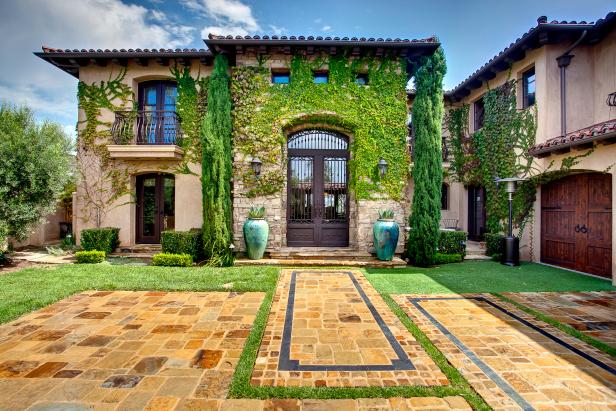 Beautiful Mediterranean Home With Ivy Facade
A paver driveway and walkway blend into one cohesive design that goes perfectly with the home's Mediterranean style facade.
What did your client want for the property?
This was a major house remodel. The client wanted an Italian/Tuscan theme, so the exterior details and landscape plans were designed accordingly.
What was the property like before?
The house was a 1960s tract home with a large, unattractive concrete driveway in the front yard and a small patio with grass in the backyard.
What was your biggest obstacle on this project?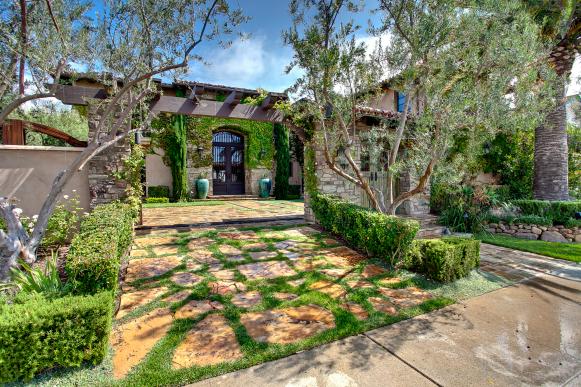 Mediterranean Home With Stone Slab Driveway
A stone slab driveway framed by perfectly trimmed hedges provides entry to the beautiful Mediterranean home.
There were two significant challenges. The first was turning a stark concrete driveway into an inviting courtyard. We wanted to transform this unusable space into a useable area. We started by creating a pronounced entry portal (a portico) with an attractive wooden gate and closed off the auto access, which allowed an intimate sense of enclosure. Paving and planting created a fabulous alfresco entertainment space on an otherwise small lot.
The second design concern dealt with the backyard, which had a steep slope, and the existing patio, which didn't take advantage of the bay view. The outdoor kitchen and living room were moved closer to the house to feel more like an extension of the home. We used a post-supported wood deck over the slope to maximize the space and view.
What inspired this project?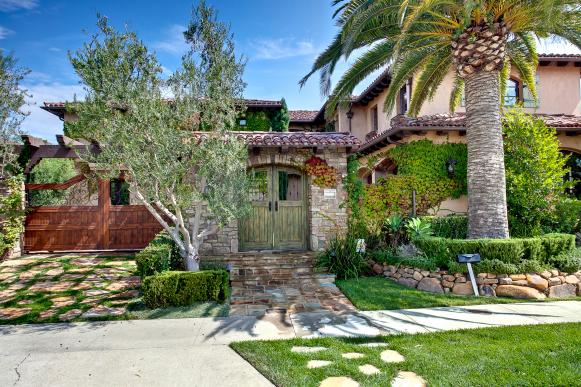 Mediterranean Home Boasts Curb Appeal
Meticulous landscaping and hardscaping paid off for this Mediterranean style home. It definitely stands out and boasts striking curb appeal.
Having recently returned from a trip to Florence and Siena in Italy, I was greatly inspired by the gravel terraces, vine-covered walls, detailed pavings and Old World gates that I had just seen. This project allowed a Southern California interpretation of those Old World details.
What is your favorite feature of this project?
I am most proud of the front yard transformation. It now has been repurposed into a magnificent outdoor living environment. The detail of the design elements, entry portico, wood gates and plant material helped substantiate the Tuscan design direction.
How did your design incorporate the courtyard?

The courtyard was created from the existing driveway. It was designed to complement and accentuate the Mediterranean architectural theme.