Learn what you need to know to keep your clematis vine looking its best.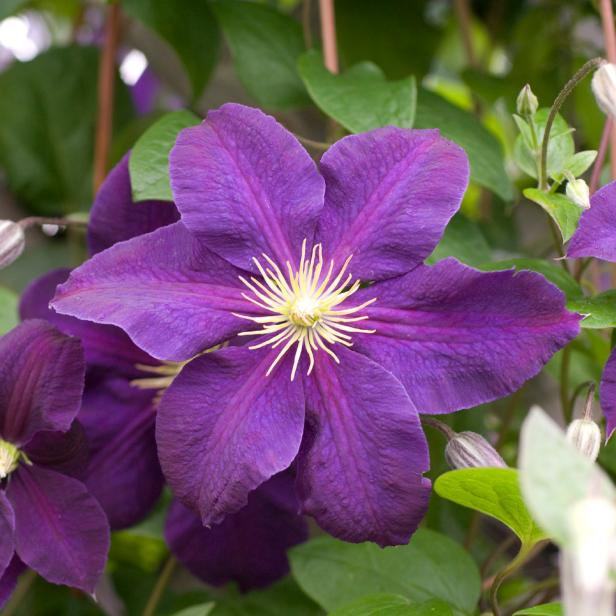 'Jackmannii' Clematis
This is a classic clematis that's easy to grow and beautiful. 'Jackmannii' unfurls purple flowers with yellow center stamens. Each blossom measures 5 to 6 inches across. Flowers appear from early summer until fall frost. Vines grow 8 to 12 feet tall and belong to Pruning Group 3. Hardy in Zones 4-8.
Clematis vines are the queen of the climbers, gracing gardens with luxurious blooms that are big and beautiful. These pretty vines have a reputation of being tough to manage. They're actually not hard to grow, although pruning routines can become a bit confusing. But pruning doesn't have to leave you scratching your head. When you cut depends on when your clematis blooms.
Back in the 1950s, garden experts divided clematis vines into three groups based on flowering time, which in turn determines the pruning routine. If you pay attention to when your clematis blooms, you can easily figure out the group it's in—or just look at the plant tag (if you're buying a new vine). There are three flowering times and pruning groups: Group 1, Group 2, Group 3. Here's what you need to know.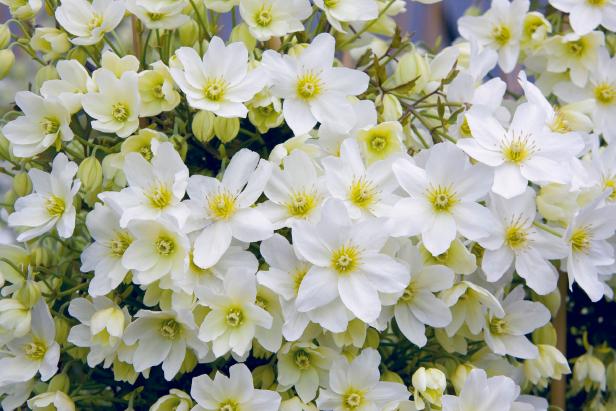 Avalanche Evergreen Clematis
Evergreen clematis bring year-round color to gardens. Avalanche delivers, as the name suggests, an avalanche of snow white blooms in spring. Also known as Clematis x cartmanii 'Blaaval,' this vining beauty grows best in part to full sun. Vines grow 12 to 15 feet tall with support and belong to Pruning Group 1. Hardy in Zones 7-9.
Group 1 (sometimes called Group A)
These clematis vines burst into bloom in spring—they'll be the first clematis vines to flower in your region. This early flowering occurs on old wood—stems that were formed during last year's growing season. The time to prune these clematis is after they flower. (If you cut them before they bloom, you'll be snipping the flower buds and cutting short your floral show.)
How much you cut depends on your clematis. If it's a vigorous vine that scales the garage walls and scrambles across the roof each summer (think Clematis armandii), then you should probably cut it back almost to the ground. For slow growing Clematis macropetala and C. alpina, you may not need to prune much at all. Snip wayward stems to keep the vine in bounds and call it done.
Examples of Group 1 clematis: Clematis alpina, Clematis montana, Clematis armandii, Avalanche Evergreen Clematis (shown above).
'Red Cardinal' Clematis
Also known as 'Rouge Cardinal' clematis, this vining beauty opens flowers with wine-red petals surrounding a creamy center. Each blossom measures 4 to 6 inches across. Flowers appear from midsummer until fall frost. Vines grow 6 to 10 feet tall and can be pruned as belonging to Group 2 or 3 clematis. Hardy in Zones 4-8.
Group 2 (sometimes called Group B)
Think of Group 2 plants as the mutants of the clematis world — flowering is their superpower. These clematis vines flower on both old and new stems and, as a result, stage two flower shows each year if vines are healthy. The first act unfolds in spring; the late-season show headlines in late summer or fall. Prune Group 2 clematis vines lightly in late winter or early spring. Grab the clippers when buds start to swell. Remove any weak or dead stems, and cut to reduce plant height — or not. The choice is yours.
Some clematis fans prune Group 2 vines in alternate years only, cutting plants back by half. No matter the method, you'll still get flowers with this group — big blooms on last year's stems, smaller flowers on this year's stems. Examples of Group 2 clematis: 'Henryi,' 'The President,' 'Rouge Cardinal' (shown above), 'Nelly Moser,' and 'Elsa Spath.'
Pink Mink Clematis
Fill your summer with the pink-on-pink blooms of Pink Mink clematis. This beauty unfurls pink blooms that have a deep pink stripe on each petal. Blossoms open all summer long. Give this clematis a sturdy support for its vigorous vines that grow 9 to 10 feet tall by 6 to 6.5 feet wide. Hardy in Zones 4-9. Pink Mink clematis belongs to Pruning Group 3.
Group 3 (sometimes called Group C)
This group of clematis strut their stuff anytime from spring to late summer or even fall. Each flower that opens forms on new stems that grow during the current growing season. Pruning these clematis is simple. In early spring, when chances of frost have passed and buds are starting to swell, remove all stems, cutting just above a bud. Place your cuts so remaining stems are roughly 4 to 6 inches long.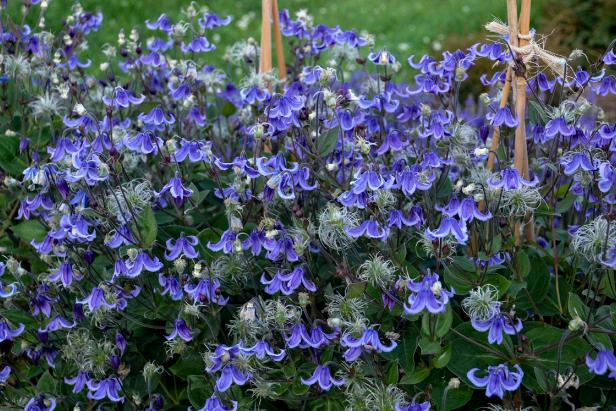 'Stand By Me' Bush Clematis
Discover the shrubby side of clematis with this upright version of the classic vine. 'Stand By Me' grows to a shrub-like form that doesn't need a trellis like a traditional vining clematis, although it does benefit from a little support. This clematis features beautiful blue blooms that dangle like bells and open from late spring through midsummer. After flowers fade, they form fuzzy seedheads that are eye-catching and fun. Plants grow 34 to 38 inches tall by 24 to 28 inches wide. Hardy in Zones 3-7. 'Stand By Me' clematis belongs to Pruning Group 3.
Many Group 3 clematis produce new stems each year from the crown, behaving like a perennial. This group includes what's known as shrub or upright clematis. You can cut these types to ground level in late winter or early spring.
Examples of Group 3 clematis: 'Jackmannii' (shown top of page), Pink Mink (shown above), Clematis integrifolia, Clematis tangutica, 'Ernest Markham,' sweet autumn clematis, and 'Stand By Me' (blue, shown immediately above).