Find out the best time to make the cut.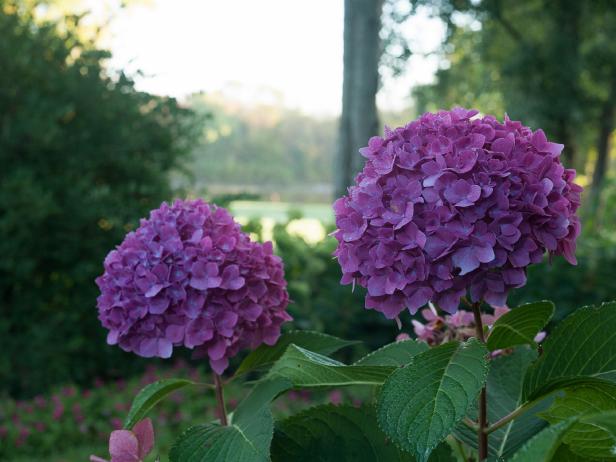 Let's Dance Rave Reblooming Hydrangea
If space is tight in your yard, you can still enjoy lush hydrangea blooms with this small shrub, which grows 2 to 3 feet tall and wide. Flower color shifts from a deep violet-purple in acid soils to pink in basic soils. Use this reblooming hydrangea in containers, as a specimen plant, to edge planting beds or as an informal hedge. Hardy in Zones 5-9. Botanical name: Hydrangea macrophylla
One of the most common gardening questions is "When should I prune my hydrangeas?" As those billowy big blooms turn from cheery blues, purples, pinks, reds and whites to boring browns we all tend to want to run out with the clippers and hack away. So, when is the time to do that?
It depends on the type of hydrangea you have, and there are many. First, know hydrangeas do not have to be pruned — unless the shrub has grown too large for its space or unruly and needs a little shaping up. Otherwise, you can simply clean up the plant by removing dead branches and deadheading spent blooms.
But if you do choose to prune one, remember this: Time it based on whether the type of hydrangea you have blooms on old wood or on new wood.
How to Prune Hydrangeas
02:07
These tips reveal the best times and ways to prune any type of hydrangea.
If it blooms on old wood (stems from the summer before the current one), its buds are being formed, and if you wait too late you may cut them off, meaning no flowers next spring. So these shrubs should be pruned immediately after their flowers fade.
Conversely, if the shrub flowers on new wood (stems developed during the current season), its buds are set within the season, so the shrub should be pruned in early spring before that new growth emerges.
Here are the common types of hydrangeas and when they should be pruned:
Big-leaf hydrangeas, Hydrangea macrophyla: These are the most common species and include the popular mopheads and lacecaps in wide-ranging colors of blue, violet, pink, purple, red and white. They bloom in early summer on old wood, so prune them after flowering.


Oakleaf hydrangeas, Hydrangea quercifolia: This native hydrangea features cone-shaped white blooms that turn a beautiful shade of russet in late summer. It, too, blooms on old wood so should not be pruned until after flowering.


Panicle hydrangeas, Hydrangea paniculata: Often pruned as tree forms, these shrubs (Tardivas, PeeGees) explode with panicle-shaped white flowers in mid- to late summer. Because they bloom on new wood, prune these in early spring before they sprout new foliage.


Hydrangea arborescens, 'Annabelle': Featuring globe-shaped blooms in spring that start out chartreuse and later turn white, this variety blooms on new wood as well so prune in early spring.
This beautiful flowering shrub can add color and abundance to your garden.
Remontant, or "reblooming," hydrangeas: These are a new generation of hydrangeas bred to flower more than once throughout the growing season. They offer wide-ranging colors, and one of the most popular cultivars is 'Endless Summer'. So because they bloom both on old and new wood, these hydrangeas can be cut back at any time.
When pruning a hydrangea that blooms on old wood, first remove any dead limbs, then crossing branches, thinning out the interior of the plant to open it to more sunlight. Ones that bloom on new wood, such as the Tardiva and PeeGee varieties, can be selectively pruned, choosing branches that don't conform to the desired shape of the plant or control size. And 'Annabelle' hydrangeas can be given the most severe haircuts, with the entire shrub cut back to six to 12 inches above ground.
Now do you see why the question of "When do I prune my hydrangeas" can be one the biggest head-scratchers in gardening land?!
All About Hydrangeas
02:09
Hydrangeas: general facts, growing tips, lifestyle and design uses.