Learn about new varieties available, plus how to care for hydrangeas.
If you're like me, you remember seeing hydrangeas growing in your grandmother's yard. The shrubs were popular in cottage gardens and were often planted around porches, especially where I live, in the South. They still have an old-fashioned feel, but there are some gorgeous new varieties available nowadays, and let me tell you: these are not your grandmother's hydrangeas.
Image courtesy of Lynn Coulter
Hydrangeas like this mophead variety can be a real delight and source of color in your garden, if you know how to care for them.
I mean that in the best possible way. Some of the older hydrangeas were very picky about being pruned. If you cut them back at the wrong time of year, you wouldn't get any flowers the following year, because they produced buds on what's called "old wood."
Even if you kept your pruning shears in the garden shed, a late cold snap could take out the buds. If the weather did cooperate, you still had only one flush of flowers in May or June. Hydrangeas were summertime showstoppers, but you had to wait a whole year for an encore.
Many of today's hydrangeas have been developed to fix those flaws. 'Tuff Stuff' available at Monrovia is a new lacecap that re-blooms vigorously, producing pinkish-red flowers from midsummer until frost. It can take part shade to full sun, as long as it has adequate water, and it's hardy in zones 5 to 9. (Don't panic if your 'Tuff Stuff' has blue blossoms. It just means your soil is acidic.)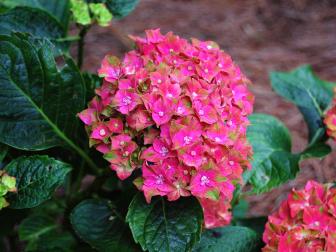 This beautiful flowering shrub can add color and abundance to your garden.
'Blushing Bride', introduced in 2005, is a re-bloomer from the Endless Summer series. It's a mophead, sometimes called a bigleaf or French hydrangea. Technically, it's Hydrangea macrophylla, with the big, blowzy flower heads Grandmomma grew. 'Blushing Bride's' flowers start out snowy-white and blush pink as they age. You don't have to prune, unless you want to control its size. If you do prune, you don't have to worry; flower buds grow on old or new wood.

'Forever and Ever Peppermint' from Forever and Ever Plants may not really bloom that long, but it does have a long flowering period, from spring into fall, and bears on new and old wood, so again. It's a mophead with white petals striped in peppermint pink (or bright blue, in acid soils). While the flowers are large, the plants only reach 2-3' in width and height, so this is a good choice for a container.

When you're shopping for hydrangeas this year, read the tags to make sure you're getting an easy-care, ever-bloomer. Grandma would've loved these!
Mophead hydrangeas, or Hydrangea macrophyllas, have rounded, globe-like flower heads. Most prefer morning sun and afternoon shade, but avoid heavy shade, which can cause poor flowering. Generally speaking, the further north you live, the more sun mopheads can tolerate. Mops come in blue and pink, as well as white, lavender, and lilac
Lacecaps have flattened, loosely arranged flower heads. Also known as H. macrophylla normalis, they have the same basic growing requirements as mopheads.
H. serratas are a subspecies of the macrophyllas, and they're smaller shrubs. Give them part shade, if you live in a sunny climate; elsewhere, they can take more sun.
H. arborescens is sometimes called smooth or wild hydrangea. The best-known variety is 'Annabelle', which bears big, white blooms and flowers dependably. Give this one some shade, especially if you live where the summers are hot.
H. quercifolia, or oakleaf hydrangea, has cone-shaped flower heads. It's native to the southeastern U.S. and often droops when the sun bears down, but be careful not to overwater. It needs good drainage. Oakleafs can be huge, so look for a dwarf if space is limited. If planted in a sunny spot, it will develop gorgeous fall leaf color. Give it some shade if your climate is hot.
How to Care for Hydrangeas:
For lots of beautiful flowers, choose a hydrangea that's cold hardy in your garden zone. Check the plant tag to see if it requires sun or shade, so you can plant it in the right spot. Early summer and fall are the best times to plant.
Put your hydrangea where you won't have to prune it. These shrubs grow vigorously, and besides—they're big and beautiful by nature.
Plant in soil that drains easily, and add good organic material, if needed, to help loosen it.
Don't plant your hydrangea any deeper than it was growing in the pot.
Avoid planting under trees, where the roots will compete for moisture and nutrients.
Keep your hydrangea watered for the first couple of years, to help develop strong roots. But don't let water stand around your plants. Oakleafs are especially prone to root rot when they are kept too wet.
Fertilize once a year with a balanced, slow-release fertilizer, or fertilize twice a year with 10-10-10. Commercial manure or compost is an organic alternative. Stop fertilizing by August to let your hydrangea get ready to go dormant.