Planting Coral Bells: How to Grow and Care for These Colorful Perennials
Heucheras, also known as coral bells or alum root, are herbaceous shade perennials native to America known primarily for their beautiful, robust foliage. They're a great low-maintenance option for landscape beds and container gardens, available in a range of alluring colors.
In recent years, heucheras have becoming increasingly popular among gardeners, and they deserve the attention they're getting. New cultivars and hybrids are being introduced regularly, giving us stunning new colors to use in our gardens that range from silver and gold to lime, burgundy, chocolate brown, purple, green and more.
Photo Courtesy of Bailey Nurseries 
From dark green, to chartreuse, to deep purple, to salmon and more, there is a heuchera to accent any dappled-sunlight garden. This one is called 'Berry Smoothie.'
Heucheras may be evergreen or semi-evergreen. Most are cold hardy in zones 4 to 9; some cultivars can tolerate the heat and humidity in zone 11. Graceful, bell-shaped flower clusters open in late spring through summer; the pink, red or white flowers are actually inflorescences, or tiny clusters of blooms, along a flower stalk that can be two to three times as tall as the leaf mound. Plant size ranges from 12 to 36 inches tall and 12 to 18 inches wide.
The foliage of these plants is probably their most striking feature. The leaves are often large and heart-shaped or rounded, and many are variegated or ruffled. Because most heucheras are evergreen, they bring year-round interest to the garden, even under a dusting of snow.
Coral bells are versatile in the garden and landscape. Plant in masses, for edging, as a specimen plant and in containers. Use in a mixed perennial border or in a woodland shade garden along with other shade loving perennials such as bleeding heart, iris and astilbe. Hosta, impatiens, ferns and caladiums are other natural companions.
An added bonus for planting heucheras? Hummingbirds often visit the delicate flowers.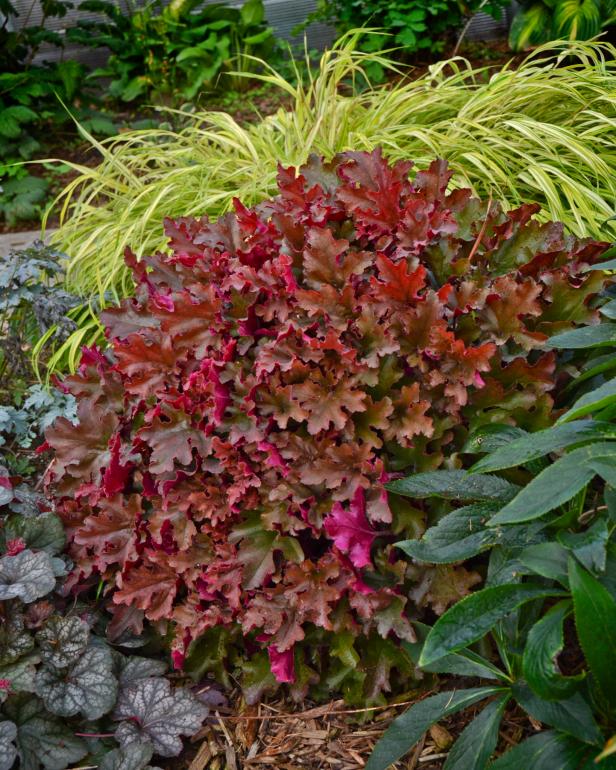 Heuchera 'Cinnamon Curls'
With so many colors to choose from, you're sure to find a heuchera to suit your needs for a landscape or container design. The contrast of ruddy 'Cinnamon Swirls' with various shades of green results in a striking look for this landscape bed.
Proven Winners
With so many colors to choose from, you're sure to find a heuchera to suit your needs for a landscape or container design. The contrast of ruddy 'Cinnamon Swirls' with various shades of green results in a striking look for this landscape bed.
Coral bells plants prefer partial shade but can take more sun in cold climates. Give them well-drained, moist, rich soil that's neutral to slightly acidic, with a pH of 6.0 to 7.0. Some species, like H. sanguinea, don't tolerate clayey or acidic soils. Other than keeping them regularly watered during their first year of growth, heucheras don't require much care.
Divide heuchera clumps as needed, or every three or four years. Deadhead the flowers, to promote more blooms, which may continue into summer. After the flowers are finished, simply cut off the stalks to help the plant put more energy into leaf production. If you wish, prune the foliage back in early spring, so new growth won't be crowded.
Few pests or diseases bother these deer-resistant beauties, although leaf scorch can be a problem for coral bells in hot, full sun. Watch for soil heave in changing temperatures; this happens when the ground freezes and thaws, eventually pushing roots up out of the ground. Keeping the plants well mulched can help prevent this from happening.
Quick Tips for Growing Coral Bells:
Plant in partial shade as full sun can cause leaf scorch
Mulch well to avoid roots being exposed as soil shifts seasonally
Cut back flower stalks in fall to direct energy into leaves
There are many species of heuchera, including H. sanguinea, the desert native that was originally known as coral bells. Today, the name coral bells is widely used for many huecheras available as hybridized landscape plants. Many of these hybrids are crosses that may include H. sanguinea as well as H. americana and other species known for different appealing characteristics, from foliage color and shape to bloom color to overall size and cold or heat tolerance.
'Plum Pudding' – Gorgeous, plum-colored foliage with dark purple veins. Plant in part shade for maximum color.
'Ginger Ale' – As the name suggests, this heuchera has ginger ale colored leaves with silvery tones. The heart-shaped foliage is scalloped on the edges.
'Snow Angel' – Big, bright green leaves bear streaks of lighter green. Snip stalks of the bright pink flowers to bring in for vases and arrangements.
'Creole Nights' – For a bold look in your garden, plant this heuchera, which boasts shiny black foliage.
'Blondie' – Caramel-colored leaves with creamy yellow flower spikes; heavy bloomer that's good for small containers.
'Sweet Tart' – Lime foliage topped by bicolored pink flowers held on dark stems; another heavy bloomer for small containers.
'Palace Purple' – Excellent, durable plant; features burgundy to dark purple foliage.
Turn a shady spot into a thriving garden with our favorite, shade-loving plant picks.
Save time and effort by planting these hardy, easy-to-grow perennials that come back year after year.