How to Plant, Grow and Care for Cosmos Flowers
Cosmos produce lots of bright blooms and are easy to grow — what's not to love? Learn how to grow these forgiving flowers in your own garden.
Cosmos is a classic cutting garden favorite that also makes a great addition to pollinator plantings. If consistently deadheaded, plants will produce blooms all summer and into fall. Flowers come in a variety of colors from white to orange to pink and beyond.
If you are in search of an effortlessly elegant and abundant bloomer for your summer garden, cosmos is a stellar choice. A member of the Asteraceae family, cosmos flowers have yellow centers and open petals that greet the sun like a friendly face.
With slender stems and finely lobed leaves, cosmos may appear delicate. However, they thrive in full sun, prefer lower soil fertility, develop sturdy stems and last well in a vase if cut properly. Here, explore common types of cosmos and learn how to successfully grow, care for, and harvest them in your garden.
All types of cosmos are grown as annuals in the US, including chocolate cosmos, which is a tender perennial (grown from a tuber) in its native Mexico. Grown from seed, cosmos self-sows readily and can come back from year to year in milder climates.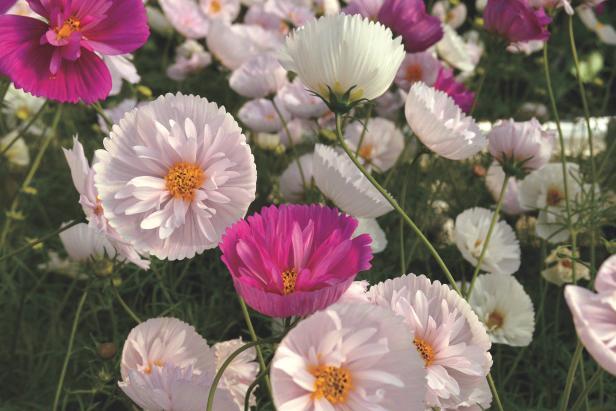 'Cupcakes' Mix Cosmos
'Cupcakes' is a unique cosmos bipinnatus with fused petals (think of a fluted liner for a cupcake pan). A packet of mixed seeds produces creamy white, lavender and pink doubled flowers. These delicate-looking plants bloom until frost, attracting pollinators like bees and butterflies.
Park Seed
'Cupcakes' is a unique cosmos bipinnatus with fused petals (think of a fluted liner for a cupcake pan). A packet of mixed seeds produces creamy white, lavender and pink doubled flowers. These delicate-looking plants bloom until frost, attracting pollinators like bees and butterflies.
Cosmos, Lace Cosmos (Cosmos bipinnatus):
The classic cosmos for cutting, Cosmos bipinnatus is a tall and graceful plant found in a range of shades including pink, white, burgundy and yellow. Reaching 3-4' tall, the branching, upright stems are ideal for cut flowers. If regularly deadheaded, they can serve as ornamental pollinator plants as well, thanks to their cloudlike leaves and airy blooms.
Notable varieties: Double Click, Cupcake, Sensation Mix, Daydream, Afternoon White, Xanthos, Rubenza
Hardiness zone: 2-11
Bloom Time: late spring to fall
Dwarf Cosmos, Sulphur Cosmos (Cosmos sulphureus):
A popular plant for annual landscaping and wildflower meadows, Cosmos sulphureus is a prolific, mostly shorter-stemmed species blooming in saturated shades of orange, yellow and red. Sulphur cosmos are unfazed by drought and neglect, making them ideal for summer pollinator plantings. While most sulphur cosmos sold in garden centers are dwarf types, the 'Diablo' variety blooms on 4-5-foot stems, so it's the best choice for cutting gardens (along with 'Bright Lights' at about 3 feet).
Notable varieties: Bright Lights, Diablo, Dwarf Gold, Sulphur Red
Hardiness zone: 2-11
Bloom Time: late spring to fall
Chocolate Cosmos (Cosmos atrosanguineus):
True to its name, chocolate cosmos blooms in a velvety burgundy and carries a cocoa-like scent. Native to Mexico, it is a short-lived perennial in its homeland, but should be treated as an annual in US gardens. This captivating cosmos reaches 2-3 feet tall. While less floriferous than the others, chocolate cosmos is a worthy specimen for gardeners who are treasure hunters at heart.
Chocolate cosmos' decadent hue is a hot floral design trend, and their popularity among gardeners is on the rise. They grow most reliably from tubers, but breeders are working to develop more viable seed. Availability of tubers and seed is highly limited, so check your favorite mail-order nurseries and seed catalogs in advance. Tubers may be dug and stored indoors over the winter to be replanted in spring, like dahlias.
Hardiness zone: 7-10
Bloom Time: summer to fall
Direct Seeding Cosmos in the Garden
Cosmos are easy to direct sow after your last frost. Prepare a well-draining bed in full sun. If growing for cut flowers, create straight rows (9-12 feet apart) for efficient weeding and harvesting. Direct seed cosmos into shallow trenches (created by a trowel, hori hori, or ruler), then cover the seeds lightly with soil by gently refilling the trenches. Or, simply scatter the seeds over the prepared bed and rake gently to help the seeds make contact with the soil. Hand-water the bed well after seeding, and keep the soil evenly moist until germination. Cosmos may be seeded every four weeks through summer for steady blooms.
While cosmos bloom happily in summer, they are most abundant when the day length is shorter than 14 hours, according to Armitage and Laushman's Specialty Cut Flowers. Ideally, time plantings to bloom during shorter day periods. Day length makes a greater impact on younger plants than mature ones, so getting a jumpstart indoors in spring will yield more blooms than seeding in summer. However, as days shorten in late summer, younger plantings will find renewed vigor.
Starting Cosmos Seeds Indoors
Seed starting indoors before your last frost gives you a headstart on the season. Cosmos should be seeded indoors in cell trays or 2-inch soil blocks about four weeks before your last frost. Cover the seeds lightly with soil, and place the tray on a heat mat with a humidity dome. Bottom water or mist to keep the soil moist until cotyledons emerge. Seeds germinate best in soil around 70 degrees.
If multiple seeds germinate, thin to one seedling per cell. Once more than 50% of the seeds have sprouted, move the tray under grow lights and keep watered. Once the starts have two to three sets of true leaves, they are ready to be hardened off. Move the tray outdoors for a couple hours in the shade the first day, increasing the time and sun exposure a bit each day (as long as temperatures are above 55). After a week or two, your seedlings will be ready to transplant.
Cosmos should be planted 9-12 inches apart, and ideally supported with horizontal netting. If you don't plan to use netting, space them a bit closer so they help support one another (although tighter spacing can hasten the spread of disease).
To transplant, create a divot in the soil large enough for the root ball, and tuck your cosmos into the loosened soil. Gently fill the soil back in around the roots, being careful not to bury the leaves. The first set of true leaves should stand just above soil level. Use your hands to firm the soil around the base of the plant, helping the roots get settled, and water gently.
Cosmos are low-maintenance plants that require well-draining soil with moderately low fertility and neutral pH. Abundant nitrogen can cause cosmos to have spindly, overly leafy growth, so it's best not to fertilize.
After direct-sowing, you may find seedlings bunched closely together. To thin cosmos, use your fingers to remove unneeded seedlings, leaving one strong contender every 9-12 inches.
Whether direct-sowing or transplanting, cosmos seedlings should be pinched to just above the first or second leaf node once they reach 6 inches tall; this will encourage branching and make for sturdy, prolific plants.
Check your cosmos regularly for weeds, especially when plants are young and in danger of being out-competed. Eliminate thread-stage weeds before they challenge the seedlings by gliding a hoe in between plants (this is easiest if they're planted in rows). Once cosmos are established, their tall, branching growth helps shade out weeds.
Mulching with leaf mold is a healthy practice for suppressing weeds, retaining water and supporting the soil microbiome.
Cosmos are vulnerable to bacterial wilt and fungal disease, especially in the Southeast. Affected plants should be removed and destroyed. Proper spacing at planting time ensures ample air flow — a key preventative measure for fungal issues.
Aphids and Japanese beetles may be attracted to cosmos. Spray with an insecticidal soap or neem oil solution if aphids are found. In the morning or evening, shake stems containing Japanese beetles so that they fall into a bucket of soapy water; this helps keep their population in check.
As long as cosmos haven't fully set seed, they will continue to flower. To encourage a lengthy display, deadhead cosmos by removing spent blooms with sharp snips. Enjoying cosmos as cut flowers also encourages regrowth.
Cosmos should be harvested when the buds have color but have not fully opened. If cut at the proper stage, you can expect about five days' vase life. To harvest cosmos, cut the stem above a leaf node, allowing at least 12 inches of stem length. Cutting deep down the plant's main stem and directly above a node will encourage branching regrowth — the deeper, the better. While harvesting, keep a few leaves intact around the flower if you like, and strip all remaining leaves; clean stems mean clean water, and longer-lasting blooms.
Cosmos self-sow readily in the garden. You can also collect dried seed heads to save in an airtight container in the fridge for next year. When saving seeds, select heirloom or open-pollinated varieties to ensure next season's blooms will display the qualities you seek. The seeds of F-1 hybrids are unlikely to bloom true-to-type from saved seed, so hybrid seed must be purchased annually.
Bob Farley, Bob Farley/f8Photo.org
Cosmos bloom brightly alongside other pollinator-attracting flowers in a perennial garden. Although cosmos are annuals, they self-sow readily.
Plant cosmos with other cut-and-come-again annuals like zinnias, gomphrena and celosia for low-maintenance summer beauty and abundant harvests.
Since Cosmos bipinnatus blooms in many colors, create an ombre effect in the garden by planting a range of shades in a sweeping formation or long row. For example, try grouping 'Afternoon White,' 'Cupcake Blush,' 'Daydream' and 'Rubenza' for a white-to-pink-to-burgundy gradient.
When designing arrangements with cosmos, mimic the graceful way they float and dance in the garden. Stagger the heights of flowers in vases to create a natural sense of depth. Airy cosmos are loveliest when allowed to hover in front of and above weightier stems like zinnias or dahlias.