Iris Flower: Varieties to Grow and How to Care for Them
Learn popular iris varieties that flower in a multitude of colors and the meaning behind the flower's name.
Stir up some spring color by including iris flowers in your landscape. This large group of bloomers includes plants that grow from bulbs (Dutch iris, Iris hollandica), as well as traditional perennial types of iris, such as bearded iris (Iris germanica) and Siberian iris (Iris sibirica). There are even reblooming iris, which produce multiple floral displays during the growing year.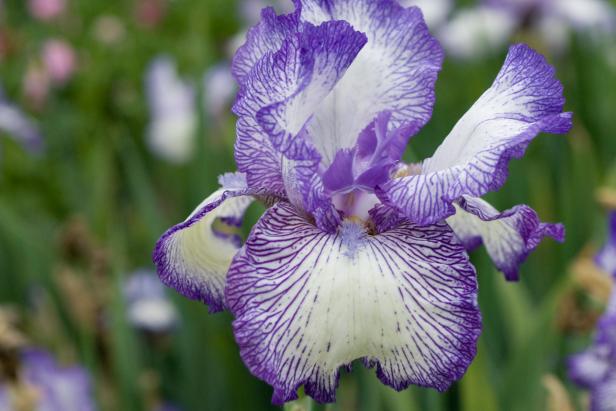 Autumn Circus Tall Bearded Iris (Iris 'Autumn Circus')
Give your late spring garden a touch of hybrid beauty with the beautiful purple and white blooms of Autumn Circus tall bearded iris. Site plants in full sun for the strongest flower show, and make sure soil drains well year round. Fertilize iris in early spring, after flowers fade and again in early fall. Plants are hardy in Zones 3 to 10.
This enduring perennial, a subject of poetry, painting and countless garden photographs, grows from rhizomes, a fleshy root. The color choices of irises are many. And if the usual spring bloom isn't enough for you, you can choose several different varieties and keep the garden bathed in color from season to season. "You can have irises blooming year-round if you include some of the varieties from the subtropics," says Ray Schreiner, an iris nurseryman in Salem, Ore.
Iris plants unfurl their stunning flowers from spring to early summer. When iris flowers appear depends on the specific types of iris and varieties. In general, dwarf bulb irises flower first in very early spring. This includes Iris danfordiae and reticulated iris (Iris reticulata). The remaining iris flower from spring to early summer, usually in this order: bearded iris, Siberian iris, Louisiana iris (Iris fulva, I. brevicaulis, and others), Japanese iris (Iris ensata) and Dutch iris.
Reblooming iris introduce another dimension to the iris show in home gardens. These non-traditional bloomers boast second and even third or fourth flower stems in summer or fall. Many reblooming iris are bearded iris types, but there are rebloomers that fall into Japanese and Siberian iris categories.
Iris flowers have an unusual structure and appearance. The petals resemble a classic fleur-de-lis symbol, with some petals rising up while others cascade down. The center petals stand upright and are known botanically as standards. These tall petals stand like signal flags, waving in potential pollinators.
Downward dropping petals known as falls dangle beneath the standards. Falls petals function as a landing pad for pollinating insects. These petals feature markings that help direct insects toward the flower's reproductive parts. On bearded iris, the beards—a series of hairs arranged in a line—act as a gripping agent, giving pollinators a surface to grab and hang onto as they ascend the falls petals toward the flower's center.
Many gardeners like to include iris flowers in cutting gardens. Dutch iris and bearded iris are probably the most favorite iris for using in bouquets. Cut Dutch iris flowers when buds are showing halfway out of the green covering and the flower bud tip is starting to unfurl. Snip bearded iris stems as soon as the first blossom on a stem has started to unfurl. With both types of iris, any other buds on the stem showing a nose of color should open in the vase.
Love bouquets? Irises are among these flowers offering blossoms perfect for plunking into vases.
Expect Dutch iris stems to show color for up to a week. Bearded iris should have a strong display up to 10 days as subsequent buds open. When cutting iris flowers for bouquets, use sharp clippers and snip stems as closely to soil as possible. Take care not to damage leaves, though, because they're needed to build up food reserves in the roots to fuel future flower shows.
This beautiful bloom traces a heritage through Greek mythology. In Greek, the name "Iris" translates as "rainbow," which is one iris definition. There's another Greek word, "eiris," which means "messenger," which gave rise to another iris flower meaning having to do with words.
Most folks assume that the iris definition of rainbow refers to the many colors this flower comes in, but the root of the meaning traces to Greek mythology. There was a Greek goddess named Iris who delivered messages for the gods and from the Underworld. She would travel along rainbows as she moved between heaven and earth, which explains the iris definition rainbow.
Another iris flower meaning is eloquence, which relates to the messages the Greek goddess carried. Composed with well-chosen words, the messages embodied eloquence and communication, and so iris definition embraced the same idea.
The goddess Iris also escorted the deceased from earth to heaven, guiding them to their final destination. This association of irises and the afterlife became so entrenched in Greek culture that individuals would plant irises on the graves of loved ones as a sign to the goddess Iris, calling her to come and escort their loved one in the afterlife.
In Japanese culture, the iris flower is revered for its purifying properties. In Japan, a common iris definition includes the idea of purifying evil energies and protecting those who wear it. The iris flower is a common symbol found in kimono fabrics, as well as in paintings and the short Japanese poetry style known as haiku.
In Chinese art, the iris definition most often supported is "the dancing spirit of early summer." The petals of iris blooms easily move in the wind, mimicking the fluttering of butterfly wings. Thus one iris definition in Chinese culture is "the purple butterfly.
The Victorian era language of flowers gives a host of meanings to iris flowers. They can represent faith, hope, courage, wisdom and admiration. Specific flower colors attach further meanings to the pretty blooms. Purple iris brings a message of wisdom and compliments, while a bouquet of blue iris blossoms speak of hope and faith.
When passion is the iris definition you wish to convey, send yellow blooms. For bridal bouquets, white iris flowers are ideal, because these blooms symbolize purity. Iris flowers of any color also have meanings of cherished friendship and promise in loving relationships.
Iris definitions don't include any religious expressions, although this plant is frequently included in traditional gardens that honor the Virgin Mary. The inclusion comes from the plant's sword-like leaves, which are said to mimic the sorrows that pierced Mary's heart as she watched her son Jesus suffer and die.
This lovely flower is the floral emblem of France and Florence, Italy, as well as the inspiration for the world-renowned symbol of the fleur-de-lis. Bearded iris (Iris germanica) is the state flower of Tennessee.
Iris varieties include the spring favorite, bearded iris. These showy perennials open brightly tinted flowers from mid-spring to early summer, depending on the hybrids you plant. Bearded iris are usually hardy in Zones 3 to 9 and include types of iris that are dwarf, knee-high and full size (reaching 40 inches tall).
To extend the bearded iris flower season, include reblooming iris in your landscape. These perennials can be hardy from Zone 3 to 9, depending on the iris varieties you grow. Reblooming iris offer varying degrees of reliability when it comes to rebloom. Make sure you purchase ones rated to rebloom in your hardiness zone. Be patient with reblooming iris, because many need to become established in the garden for a year or two before they start reblooming.
A host of hybrids exists within the bearded iris family, which expand blossom color palette and size. Among bearded iris, look for flowers in shades of purple, blue, red, peach, yellow, orange, rose, black and white. Bicolor blends also exist. Purple and blue iris are probably some of the more common bearded varieties. All bearded iris make good cut flowers, making these pretty perennials good candidates for a cutting garden.
Siberian iris is a tough perennial type of iris that brings exquisite beauty to late spring and early summer garden. Blossoms unfurl to reveal purple and blue iris flowers, along with blooms in shades of red, white, pink, orange and yellow. Plants are hardy in Zones 3 to 9 and form clumps of grassy leaves that add a fine texture to perennial garden designs.
Siberian irises open flowers mostly in shades of blue, violet and white, although other hues are available. This perennial iris forms clumps that are two to four feet tall with thinner, grassy leaves. If you love blue iris but don't have a full sun spot to put them in, try Siberian iris instead. These bloomers flower in part shade conditions.
One of the beloved iris varieties for cutting gardens is Dutch iris. This iris has beardless blooms in a rainbow of hues. Many gardeners choose which flower hue they want and plant those hybrids specifically. This group produces classic blue iris, white iris and a wide variety of other bloom shades. It flowers in spring and is hardy in Zones 5 to 9, although gardeners in Zone 5 should mulch bulbs after the ground freezes in fall.
Orchid-like iris flowers make wonderful additions to garden bouquets, lasting up to a week as all the buds on a stem open. Dutch iris grow from bulbs that are planted in fall in zones where the plants are hardy. In colder zones, bulbs go into the ground in spring, and they're usually treated as an annual.
If you're looking for types of iris that can grow in standing water, check out Japanese iris. This exotic, elegant bloomer tolerates up to 6 inches of standing water—but only during the growing season. In winter, this beauty needs to be in drier conditions. Try growing it at the base of downspouts or along a stream, or tuck it in pots that you submerge in a water garden during warm weather and remove for winter. Japanese iris open flowers in a wide variety of hues, but the white and blue iris varieties are some of the more popular ones.
Other types of iris include African iris (Dietes bicolor), which is a drought-tolerant beauty that's hardy in Zones 8 to 11. The flowers on this perennial contain traditional features of other iris varieties, although blossoms are somewhat flattened and delicate. They open to reveal yellow petals with purple splotches and resemble butterflies floating above leaves.
For unusual yellow iris flowers, check out two types of iris: dwarf iris (Iris danfordiae) and yellow flag (Iris pseudacorus). This species of dwarf iris opens bright canary yellow blooms in early spring on tiny plants that top out at 4 to 6 inches tall. This yellow iris grows from a bulb and multiplies to form small clumps.
Yellow flag iris grows from a fleshy rhizome and reaches 3 to 5 feet high. The yellow iris blooms appear in late spring to early summer. This is a moisture-loving iris that colonizes along marshy areas. It's been listed as invasive in some part of the Northeast, Minnesota, California and the Pacific Northwest.
Reblooming iris fall into several groups. Most of them are bearded iris, but there are some reblooming Japanese and Siberian iris, too. Some reblooming iris produce two or more flushes of flowers each growing year—these are called rebloomers. Another group is referred to as cycle rebloomers. These reblooming iris flower in spring, rest during summer and deliver a second floral display in fall.
A group of reblooming iris called repeaters flower in spring and immediately send up new blossom stems after the first ones fade. The last group of reblooming iris are the all-season rebloomers, which can produce flowers at any point throughout the growing season.
The most important thing to understand about reblooming iris is that nothing is guaranteed. Reblooming may or may not occur, even in named reblooming varieties, depending on things like growing conditions, plant age, zone and available water. Some reblooming iris need to grow for a few years before they can start pumping out those subsequent flower flushes.
Generally speaking, reblooming iris are less reliable in their multiple flower flushes the further north you grow. Most reblooming iris are reliable rebloomers in Zones 5 to 10. Zones 3 and 4 are where rebloom becomes more iffy.
How to Grow and Divide Iris
One of the most common mistakes in growing irises is planting them too deep. The rhizomes like to sit on top of the soil sunning themselves, so leave the upper part of the rhizome exposed. And go easy on mulch: The only time an iris needs mulch is during the first winter to help the roots set.
Just about the only maintenance that irises need is division every three to four years. The best time to divide is a month or so after bloom. Schreiner recommends one of two methods: digging-and-dividing or thinning old growth while the plant is in the ground.
The variety of irises on the market is enormous, and breeders continue to seek different colors or color variations and select for bigger flowers, more vigor or bigger beards. Hybridizing irises is very easy, requiring only that you brush a stamen of one iris onto the top of the style arm of another.
Irises can be grown in almost any climate, but they need the winter chill to achieve dormancy. This period allows them to store enough energy to rebloom the following year.
Iris growers look for at least seven blooms on the stem, but you can also find varieties displaying a generous 13 or 15. And some irises are rebloomers so you get to enjoy the beauty again, later in the season.