Dahlias: How to Care for, Plant and Grow
These gorgeous flowers unfurl one of the widest-ranging color palettes. Get HGTV garden experts' best tips for dahlia care.
Keep in mind: Price and stock could change after publish date, and we may make money from these links.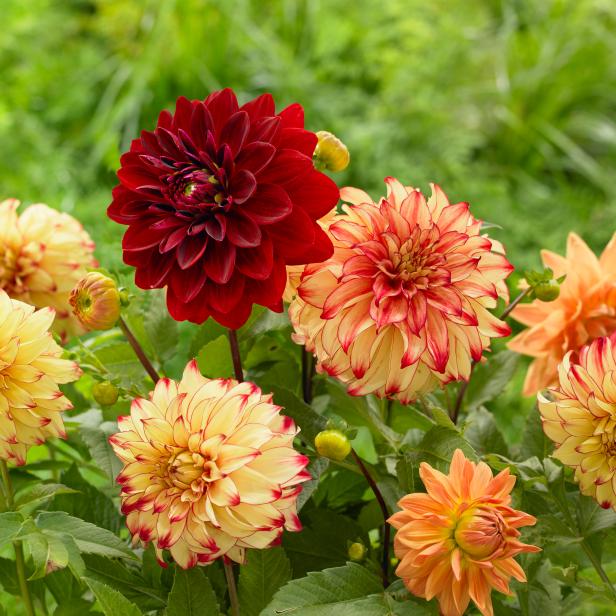 Dinnerplate Dahlia
For pure summer flower power, it's tough to beat dinnerplate dahlias. These over-sized blooms open to 8 or 9 inches across in a rainbow of colors. This pretty pairing features red 'Alex Mingus' and yellow and red 'Lady Darlene.' Dahlias are hardy in Zone 9 to 11. In colder zones dig tubers and store over winter.
From August until frost, dahlias unfurl one of the widest-ranging palettes of flower color, forms and sizes of any plant. They bloom in nearly every flower color except true blue, and bloom size ranges from 12-inch-wide dinner plates to anemone-like forms to small button-like pompons.
Feast your eyes on more than a dozen varieties of these sumptuous blooms.
Dahlias are popular, long-lasting cut flowers with about 30 species among them and tens of thousands of cultivars.
Native to central Mexico, dahlias are easy to grow if given adequate sunlight and rich well-drained soil. These shrubby plants grow from bulb-like tuberous roots, or tubers – which often present two challenges for gardeners. The tubers, sold in garden centers and mail-order nurseries, often rot. And depending on how cold your winters get, they may require digging and storing indoors until planting time next spring. As a result many gardeners treat dahlias not as perennials, but as tender bulbs or annuals. But more about this later.

Select a spot that gets at least six hours of sunlight a day, preferably more.

Prepare soil by digging out 12 to 18 inches and adding lots of compost or organic matter because dahlias are heavy feeders and demand well-drained soil.

Plant tubers in spring when soil has warmed by digging a hole three to six inches deep and laying the tuber in it with the growing tip up. Cover with soil but don't water until well after growth emerges. Plant the tubers about 18 to 24 inches apart because they produce bush-like plants.

Once established, dahlias like lots of water — but not wet feet — so make sure you plant in well-drained soil.

Dahlias are used to Mexico's warms days and cool nights, so mulching is crucial when growing them in warm climates like the Southeast.
Fertilize each plant with a spoonful of Osmocote at planting and in late summer with a water-soluble feeder, such as Miracle-Gro Rose Food.
Tubers often rot because gardeners water them right after planting when they haven't yet grown roots for absorbing the moisture. Wait until after new foliage emerges and the plant is about six inches tall before watering.
And then there's that big question of to dig or not to dig? If the ground where you live normally doesn't get cold enough to freeze in winter leave the tubers in the ground and cover with several inches of mulch or pine straw. But in colder climates, play it safe by digging up the tubers in fall. Clip off their stems, dust the cuts with garden sulfur, and store them in a box in a cool spot indoors until planting time next May.
When the first freeze hits, it's time to tuck away your dahlias.
Learn the basics of planting dahlias—including simple tips to improve your success.
If that sounds like a lot of trouble, just remember that that bold wave of late-summer color is more than worth it.
All About Dahlias
02:04
Dahlias: general facts, growing tips, lifestyle and design uses.