What to Expect When You Live by the Water
Living on or near this natural setting brings its own set of challenges.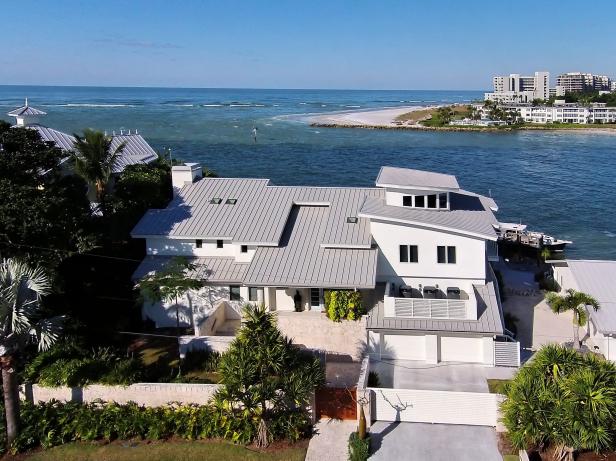 Coastal Contemporary Home Right On the Ocean
This contemporary coastal escape is centrally located right on the ocean with it's own deck and dock access for a boat.
Sand between your toes and the sound of water gently lapping at the dock may make you want to jump into the deep end and grab your own little piece of paradise. Feel free to go nautical when you purchase your dream or vacation home, but know what you're getting into and we're not talking about interest rates, closing costs or home inspections.
We mean the lesser known, mostly unanticipated challenges of living lakeside, oceanfront or along the banks of a beautiful river. Here are a few that can test your patience and your wallet:
Birds of a feather stick together. Water naturally attracts waterfowl. Geese can be aggressive and, along with other birds, like ducks and gulls, they leave droppings that are difficult to remove from decks, boats and vehicles. There are things you can do to discourage them, and not feeding them helps, but if you live near the water, plan on seeing feathers. (And in some places, alligators, too.)

Sitting on the dock of the bay. Expect lots of dock maintenance, especially if yours is located on a busy aquatic thoroughfare. Elena Bluntzer of The Bluntzer Group, a real estate company that specializes in high-end properties, says, "Boat docks ... require constant maintenance and repairs or full renovation every few years." And that goes double for docks located in salt or brackish waters.

People live in glass houses. If you have a great water view, remember that it works both ways. If you can see the water, then everyone on the water can also see you, especially at night, when all the lights are on. You might want to dress accordingly.

Knock, knock -- here we are! A waterfront home is an instant people magnet, even if you'd rather be alone. Expect drive-by visitors, friends and relatives wanting to use your place for a weekend getaway or vacation. Be prepared for many strange requests: Can we have our wedding/birthday party/bar mitzvah at your house? Financial expert Emma Allen, who owns Emma Allen Enterprises as well as a home on Lake Norma, N.C., says people drop in even though her home is completely off the beaten path. If this bothers you, you might consider a gated community.

Water giveth and water taketh away. Whether you're on a beach or a bank, water erodes sand and soil. A place perched too close to the shoreline can pose serious problems. Before buying: Look at a prospective home at high and low tides. Talk to the neighbors. Find out what agency monitors that particular coastline and check with it to see what erosion problems have plagued the area (the city or county inspections office can be a good place to start).

Swim with the fishies. If you're going to live on the water, you need to know how to swim, and so does the rest of your family. It's a safety issue for you and your visitors. Lake homeowner Allen says that after she and her spouse bought their place, the whole family took advanced swimming and lifesaving. "We've had to fish quite a few people out of the water," Allen says.

Your ship will come in. It's a given: Living nautical means traveling nautical. Julie Languille, a homeowner and entrepreneur in Whidbey Island, Wash., explains with tongue firmly planted in cheek: "You need a boat to sail. And a motor boat to launch the crab pots. You keep your larger boats moored in the water to launch them without the hassle of the trailer. Then, of course, you need a smaller boat to boat out to your bigger boats. And you need kayaks. And then the cost of the 12-step program for boat addiction."

Don't fence me in. Fencing can be an issue if you want an unobstructed view of the water, but don't want your pet wandering off. Invisible fencing is the answer for lots of waterfront pet owners, says Languille, an invisible fence/pet owner. Look for quality systems to start at around $200 and go up depending on the footage and collars needed.

Necessity is the mother of insurance. You'll need flood insurance. You can get the basic stuff from the government, but, says Kevin Lee, CEO and chairman of search engine marketing company Didit, "If you want more than FEMA flood insurance, it gets expensive." Additional insurance can cover only your personal effects, the buildings they're in or both.

Hear the wind blow. If you live on either the Atlantic or Gulf coasts, then be prepared to spend a little extra to hurricane-proof your home. Hurricane shutters and premium roofing don't come cheap but they can make a big difference when the winds hit up to 100 mph. For example, shutters can run from about $8 to $55 a square foot.
Every location has its challenges. If it's water that makes you feel alive, then grab an oar and go for it. Just be careful not to step on that duck on your way to the boathouse.