What to Ask Before Buying a Rural Property
Familiarize yourself with potential problems before buying in the country.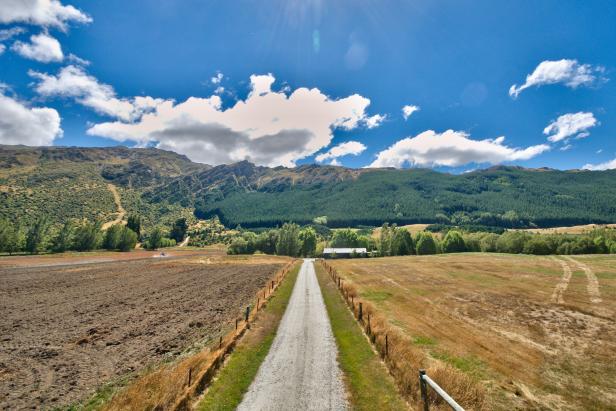 Private Driveway: Dreamy Mountain Retreat in Queenstown, New Zealand
A private, gravel driveway leads the way to the three bedroom, three bathroom cottage set on over 19 hectares of rural land in Queenstown, New Zealand.
hoamz ltd., a member of Luxury Portfolio International
The thought of living on a big property with your own private wilderness may seem ideal in many ways -- there's plenty of land for kids and pets to play on, and house prices keep dropping the farther you get from a city. But if you're thinking of buying a home in a rural area, there are all sorts of scenarios to consider that urban dwellers may not be familiar with. Here are ten questions to ask before you buy that big block of land out in the country.


1. Is the water safe to drink? Rural properties often draw their water from private wells, which may be contaminated with minerals, radon or even dangerous chemicals like arsenic. Insist on a water test before making an offer on the house. If you discover problems, factor the cost of a water treatment plan into your offer.
2. Does the house have an adequate septic system? When a house is constructed in a rural area, a leach field is built to collect sewage and water waste, with its size dependent on the size of the house. If an owner builds an extension, he must also extend the leach field to make sure the septic system can handle the number of people living there -- so if you're interested in a house that's had an addition built on, make sure the leach field is the proper size to avoid costly construction bills in the future.
3. Is the house on a private road? If so, you could be facing thousands of dollars in extra expenses each year, as you'll be forced to split the bill with your fellow residents for plowing, maintenance and paving.
4. What's the longest the power's ever gone out? Rural areas are often among the last to be served if a power line goes down. In some cases, you may be forced to go days, or even weeks, without power. If you decide to move into an area where that's a possibility, a back-up power generator is a must. Even then, if you have an electric pump for your well, you won't be able to use tap water, so make sure you've got plenty of water and other essentials stored in case of an emergency.
5. How is the air quality? In rural New England in particular, a natural gas called radon has a high presence in the air, and it has been linked to lung cancer. If the radon level is unknown, request a test. If the radon levels are unsafe, factor the cost of a mitigation system (often $1,000 or more) into determining your offer.
6. How accessible is the property in the winter? If you're looking for a house in an area with heavy snowfall, make sure that the property is on a road that will be safe to drive on and plowed regularly, or prepare yourself for dangerous driving conditions. You may need to budget for snow tires for your car or even purchase a truck or SUV to deal with heavy snowdrifts.
7. Where are the boundary lines? If you have several acres or more, it's often tough to tell where your property ends and the neighboring property begins. Make sure to have the property surveyed before you buy it, so you know exactly how much of the land is yours in case of a future dispute.
8. What will you do with your trash? Unlike in cities, you can't simply leave your trash cans on the curb and expect them to be picked up for disposal. Find out if there's a town dump within easy driving distance, or see if you can create a dump site on the property. You may be permitted to burn your trash in the yard, though anything toxic must be disposed of in other ways.
9. What are the deed restrictions and zoning ordinances? Before you buy a house, find out what you are and aren't permitted to do with the land, as well as what you may expect to find your neighbors doing with their property. Whether it's hunting, owning livestock or having a home-based business, it's important to know what the regulations cover.
10. How physically difficult will it be to maintain the property? It may seem romantic to own a property with many acres of land, but the reality can be tough work. You'll be responsible for mowing the lawn, clearing debris and plowing snow in the winter, among other strenuous tasks. Make sure that you're up to the challenge, or that you're able to afford help with more difficult jobs.