Here's What $800 in Rent Looks Like in 12 Top U.S. Cities
Spoiler alert: it looks very, very small in Manhattan. Grab your glasses, you'll need to squint.
Paying rent each month is the new norm for many Americans, myself included. But the question is: how much is everyone paying and what does that cost look like?
Suddenly feeling super curious about the cost of living outside your current zip code? You're in luck. I put my curiosity (read: nosiness) to action and threw myself into rental research to uncover what one person is able to call home with a budget of $800 each month. Fun fact: I quickly uncovered that in these U.S. cities with this budget, you'll need a roommate to keep a roof over your head at all.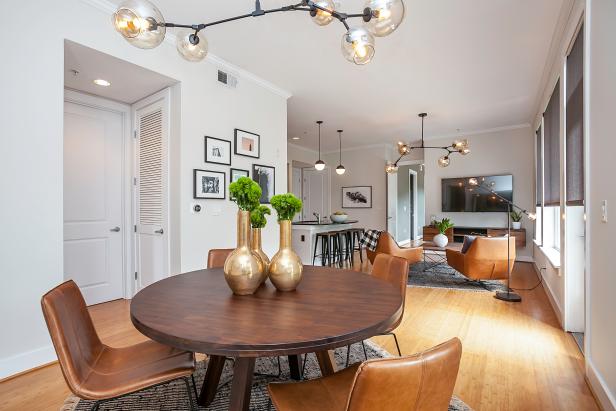 Neutral Loft Apartment Living Area
Just off the dining area, designers created a masculine, contemporary living room in this loft apartment. With two leather chairs providing luxurious seating in front of a large screen TV, this is the perfect living room space to catch a game and enjoy time with friends, and with the connectedness of the loft spaces, the party can continue throughout the home without making anyone feel excluded, extending the entertaining space of this loft apartment.
It's crucial to pair up in this peach-loving city, pals. That said, it will be more than worth it. Atlanta renters can snag a sleek, contemporary 2 BD/2 BA apartment for around $1,600, or $800 per person. Bonus: this rental in ATL often comes packed with luxe finishes throughout the ~1,000 square-foot unit.
Tana-Nesbitt_Park-Slope_Dining-Wide
We clad the fireplace in new bricks that wrapped down to the hearth, and designed a custom trim and screen. The industrial chandelier by WORKSTEAD over the dining table works perfectly to balance out the off center fireplace. Sanding and bleaching the existing wood floors helped to brighten the space. The mismatched baseboard and window sills replaced with wood reclaimed from an old Brooklyn building.
Spend $800 in this artsy, edgy Texas city and you can live comfortably in a newly-renovated 400 square-foot, 1 BD/1BA apartment. I spotted a unit at this price that included a parking space, laundry on site and a walk-in closet. Talk about a steal, y'all.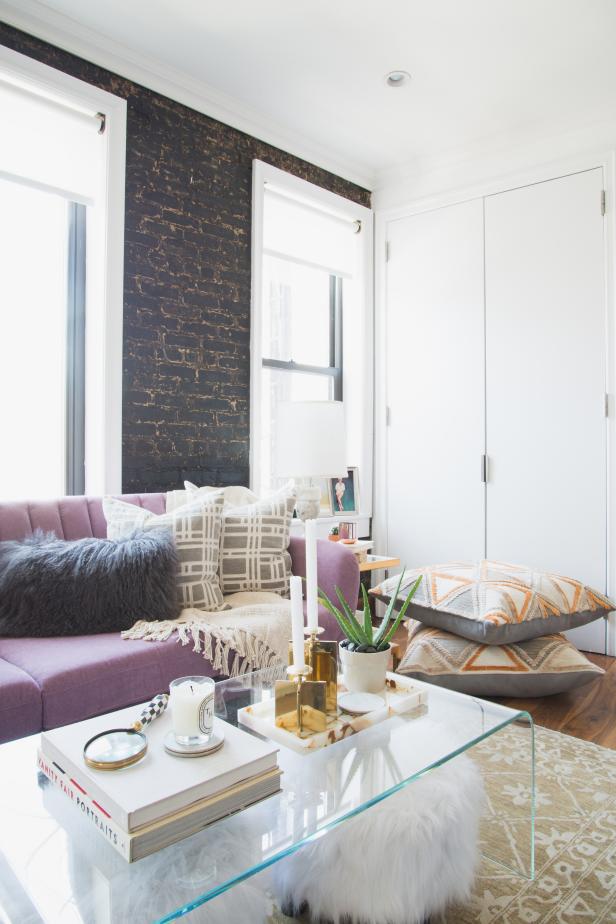 Urban Living Area Features Stylish Furnishings
Crisp white pairs with dark brick to create a striking backdrop for this urban living room. A gorgeous lilac sofa adds bold color to the space, and a flokati pillow and stools lend texture.
Claire Esparros for Homepolish
Live like a queen in the Queen City! I'm fortunate enough to call Charlotte my home and for $725 a month, someone else could too! CLT renters can snag a sweet spot in the sought-after Elizabeth neighborhood in a charming, cozy 1 BD/ 1 BA, 750 square-foot apartment that boasts totally unique, Craftsman details throughout.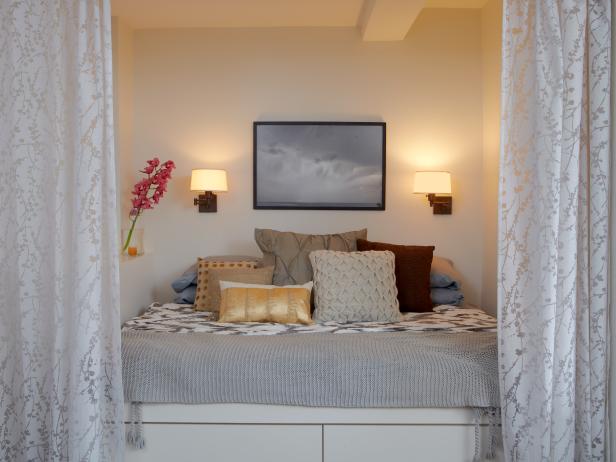 Cozy Studio Bed with Luxurious Fabrics
A readymade bed was painted and built-in to look like custom cabinetry. Airy, floral curtains separate the bed from the rest of the apartment
Prepare for some sticker shock, Southerners. Our renting friends out West can't do much with an $800 budget. After digging around the web, I spotted a 386 square-foot apartment for $895 per month. Unfortunately, that was a steal as most Denver studios started at or above $1,300 each month.
We should all pick up and move to Arkansas, friends. For a measly $900 a month, Fayetteville renters can play house in a 1,300 square-foot, 3 BD/2 BA home with a lovely, lush lawn out front. Divvy that rent between 2-3 people and we're looking at record-breaking rent prices over here, right?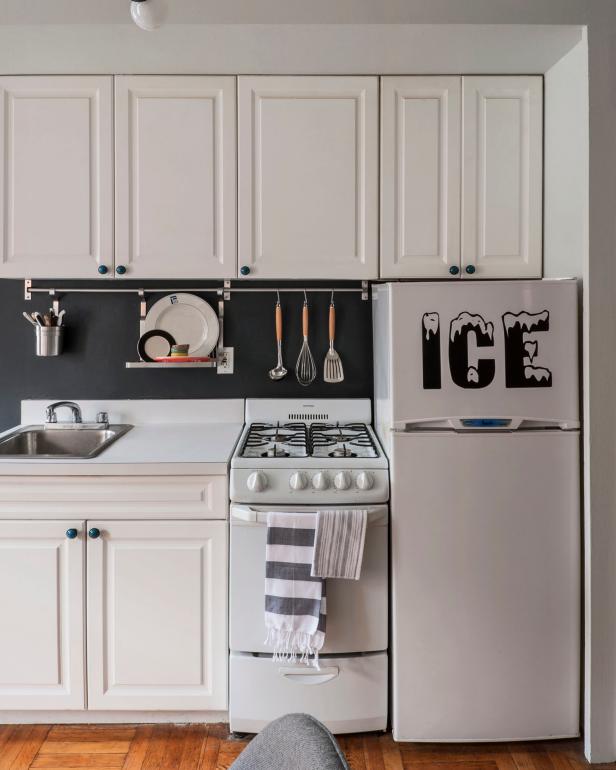 Pint-Sized Apartment Kitchen
Simple Ikea racks were installed for additional storage in the pint-sized kitchen. A vintage-inspired decal is a playful touch on the freezer door.
Apparently, living like an angel doesn't come cheap. If your budget is $800 in L.A., you'll need to find a roommate ASAP. You'll be splitting $1600 each month for a bare-bones, 1 BD/1 BA studio apartment. Did I mention that it's street parking only?
Two roomies can spend $750 a month to live in an expansive and adorable 1,400 square-foot brick bungalow near the heart of downtown Nashville. The space I spotted came with 4 bedrooms, 1.5 baths, a yard and private parking. Find a roommate for all four bedrooms and we're talking $375 a month!
Living large in the Big Easy is easy to do, y'all. For $850, NOLA renters can set up shop in a historic, 925 square-foot duplex apartment. The space I spotted comes complete with crown molding, original fireplace, a claw foot tub and endless character. Live there on your own or enlist a roommate for super-low pay.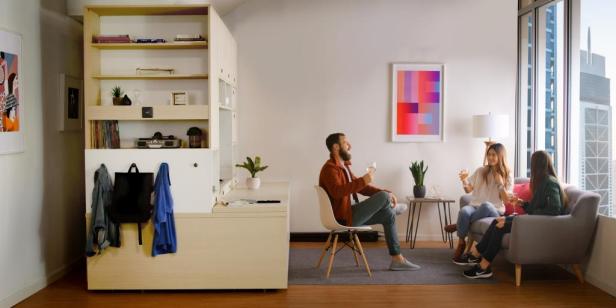 Ori Systems Robotic Modular Furniture
New Ori Systems Robotic Apartment in a Box
Photos courtesy Ori Systems
If you've got $737 to spare, you can lock down a 373 square-foot studio in Manhattan. So, good news and bad news. The bad? You're paying almost eight hundred bucks each month to live in a shoe box. The silver lining? Your shoe box is in Manhattan and it comes equipped with a bathroom.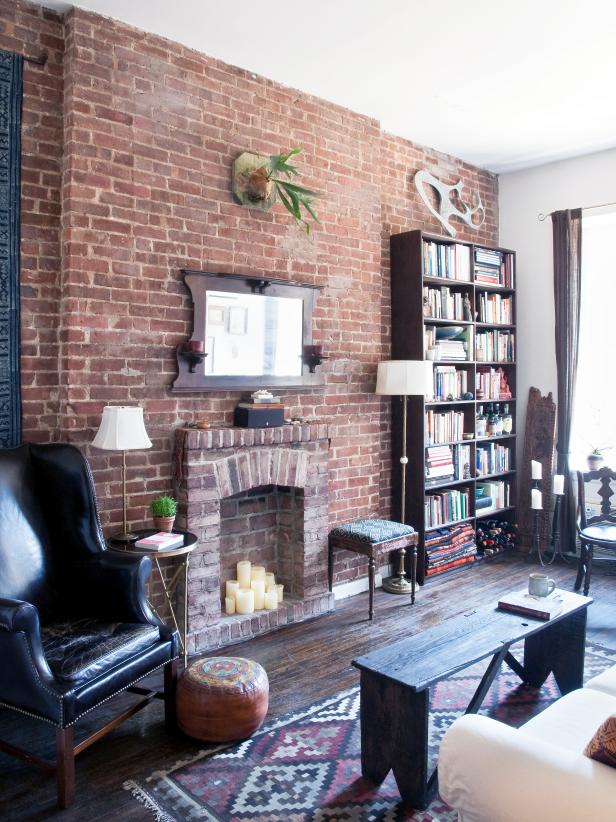 Small Living Room With Bench Coffee Table
To meet the challenges of small-space living in a 397-square-foot one-bedroom, photographer Michael Mohr and his wife chose narrow pieces, such as the bench used as a coffee table. Instead of a big entertainment center, Mohr mounted a 27" TV in the closet, hidden most of the time but able to pivot out when they were interested in watching a show.
OKC is the place to be! With our $800 budget, renters can secure super-cool spots throughout the city. I found a spacious, 1,100 square-foot, 2 BD / 1 BA unit in a handsome, brick duplex apartment building. It featured an expansive kitchen, a fireplace and a huge, covered balcony for entertaining.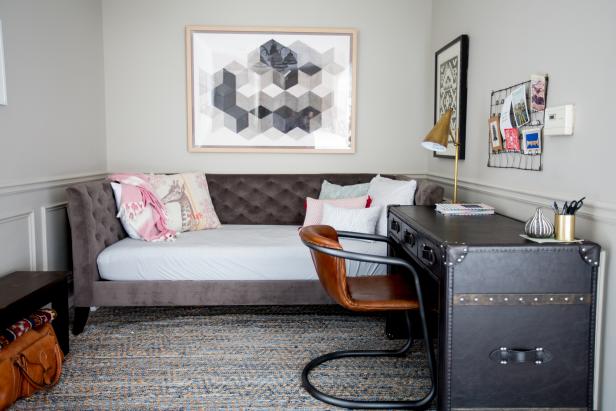 Texture Highlighted in Guest Bedroom Design
The guest bedroom is all about unique texture. A comfortable, velvet daybed finds a home to the side of the room adding softness to the space while geometric prints give the room a funky feel, and a leather desk and chair give the room a work station. Finally, a cool, woven rug covers a stained carpet, completing the guest room's transformation in this rental apartment.
Rent rates for 500 square-foot studios near the Space Needle begin anywhere between $990-$1,500, on average. For the budget we're playing with, Seattle renters will need to be sure they like their roommate — a lot. They'll become really close, whether they like it or not.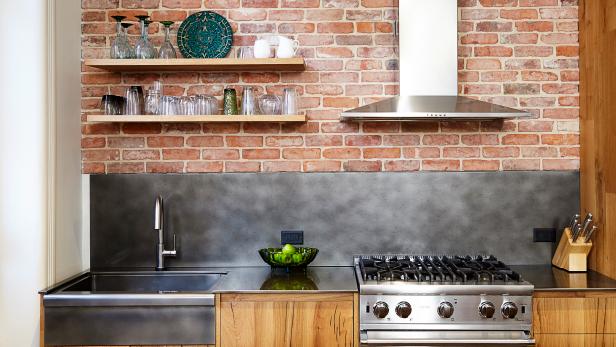 Contemporary Kitchen With Steel Backsplash
The innovative style of this apartment includes recycled brick walls, reclaimed railroad ties for the cabinets and kitchen island and steel countertops and backsplash. Open shelving adds to the airy feel of the space.
A simple, 640 square-foot, 1 BA studio apartment in our nation's capital will run renters around $1,600 per month. At the risk of sounding repetitive, yes, you'll need a roommate. Something to keep in mind, though? Your shared studio will include one bathroom. And really, who needs personal space with all those beautiful, blooming cherry blossoms during spring?