Want to Own a HGTV Home? Now's Your Chance.
Ready to make a move? Check out these homes from HGTV shows that went on the market, or recently sold, including houses from Rock the Block, Home Town and more.
To own a HGTV house is an especially rare opportunity, so when a listing is posted, be sure to take a peek! Several remodeled homes from HGTV shows have been on the market or sold this year, and whether you're vying to move, or just want to see what those properties sell for, enjoy the opportunity to check it for yourself.
As Seen On HGTV's Home Town
Home Town fans – this is your chance to buy a custom-renovated home, restored by HGTV stars Ben and Erin Napier. Located in Laurel, Mississippi, and listed at $210,000, the 1968 split-level ranch underwent substantial renovations to rework the interior space and create a functional floor plan suitable for entertaining and living. This is only the third time a Home Town house has been resold, so if you love the Napiers' signature Southern home style, now's the opportunity to make it your own.
Get a reminder of that amazing interior, too:
Ben and Erin Napier help long-time friends, Dawn and Michael, transition from downtown living to a family-friendly neighborhood home with a pro-style kitchen and a great outdoor space.
It's not often that Home Town homes hit the market, so we know you'll want to act fast if you want to make the most of this opportunity.
Earlier this year, their bungalow-style home from Season 2 was listed and sold for an affordable price when the previous family relocated for work, so if you live in the area or are looking to relocate to Mississippi, keep their homes in mind.
As Seen on HGTV's Rock the Block
The Winnick family were already viewers of the HGTV's Rock the Block and fans of Leanne Ford's design style on Restored by the Fords when they realized that the featured homes located in their area were going to be sold. During Season 1, Leanne invested in the main bathroom and kitchen in the home she designed, and also focused on increasing the square footage by maximizing the entryway.
Homeowner Gloria Tsang Winnick and her husband weren't even in the market to buy a home in Santa Clarita when they reached out to HGTV to learn more about the homes featured on Rock the Block. They fell in love with the family-friendly neighborhood, and sought how they could make it their own.
When it came time to buy the HGTV home, "[t]here were a lot of moving parts," Gloria told The Signal. "If we get this house, it's meant to be our house, because so many things had to fall into place in order for us to actually be able to get it, and everything kind of just fell into place."
Many homebuyers can relate to that feeling, but not many get the opportunity to own an actual home from a HGTV show. The Winnicks now get to raise their young son in their dream home.
Leanne Ford transformed her Rock the Block house to reflect her unique personal style of warm minimalism.
If you can't have one of the original homes, Pardee Homes — the developer involved with the construction — offers homebuyers the chance to choose from design elements featured on Rock the Block. By selecting different design elements, buyers can benefit from having the designers' style incorporated into their own space.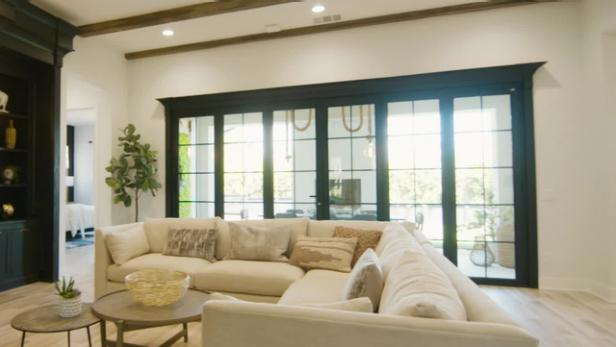 More Home Reveals from Rock the Block
5 Videos
Check out before-and-after videos from Rock the Block's first season.
As Seen On Windy City Rehab
Season 2 of Windy City Rehab featured a major renovation led by designer Alison Victoria. This historic Chicago home was initially listed for $1.65 million and has been reduced to $1.6 million, so there's still time to make an offer if it checks all your boxes.
As with all of the homes Alison renovated, the upgrades preserve the historical significance and architecture. The 100-year-old 5-bedroom, 4-1/2-bathroom house intentionally incorporates a brilliant mix of vintage and modern details, reviving life and opportunity into an old structure.
The 3,850-square-foot home includes a custom kitchen with high-end appliances, a spa-like main suite, and a wet bar, office and two laundry rooms.
Feelin' a SoCal vacation? The Help! I Wrecked My House star is renting out her Huntington Beach, California, home on Airbnb.