How to Make an Oversized Christmas Cross-Stitch Sign
We're sorry, there seems to be an issue playing this video. Please refresh the page or try again in a moment. If you continue to have issues, please contact us here.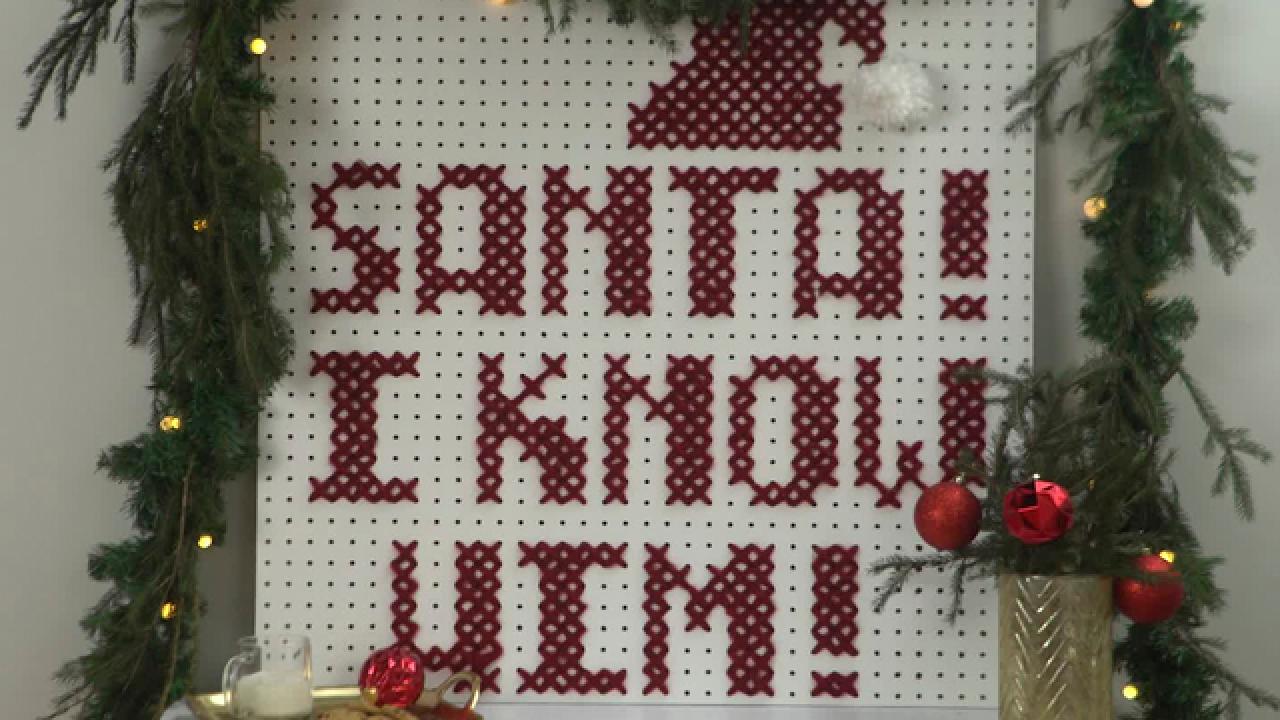 graph paper
pencil
pegboard, 37 holes x 37 holes
several plastic embroidery needles
thick red yarn
standard white yarn
scissors
Pick your design and cross-stitch font. You can use our template, or find your favorite design and font online.
If you're going with your own design, plot it out on graph paper with a pencil before you begin cross-stitching.
Transfer Design to Pegboard
Transfer the design onto the pegboard. Make sure to use a pencil so you can correct any mistakes.
Cut a few feet of thick red yarn, and thread it through the plastic embroidery needle. Pull the threaded yarn through the back, leaving a few inches in the back for tying off later. Tip: Separate the yarn into small sections to make it easier to thread through the needle.
Continue cross-stitching (Image 1). When you're ready to start a new strand of yarn, thread the yarn, pull it through the next hole and leave a few inches in the back. Tie it to the previous strand in the back (Image 2). Tip: Depending on the thickness of the yarn, it may be difficult to pull the yarn and needle through (especially where four strands meet). Use scissors to widen the hole (Image 3).
We made our own pom-pom for the Santa hat. To do this, cut about a 6-inch piece of standard white yarn and place it between your middle and ring fingers. On the same hand, wrap a new strand of white yarn around your knuckles 50 times (Image 1). Cut the end and slowly remove the ball of yarn from your hand. Wrap the separate strand around the center of the ball and tie tightly (Image 2). Cut the loops (Image 3), and trim the ends (Image 4). Use the two strands to loop through the pegboard and tie. Cut excess yarn ends.