How to Make an Oversized Christmas Wreath
Be the envy of your block. Hardware store staples, lights and faux greenery combine to create a traffic-stopping oversized outdoor wreath.
We're sorry, there seems to be an issue playing this video. Please refresh the page or try again in a moment. If you continue to have issues, please contact us here.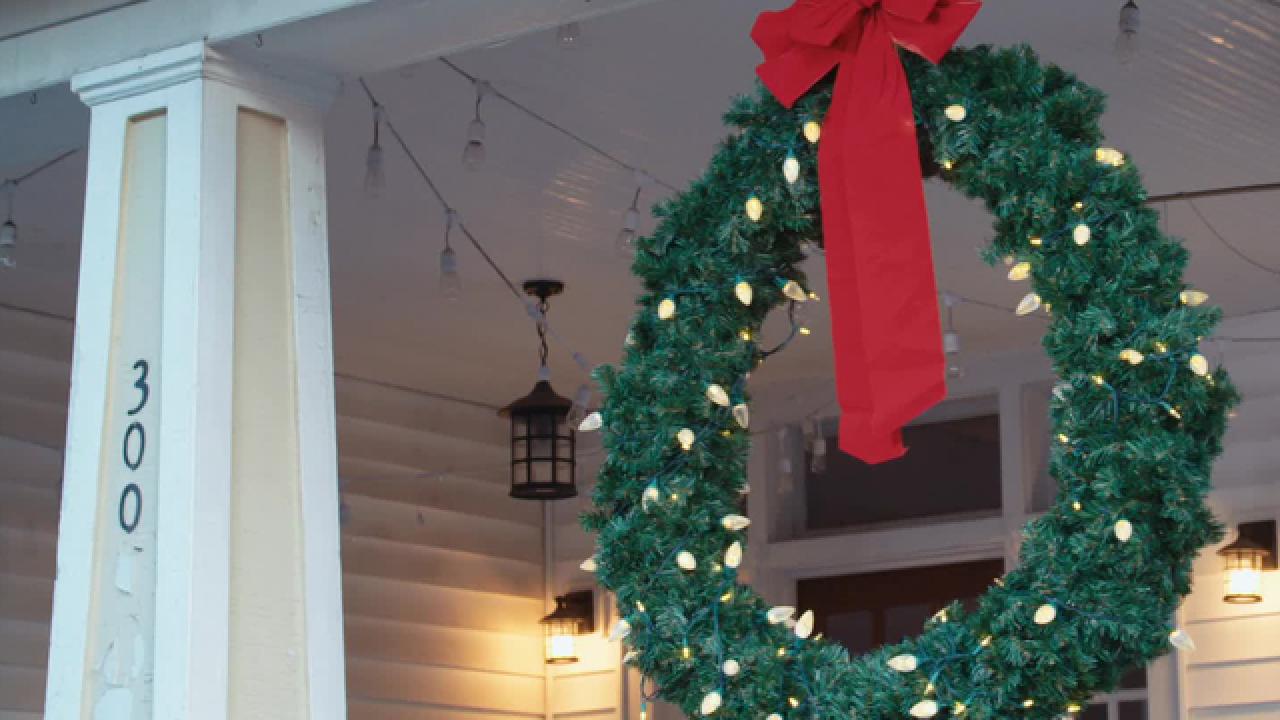 4' wide and 10' long perforated, corrugated drainage pipe
9x12 disposable paper tarp
weighted hula hoop
can green satin spray paint
roll of green duct tape
25' extension cord
49' LED warm white c9 faceted lights
small 100ct LED warm white lights
(8) 9' flame-retardant wired greenery garland
red pre-tied Christmas bow
wire hanger section from an old hanging basket
Lay out painting tarp and spray drainage pipe green.
Take the detachable hula hoop apart and snake through drainage pipe until it comes out of the other side. Tip: If the pipe is too long for the hula hoop or if you just want to custom-fit a space, use utility scissors to cut the pipe to size.
Reconnect the hoop to create a circular shape. Use green duct tape to keep both ends of the drainage pipe together.
At the top of the wreath, insert one of the wired pieces of garland into one perforated hole and out another. Twist the wire to secure.
Wrap Entire Pipe With Garland
Wrap the pipe completely with garland, which will take 8 pieces. The garland has wire in it that can be used to attach each piece together by wrapping the wire around the previous garland strand. Once the whole wreath is covered, twist the wire to secure in place. Tip: Use metallic tinsel garland instead of greenery for a reflective, sparkling look.
Wrap half of the wreath with one strand of the white mini lights. Plug second string of lights to the first and wrap remaining half of greenery. Wrap entire wreath with c9 strand of lights. Tip: Make sure both plugs are at the top of the wreath to easily plug in to the extension cord.
Remove a wire hanger from an old hanging basket planter. Right beside the plugs, wrap the wires around the wreath and twist them together on the inside to create a sturdy hanger for the wreath.
Tie a holiday bow at the top of wreath to cover the wires.
Run outdoor extension cord to desired spot. Hang oversized wreath and plug in for a festive display. Tip: It needs to be plugged in from the top, but the cord could be run below if necessary.