DIY Gingerbread House Doormat
Skip the less-than-lively big box store doormats and craft one all your own just in time for the holiday season!
We're sorry, there seems to be an issue playing this video. Please refresh the page or try again in a moment. If you continue to have issues, please contact us here.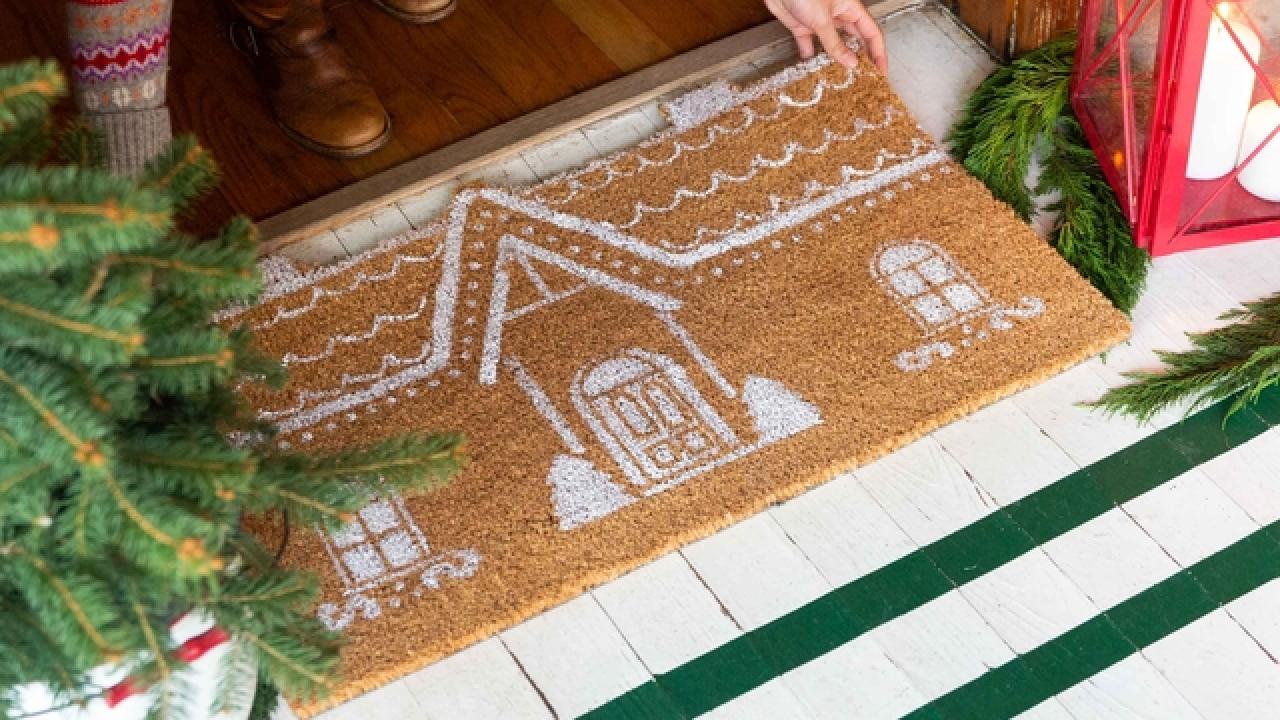 Have you found that no matter how much you search, the quintessential holiday doormat that's in your head never seems to hit the store shelves? We sure have! So, we decided to craft our own instead. All it takes is a coir doormat, some provided templates and some simple crafting supplies to make your door the most festive (but decidedly beautiful) one on the block.
coir doormat
freezer paper
iron
cutting mat
craft knife
marker
outdoor craft paint
hardy paintbrush
paper towel roll
scissors
pencil
painter's tape
Sure, you could freehand your idea of the perfect gingerbread house, but we've made it easy for you by providing printable templates. Once printed, transfer the templates to freezer paper by laying the paper over the template with the shiny side down and tracing with a marker (Image 1). Once transferred, cut out the templates with a craft knife on a cutting mat, until only the spots you wish to paint around remain (Image 2).
To fix the templates to the doormat, arrange them to your liking and iron over them on medium heat (Images 1 & 2). This will soften the wax and hold the templates in place. Once attached, use a hardy paintbrush and outdoor craft paint to fill in around the templates (Image 3). Once complete, gently peel off the freezer paper (Image 4).
Freehand around the templates to add any missing details (Image 1). To add the gingerbread roof lines, use a ruler and work around the existing lines provided by the template (Image 2). Leave space near the top to add chimneys above the peak of the roof. To do this, simply paint on two solid rectangles on each side above the roof. Add scalloped roof shingles by cutting a paper towel roll in half to create a "U" shape, dipping in paint and stamping along the roof lines. To maintain a consistent look, use painter's tape as a spacer between the shingle rows.
Embellish the doormat by adding small details with a pencil eraser dipped in paint (Image 1). Stamp Christmas light dots beneath the roofline and below the windows and wherever else you please. Lastly, use scissors to cut out the excess roof next to the chimneys (Image 2). Once the mat is cut and dry, place it beneath your door. Just like that, you've created the perfect holiday doormat!