3 Fun Christmas Game Ideas for the Family
Step into Christmas with these fun DIY games you can make out of leftover wrapping supplies.
We're sorry, there seems to be an issue playing this video. Please refresh the page or try again in a moment. If you continue to have issues, please contact us here.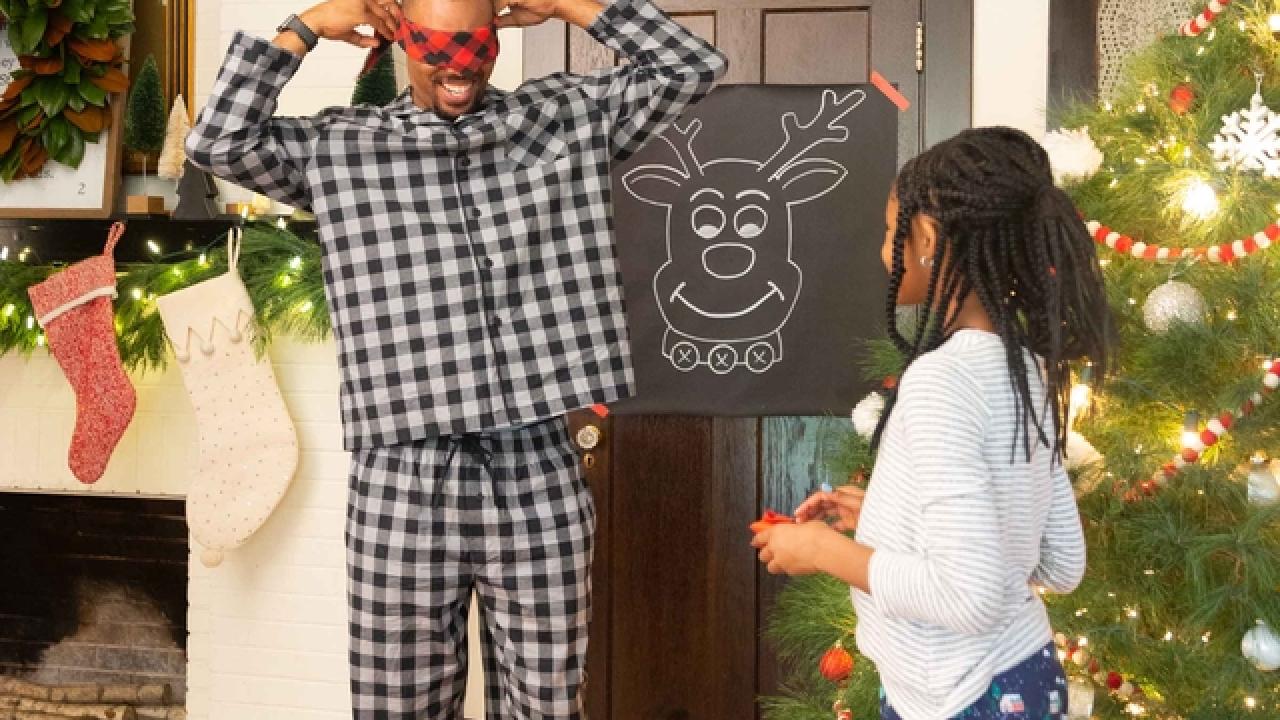 This year, gather the family around to play a few Christmas games made completely by you. Turns out, you don't need board games, video games or other game sets to have fun with the family. All you need is some leftover wrapping supplies and a little creativity to put fun on the holiday agenda.
Have a bag filled with leftover gift tags from Christmas past? Put them to good use with gift tag guess who. Simply write the name of a Christmas character on the back of the tags and place them in a bowl (Image 1). To play, have a player draw from the bowl and hold the card up to their forehead for everyone but themselves to read (Image 2). Take turns describing the character until the player guesses which character they drew.
black poster board
white paint pen
red stick-on bow
Put your art skills to the test with this Christmas twist on a classic party game. To craft your pin-the-nose-on-Rudolph game, use a white paint marker to draw a reindeer head on black poster board (Images 1 & 2). To play, tape the reindeer face to a door and take turns wearing a blindfold while trying to pin a red stick-on Christmas bow to Rudolph's nose (Image 3).
square gift boxes
construction paper
scissors
double-sided tape
scarf
wrapping paper scraps
Much like the classic carnival game, this snowman toss game is a little harder than it looks. To craft the snowman, simply stack empty square gift boxes on top of each other. Cut a snowman hat, facial features and buttons out of construction paper, then attach them to the boxes with double-sided tape (Images 1-3). You can even add a scarf if you'd like! To play, form a ball with leftover wrapping paper, stand back and take turns throwing at the snowman. First to knock over the whole snowman wins!