Ideas for Organizing Kids' Schoolwork Papers
It doesn't take long once the new school year starts for parents to feel overwhelmed by the amount of paperwork that kids bring home from school. Try these clever ideas for sorting and organizing so that sanity reigns and missing assignments are no more.
Use a system of revolving folders and clipboards to stay on top of all of your family's school paperwork throughout the year. If you keep it up, by the time summer rolls around, you'll have only the things you want to keep and save.
file box with space for hanging files
file tabs for labeling
plain manila and colored folders
photos and decorative items to personalize the boxes
(3) clipboards with labels
wall file holder with labeled tabs
We're sorry, there seems to be an issue playing this video. Please refresh the page or try again in a moment. If you continue to have issues, please contact us here.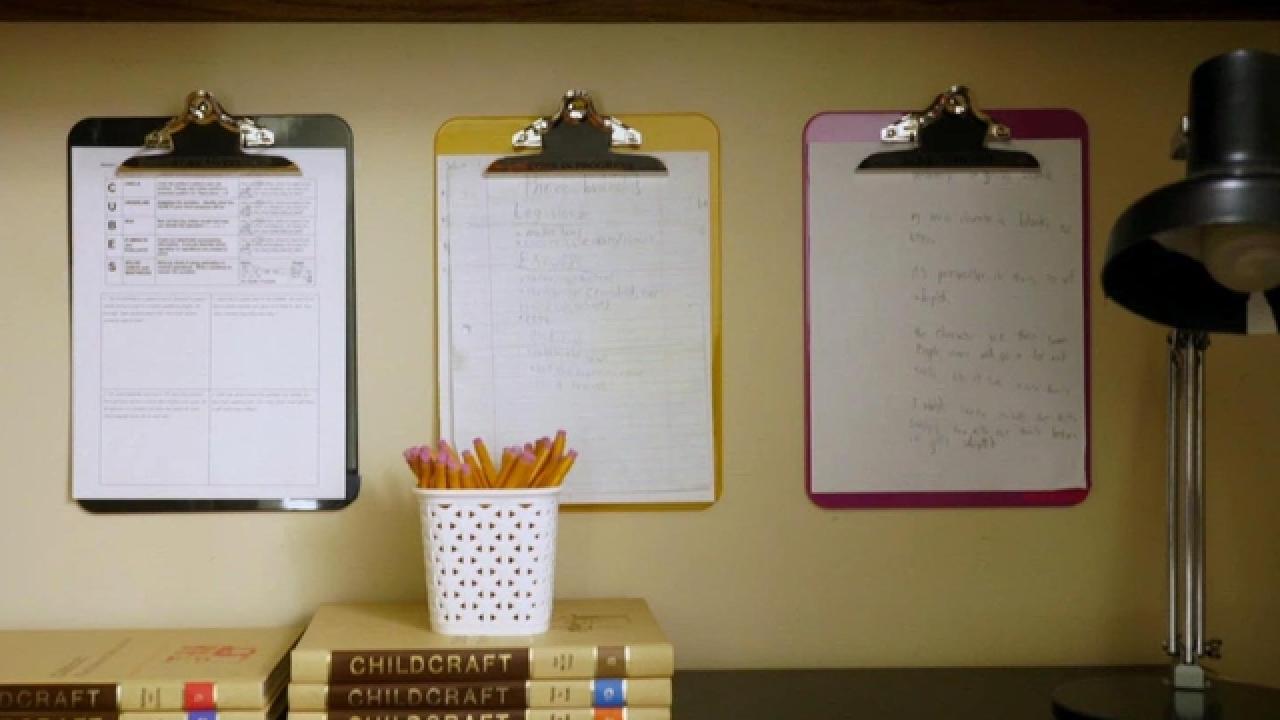 Start by creating the system you'll use on a daily basis. We like a three clipboard system that separates 'work to do', 'work in progress' and 'work complete'. Not only does this help with organizing papers, but it also helps organize your student and gives parents a good way to check up on homework before it is turned in. Hang these in a convenient location where homework is most often done so that organizing daily papers becomes an easy part of the routine.
Create an easy system to move those daily papers to a weekly (or monthly) space so they can be sorted and filed accordingly. Label file folders as 'art to save', 'work to save' and 'miscellaneous' for any catch-all items you may want to keep, such as special notes or awards.
Hang the weekly file folders in a central location where family members can easily access the system. You don't need much space; here we used the back of a door to hang the three folders vertically. To make the folder holders, we used leather straps, craft rings and adhesive hooks. To keep it easy, a different color of strap was used for each child.
At the end of every week, make it a point to have your kids edit their daily paperwork into the weekly folders. Encourage them to decide if something is worth keeping. Recycle or throw away anything that didn't make the grade.
At the end of the school year, pare down all of that paperwork to only the most special and memorable pieces that you know you'll want to keep. Start with a clear, lidded plastic file box with an interior lip for hanging file folders. Personalize the outside of the box for each child in your family. We added decorative washi tape to style it up.
Inside the file box, create a folder for each grade level. We suggest a colored folder for every academic year to make it easy to see and separate. Use the front of the grade level folders to display class photos, sports pictures and other mementos that represent that school year.
Inside every school-year folder is where the real magic happens, with corresponding folders for art and schoolwork, plus dedicated spaces for report cards and awards. All those weekly papers that you have been editing along the way can now be neatly filed into the school year box, leaving only the most prized and precious memories.