Baby Shower Gifts That Are Actually Worth the Money
The mommy bloggers have spoken, and these products are the ones you should really be gifting the mommy-to-be.
Keep in mind: Price and stock could change after publish date, and we may make money from these affiliate links.
In-person baby showers may be on hold for the time being, but your gift doesn't have to feel like a second thought when it arrives at their front door. The best baby shower gifts are functional, practical and make new parents' lives a hint easier during baby's first year. These mom-approved gift ideas hit all the marks. We even have thoughtful (and much-needed!) gifts for the expectant mother as she patiently awaits the big day.
BABY CHECKLIST
Don't let your registry get out of control with every product ever designed for infants. We've narrowed it down to the 20 absolutes you need before bringing your little one home.
SHOP NOW
Photography Gift Certificate
"There are so many local photographers now who will come to you and take adorable photographs of the newborn," Thrifty Nifty Mommy's Janessa Solem says. "This is an unexpected gift for moms (and dads!) that will be treasured for years to come!"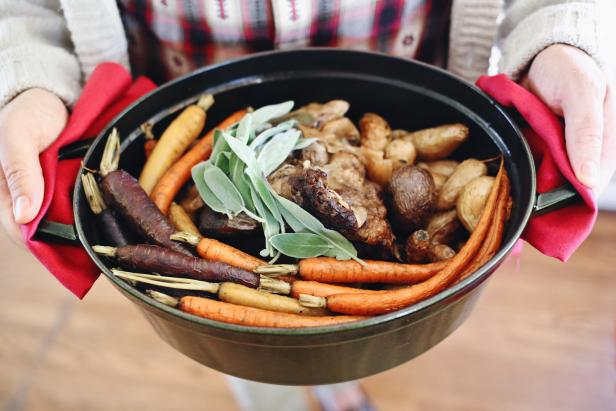 Hard Cider Roast
Hosting your first holiday supper shouldn't be stressful, and this roast will be the star of the table. Easy to prep and filled with unique aromatic flavors of cider and sage, you'll be wishing for leftovers before the dishes are even washed.
Many of our pros agree: Delicious ready-made meals are a super-appreciated gift after coming home from the hospital. "Stock their freezer ahead of time with some great meals, or bring them to the shower packed in an ice cooler," says Alida Quittschreiber of The Realistic Mama. Says Dirt and Boogers' Amanda Rueter, "I lived far away from family and friends when my second was born, so my good friend hired a local caterer to bring us a week's worth of home-cooked meals for my family and me. It was wonderful to have fantastic meals that I didn't have to cook!"
For a gift they'll hold near-and-dear, "Parents love handmade items from grandparents (and other loved ones). Quilted or knitted blankets seem to be among the most cherished gifts a new parent can receive," says LaDonna Dennis of Mom Blog Society.
For a little levity — and perspective — Lenore Skenazy, founder of the book, blog and movement Free-Range Kids suggests, "Give a parenting advice book from some long-ago era to remind that advice is always changing, so you don't have to take any of it that seriously." Example? One such book from the 1920s advised never to hug or kiss your children and to, instead, shake hands with them in the morning.