Southern Fried Stuffing Balls
Meg Caswell shares a Thanksgiving favorite created by Jyl from the blog
The Post-It Place
.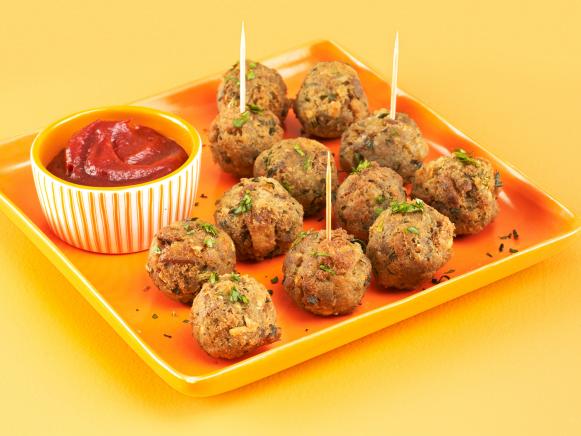 Stuffing Balls With Cranberry Dipping Sauce
"These stuffing balls are a huge hit. They're just fried sausage rolled in prepared stuffing and fried again. I serve them with cranberry dipping sauce," says Meg Caswell of Meg's Great Rooms.
Photography: Kat Teutsch; prop styling: Elizabeth MacLennan; food styling: Jamie Kimm
8 ounces of spicy sausage, crumbled
Canola oil (can use vegetable oil) for frying
1 cup all-purpose flour
1 6oz box of chicken flavored stuffing mix
1 tablespoon of parsley (optional)
1 tablespoon of thyme (optional)


Make your stuffing mix according to the directions on the package. That way it can be cooling. And, if you want a little extra seasoning add the parsley and thyme to it.
Now pour some oil to a depth of about 1/4 of an inch in a large skillet and heat while you roll your sausage into small balls. Once the oil is heated, cook your sausage balls on medium heat until golden brown.
Remove from the pan and place in your favorite bowl with a paper towel to drain.
Now that you have your sausage browned and drained, you want to cover each ball in stuffing and set aside on a plate. You will then roll each one in the all-purpose flour.
Meanwhile you want your canola oil to be heating in a large skillet to about 350 degrees. Once your oil is thoroughly heated you will carefully drop each of your sausage stuffing balls into the oil and cook for about 3 minutes or until golden brown.
Once the Sausage stuffing balls have cooled, simply pop one in your mouth for a little taste of heaven.
Notes from Meg: You can take out the sausage, or go extra meaty and add bacon, too. I serve with a cranberry dipping sauce. Just take one can of regular cranberry sauce, add a splash of orange juice and puree until creamy.

Yields 24 fried stuffing balls

See more about this recipe