Old Fashioned Cocktail Recipe
3 maraschino cherries
orange slice
1 tablespoon sugar
2 ounces bourbon
4 ounces soda water
1. Add 2 cherries and an orange slice to a glass.
2. Add the sugar and muddle the sugar and fruit together.
3. Pour in the bourbon and add ice.
4. Top it off with soda water.
5. Garnish with a cherry.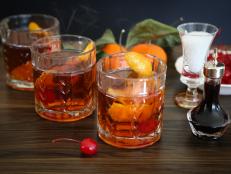 Perfect for relaxing on a cold winter night, this drink will warm up the evening with a hot version of the classic cocktail.