Homemade Marshmallow Recipe
These fluffy, sweet treats are perfect for topping homemade hot cocoa or creating a gooey center in s'mores.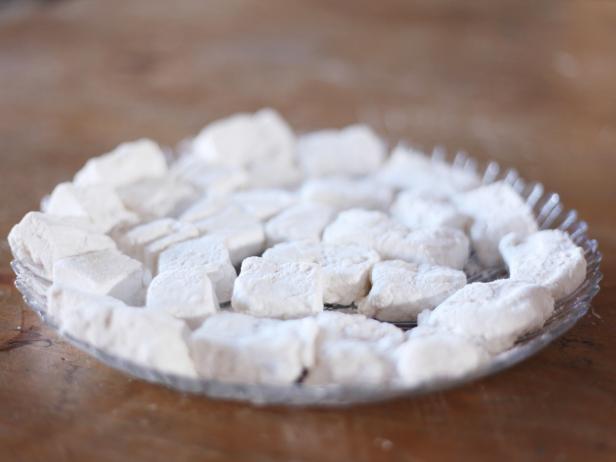 Homemade Marshmallow Recipe
Gather the following ingredients and supplies to make this homemade marshmallow recipe: 1/4 cup cornstarch,1/3 cup confectioners' sugar, envelope unflavored gelatin, 1/3 cup water, 2/3 cup granulated sugar, 1/2 cup light corn syrup, pinch of salt, 1 tsp vanilla, electric mixer and hand sifter.
1/4 cup cornstarch
1/3 cup confectioners' sugar
envelope unflavored gelatin
1/3 cup water
2/3 cup granulated sugar
1/2 cup light corn syrup
pinch of salt
1 tsp vanilla
electric mixer
hand sifter

1. Sift cornstarch and confectioners' sugar into a bowl. Lightly grease an 8" x 8" square baking pan and sprinkle one tablespoon of the cornstarch and sugar mixture into it. Tilt the pan in all directions to coat the sides as well as the bottom. Leave any excess mixture in the pan.
2. Sprinkle gelatin into the water in a small saucepan and let sit for five minutes. Add granulated sugar and stir over moderately low heat until the gelatin and sugar dissolve.
3. In the large bowl of an electric mixer, combine the gelatin mixture, corn syrup, salt and vanilla and beat for 15 minutes on high speed, until peaks form.
4. Spread the fluffy mixture in the prepared pan and smooth the top. Leave for two hours or until fully set.
5. With a wet knife, cut the marshmallow mixture into quarters and loosen around the edges. Sprinkle the remaining cornstarch and sugar on a baking sheet and invert the marshmallow blocks onto it. Cut each quarter into nine pieces and roll each one in the starch and sugar.
6. Place marshmallows on a cake rack covered with a flour sack towel or paper towels and let them stand overnight to dry the surface slightly. Tip: Store in an airtight container and these marshmallows stay fresh for at least a month.