How to Prep Your Guest Room in 30 Minutes
'Tis the season for last-minute prep.
Let me guess — you've been rushing around all week buying last-minute gifts for a seemingly never-ending list of people. You've been staying up late wrapping said gifts. You've been to the grocery store once, and then again because you forgot you signed up to bring cookies to your kid's kindergarten class. And then again because you ran out of cheese when making mac and cheese for your office potluck. And somehow, you actually have no idea how your overnight holiday guests are coming today. In fact, they'll be at your door in 30 minutes. Deep breaths, my friend. With this handy little guide, your guest room will be warm and welcoming in 30 minutes flat — and your guests will have no idea it only took you 30 minutes.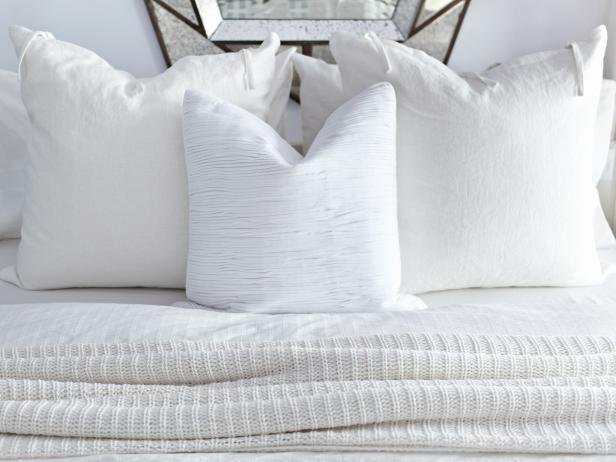 White Comes In Lots of Flavors
The bed-scape of this guest bedroom combines whites in many different ways; the bed pillows are ultra-white cotton, the Euro shams are made of a casual, washed beige-white linen, the accent pillow features rouged silk, the ultra-white duvet has a faint waffle pattern, and the woven throw blanket is made from yellow-white cotton.
First things first, make the bed look fresh and tidy. If it's already dressed in clean sheets, fluff the pillows, and smooth out any obvious wrinkles in the bedding. If it's not dressed in clean sheets, well, c'mon, you know what to do. Put the finishing touch by placing your coziest blanket on the end of the bed to ensure the room feels warm and inviting.
Set out a stack of neatly folded bath towels in the guest room. Placing the towels in the bedroom will make guests feel like you took special care to prepare for them. (A pretty, new bar of soap doesn't hurt, either.)
Wipe down surfaces in the room with an aromatic cleaner that leaves a pleasant scent. You know, the scent that says, "I deep-cleaned this room for your visit!"
This is obviously going to depend on the type of floors in your bedroom, but whatever the case, use the quickest cleaning method you know. This isn't the time for vacuuming under the bed or trying your mom's triple-mopping method. I'm talking five minutes on the floors, folks.
So many warm, welcoming vibes all from lighting a wick. Just be sure to choose a subtle scent that doesn't clash with the smell of your cleaner.
Set Out a Hydration Station
Leave a carafe of water (or a water bottle) on the nightstand or on a tray — super-easy but definitely appreciated by thirsty travelers.
We're down to the last seconds, so make your final touches count. For the techie cousin who's always glued to his phone, leave out an extra phone charger. For the grandma who misses her rose garden back home, set out a vase of fresh blooms from your garden. For the pop culture-loving BFF, leave out your latest impulsive magazine purchase. Oh, and everyone appreciates a slip of paper with the Wi-Fi password and comfy slippers. OK, now go get the door!
Are you an early riser? Head to the kitchen, and get started on breakfast before your guests wake up. They'll appreciate the delicious aromas wafting into their room.