The Key to Summer Drinks on Demand? Cocktail Ice Cubes!
Artisanal summer cocktails, without the wait. 
Three seasons out of the year I'm primarily a wine drinker, but with summer heat comes the urge to mix up a refreshing, fruity cocktail. While drinking wine is a simple three-step process (uncork, pour, sip), my favorite craft drink creations are a little more labor-intensive. That made me think: What if there was a way to keep my favorite drinks ready at a moment's notice? Enter the cocktail ice cube.
Essentially, these cubes contain everything you need to mix up some of summer's trendiest sips, without the booze. Since they all contain a decent amount of sugar, these oversized cubes take only a few minutes to melt, making them a convenient way to either prep to make lots of drinks or enjoy just one. Take a look:
We're sorry, there seems to be an issue playing this video. Please refresh the page or try again in a moment. If you continue to have issues, please contact us here.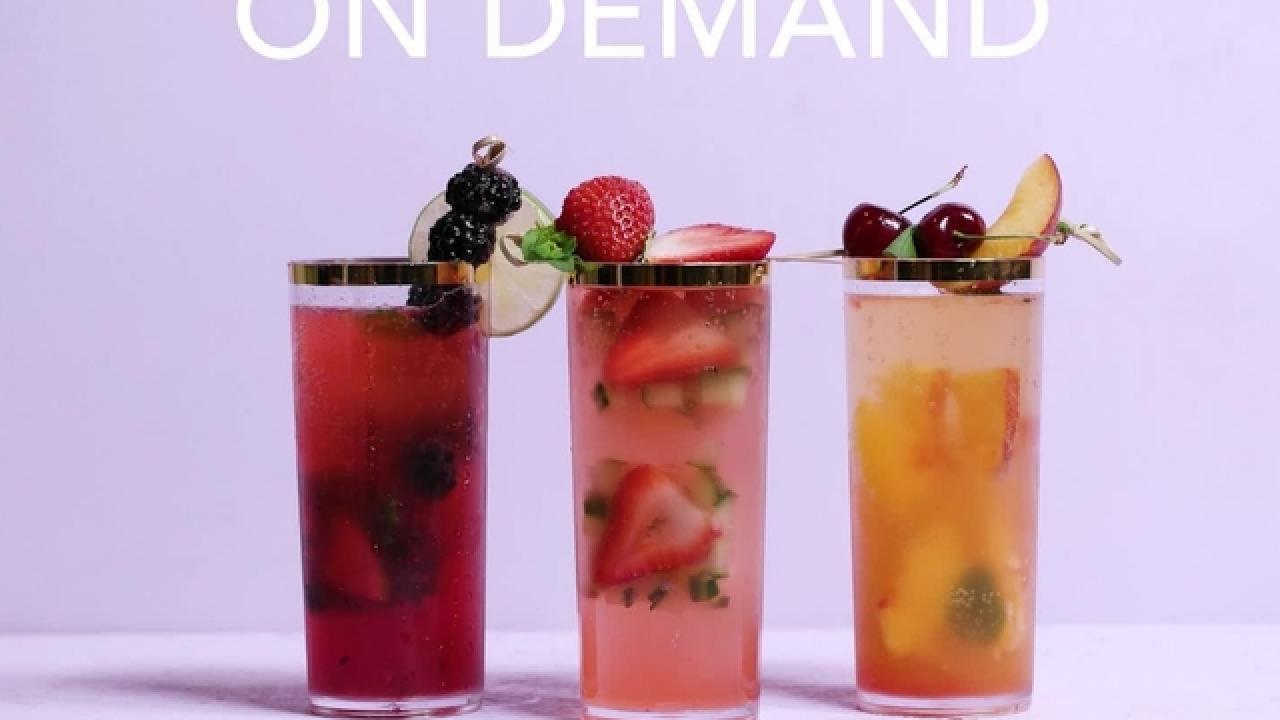 Pretty simple, right? They're also pretty delicious. Here are some tips to make your own.
I started each cocktail cube in a 2-inch ice cube tray. To make your own, start by filling the tray with water, then pouring the liquid into a glass measuring cup. This will tell you how much total liquid fills the tray, which will determine your ingredient proportions. The 8-well tray I used held 3 cups total or 3 ounces per cube. If yours vary in size, adjust the proportions below accordingly. Once you master the process, the idea can be applied to all your favorite drinks!
Summer berries give a fresh twist to a classic, minty mojito.
2 oz. Blackberries
Fresh Mint Leaves
8 oz. Simple Syrup
14 Ounces Limeade
Lime Slices
2-Inch Silicon Ice Cube Tray
White Rum
Lime Sparkling Water
For the ice cubes: Add 2 blackberries and a few mint leaves inside each ice cube tray well. Muddle. Add 1 ounce simple syrup per cube. Fill each well with limeade. Garnish with a slice of lime. Freeze 4 hours, or overnight.
For the cocktail: Start with 2 blackberry mojito cubes. Add 2 ounces white rum, top with lime soda water. Garnish with blackberries and a wheel of lime, if desired.
Juicy peaches add a summer twist to this classic cocktail.
1 Fresh Peach, Cut Into Bite-Sized Chunks
3 oz. Bing Cherries, Pitted
8 oz. Simple Syrup
2 (12-oz.) Cans Peach Nectar
Mint Leaves
Bourbon
Orange Bitters
Lemon-Lime Soda
For the ice cubes: Add 2 small peach chunks and 1 pitted bing cherry into each well of 2-inch ice cube tray. Muddle. Add 1 ounce simple syrup to each cube. Fill tray with peach nectar. Top each cube with a peach chunk and a mint leaf. Freeze for 4 hours, or overnight.
For the cocktail: Start with 2 ice cubes. Add 2 ounces bourbon and 5 drops orange bitters. Top with lemon-lime soda. Garnish with peaches and pitted cherries, if desired.
Aperol, a slightly bitter Italian liqueur made from orange peel, is having a moment as an it-cocktail ingredient. Try it in this festive punch alongside fresh summer produce, gin and sparkling rose.
2 oz. Strawberries, Sliced
1 English Cucumber, Peeled, Seeded and Finely Chopped
Basil Leaves
4 oz. Simple Syrup
16 oz. Lemonade
Aperol
Gin
Sparkling Rose
For the ice cubes: Add 1 strawberry slice and 1 basil leaf to each well of a 2-inch ice cube tray. Muddle. Top with 1 tablespoon cucumbers per cube. Add 1 ounce simple syrup per cube. Finish with lemonade and a strawberry slice. Freeze for 4 hours, or overnight.
For the cocktails: Start with 2 ice cubes. Add 1/2 ounce Aperol, and 1 ounce gin. Top with sparkling rose. Garnish with strawberries and basil, if desired.
After the cubes are fully frozen, pop out of ice cube trays and add to zip-top bags with layers of parchment paper between cubes. Keep, covered, in the freezer for up to 3 months.