Mini Apple Strudel Recipe
Nothing's better than homemade apple strudel — unless it's having one all to yourself. These individual strudels have a crunchy phyllo wrapper with a sweet interior of shredded apples, golden raisins and walnuts. Serve this classic German confection, aka apfelstrudel, as a sweet ending to your Oktoberfest celebration.
2 cups grated granny smith apples (about 4 large)
1 teaspoon lemon juice
3/4 cup sugar
1/4 cup chopped walnuts
1 teaspoon ground cinnamon
1/3 cup golden raisins
2 tablespoons all-purpose flour, plus more if needed
1 tablespoon all-purpose flour
16 sheets phyllo dough (14 inches x 9 inches)
1/2 cup unsalted butter, melted
Note: This recipe calls for grated apples. A food processor fitted with the fine grater attachment will make quick work of this task.
Place the grated apples, lemon juice, sugar, walnuts, cinnamon and raisins in a large frying pan (Image 1). Stir to combine. Cook over medium-high heat until the apples release their juices and soften. Cook 5 minutes longer, or until the liquid is mostly cooked out and the raisins are plumped. Remove from heat and sprinkle the flour over the apple mixture (Image 2). Stir to combine. The mixture should be thick and paste-like. If liquid still remains, add additional flour 1 tablespoon at a time until the liquid is absorbed.
Place one sheet of phyllo dough on a work surface. Tip: Keep remaining dough covered with plastic wrap and a damp towel to prevent it from drying out. Brush with melted butter (Image 1). Top with a second sheet of phyllo and brush with butter (Image 2). Fold the sheets in half widthwise. Brush with butter. Place 3 tablespoons of filling onto phyllo dough about 1/2 inch from a short side (Image 3). Fold in the sides over the filling (Image 4) and roll the filling into the phyllo (Image 5). Place the strudels seam-side-down on a parchment-lined baking sheet.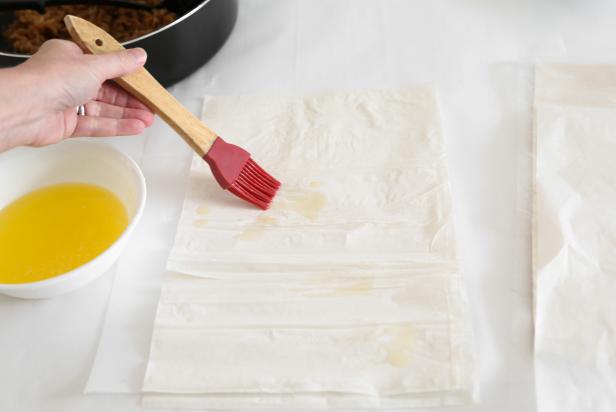 Heather Baird SprinkleBakes.com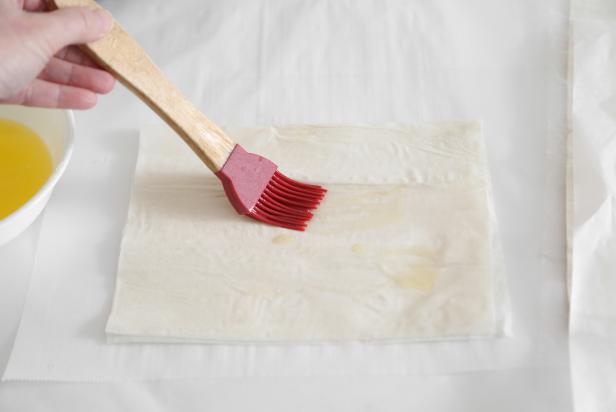 Heather Baird SprinkleBakes.com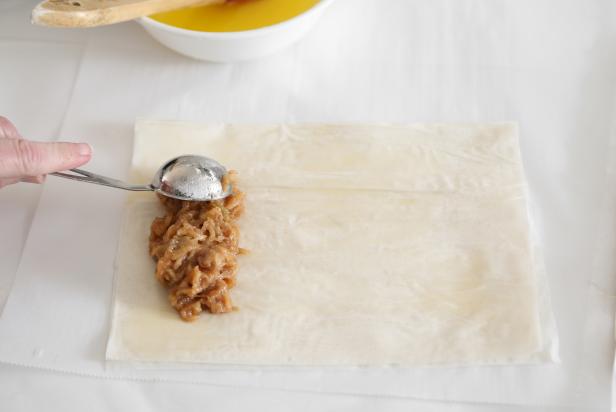 Heather Baird SprinkleBakes.com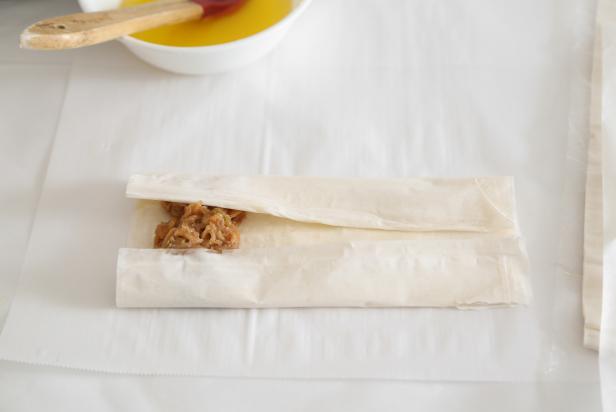 Heather Baird SprinkleBakes.com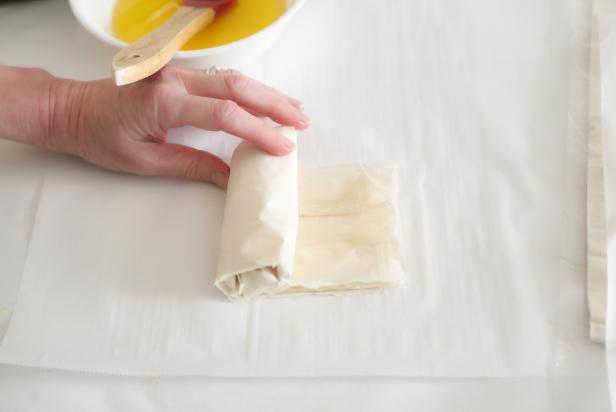 Heather Baird SprinkleBakes.com
Cut 3 diagonal slits in tops of the strudels using a sharp chef's knife. Brush the strudels with melted butter (Image 1). Bake for 20 minutes or until the phyllo is golden and the strudels are fragrant (Image 2).
Serve warm fresh from the oven (Image 1) or as part of an Oktoberfest spread (Image 2). If serving buffet-style, remember to include tongs so guest can help themselves (Image 3).