Get Your Teen on a Cleaning Routine So Their Room Stays Neat + Tidy
Find tips, tricks and incentives to help your teenagers simplify their bedroom upkeep.
Could there really be a magic recipe that universally encourages teens to clean their room without reminders? Not exactly, but a thoughtful combination of approaches can make it easier your older kids to get in on chores. Consider what they're really capable of and teach them how to have respect for their spaces. After all, teens are just on the brink of leveling up into full adulthood, and it's important for them to learn how things get done.
Let's get right to the biggest incentive for kids who might need a little extra encouragement: Cash money. A set allowance or a plan to earn money will help them keep their eyes on the prize (and simultaneously help them learn the value of money). Adhering to the guidelines you set is critical to the success of the program, so if you decide that your teen needs to do X, Y, and Z in order to earn his allowance or any incentive, stick to it. Positive reinforcement leads to positive results.
- Gift a special dessert, such as their own pint of ice cream, as a reward for a job well done.
- Let them choose the film during family movie night.
- Use cleaning as an incentive to let them have friends over for a sleepover.
- Reward them when they're least expecting it – such as when they change the sheets on their bed without being prompted or clean up after having friends over before you have to ask.
Give Them a Room They're Proud to Maintain
When kids like their bedroom surroundings, they're more likely to take good care of their space. Help them learn to value the belongings they have by allowing them to have a say in paint color, furnishings, bedding and accessories. Give them shelves on which they can display their special collections and gadgets, a desk for homework, and maybe even the egg chair of their wildest dreams.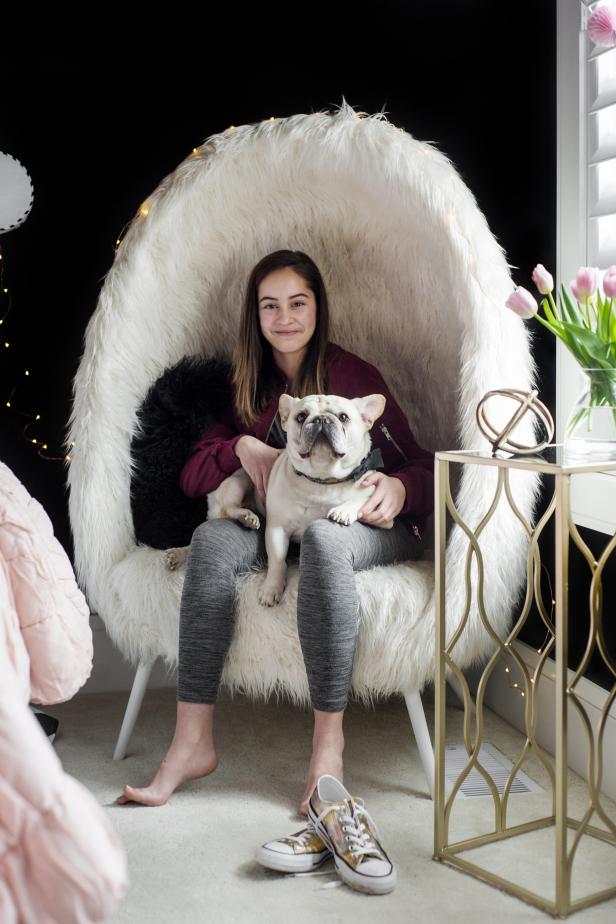 Fur Bubble Chair
A white bubble chair covered in fur is so simple and yet so sophisticated; they also work well in a retro-themed space. These chairs are composed of acrylic and fake fur, making them a great choice for a teens bedroom.
Kids of all ages respond well to routine, and teens are no exception. Assign chores and specific tasks for each child, but make sure it's a short, easy-to-follow to-do list. Avoid making the to-do list on any given day so dauntingly long that it's hard to visualize being done, at the risk of it not getting done well (after all, teens are just young adults, and adults don't like having to do chores all day either).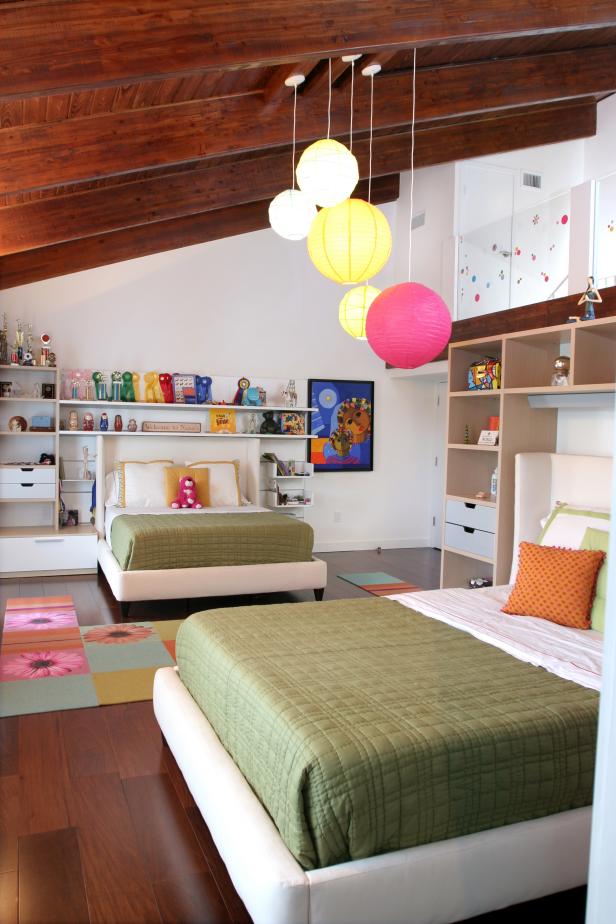 Bright, Youthful Girls' Bedroom
The homeowners wanted their daughters' room to be bright and funky, just like them, so designers created a space that is youthful and fun, but that still blends with the design of the home as a whole. Though the room is a shared space, designers made certain that each girl has her own place to display her favorite things. Shelving around each of the girls' beds makes that possible, while brightly colored paper lanterns and a flower rug add color to the space.
Use Wi-Fi to Your Advantage
When devices distract from daily chores, reset the wi-fi password. Once the kids are done with chores, give them the password of the day.
Delegate laundry to your teenagers – or at least begin having them do their own wash. Always keep a laundry basket or hamper in the closet, so they know when it's time to do another load.
While younger kids may be assigned simple laundry tasks such as "sort all of your clothes into one pile" or "make a pile of socks and match them up," the responsibilities can increase in complexity as kids get older. Building kids of all ages an easy-to-access closet is also important for teaching them how to sort and maintain their stuff. If you set expectations that they will help to put away clothes, the clothing rods need to be easy to reach, and even for teens may need to be lowered or modified.
Once they've mastered putting their own clothes away, give them organizational tasks, such as folding all of the towels and changing the sheets.
Our kids really began taking ownership of their belongings when we sorted their clothing, shoes, art supplies, and books by color – and I'm not just talking about the little kids. The teens responded well to it too, and I really think there's something to be said about matching items and being rewarded with a glorious rainbow. With respect to their laundry, a color-coded closet has helped alleviate the morning "I don't have anything to wear" routine too!
Play the '20 Things' Game
Our best way of ensuring a speedy cleanup is to set a five-minute timer and see if the kids can each pick up 20 (or 10, or 50!) items and return them to their correct location. They may be too old for this, but it's worth a try. Do it post-sleepover when there are games, food wrappers and various items strewed all over the floor.
Truthfully, this is an easy "game" to play every single day to keep things looking nice. Make it part of your routine – such as a five-minute exercise scheduled every night before dinner.
Let Them Vacuum, Dust and Wash Windows
Teens are old enough to push a vacuum around their own bedroom and other rooms in the house. Do their pets sleep in their room? We love this all-natural family-friendly carpet cleaner. Have them sprinkle it on the rug, let it sit, and then let vacuum up all evidence.
Same goes for dusting – give them a clean cloth and make them clean all reachable surfaces. Lower spaces can be reserved for younger kids, but teens who can see above tall dressers or shelves can tackle much more. Remind them to lift and move items to clean underneath them.
You can even get kids to wash windows and mirrors. Opt for a family-friendly glass cleaner (vinegar-based, not ammonia-based) and pass the chore along to your teens with reach.
Other Simple Tricks That Make it Easier to Maintain a Clean Bedroom:
All walls are prone to fingerprints and smudges, so next time you repaint your teen's bedroom, use a scrubbable paint to combat fingerprints, and dreaded pencil or marker "mistakes." It washes more easily than other paints.
Vinyl adhesive wallpapers can also be very easy to clean with a damp cloth.
Every month or so, encourage them to donate one toy they no longer play with or a clothing item outgrown. You can also encourage them to sell secondhand and appreciate the profits.
Instead of saving every piece of artwork or craft, teach your teens how to archive their masterpieces. Teach them about art journaling, or let them photograph and scan keepsakes into digital albums or special books.