How to Make a Shadow Box Gallery Wall
Looking to create a unique three-dimensional wall display? Learn how to make these easy and inexpensive shadow boxes for a one-of-a-kind gallery wall.
1/4" plywood or 1/8" luan
1x3 lumber
primer
paint and paintbrushes
sandpaper
level
wood glue
nail gun or a hammer and finish nails
heavy-duty hanging strips
circular saw
tape measure
Determine the measurements and shapes of your shadow boxes and then create your cut list. We opted to create 10 shadow boxes at the following sizes:
(2) @ 8" x 18"
(2) @ 8" x 8"
(4) @ 6" x 6"
(2) @ 6" x 14"
Here is our cut list for the above amount and sizes:


(4) 1x3 x 18"
(4)

1x3 x 8"

(8) 1x3 x 6"
(4) 1x3 x 14"
(8) 1x3 x 6-1/2"
(12) 1x3 x 4-1/2"
(2) 8" x 18" plywood or luan
(2) 8" x 8" plywood or luan
Use a circular saw to cut the pieces based on your measurements. Make sure the plywood is cut so it covers the entire back of the frame.
Be sure to keep your pieces organized. By grouping the pieces for each shadow box, there can be no confusion as to which piece goes where.
Use sandpaper or a sanding block to smooth out the edges of each piece of wood; this will prevent sharp corners and splinters.
Apply a layer of primer. This will make your paint color more solid and add a layer of protection.
When the primer has dried, move onto the real paint. We chose white for the frame of the shadow boxes and various shades of vibrant colors for the back panels. Let the paint dry before moving onto the next step.
Glue together the four pieces of the frame. The two longer pieces should be glued to either end of the smaller ones, making a rectangle/square.
Use either a nail gun or finishing nails and a hammer to fasten the frame pieces together.
Apply glue to the backside of the frame, use your finger or brush to smooth the glue evenly on the surface. Place the back panel face down (the painted side) on the frame.
Nail the back panel to the frame, make sure that the non-painted side is facing away from the frame.
Adhere the wall fasteners onto the backside of the frame, towards the top. By using stick-on fasteners the shadow boxes will be super easy to hang, and won't leave any holes in your walls. Make sure the fasteners can hold the weight of the shadow box and what you plan to put in it.
Use a level while hanging your frames to make sure they're even. It's the extra attention to detail that makes them look professional.
These shadowboxes have so much potential and endless possibilities. Fill them with whatever you like, small trinkets, family photos and plants will all look wonderful.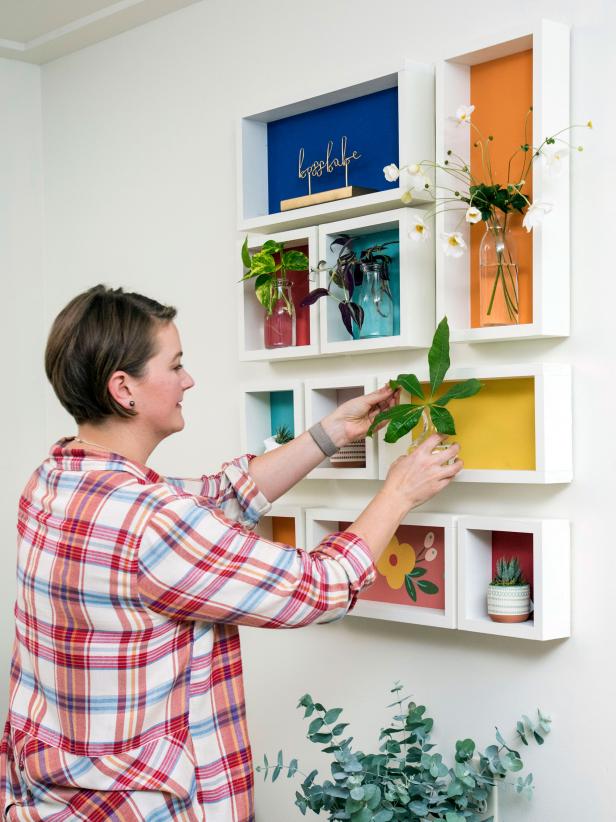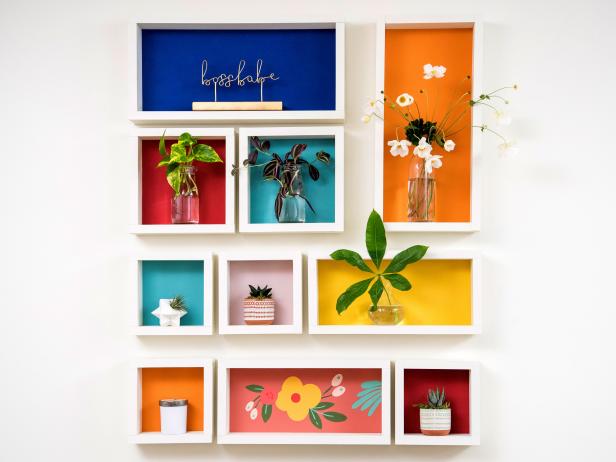 Filling Shadow Boxes With Decorations
Once your shadow boxes are stuck to the wall you can decorate them with anything you like.. These are a great way to add some color and really make for a wonderful accent piece.
DIY Shadow Box Accent Wall
These shadow box frames look amazing. A simple way to liven up this otherwise plain white wall.