Easy Ways to Improve Your Nursery Closet's Organization
When expecting a baby, the last thing you need to stress about is closet space. Let us make it easy with helpful tips for making the most of your precious little's nursery storage.
We're sorry, there seems to be an issue playing this video. Please refresh the page or try again in a moment. If you continue to have issues, please contact us here.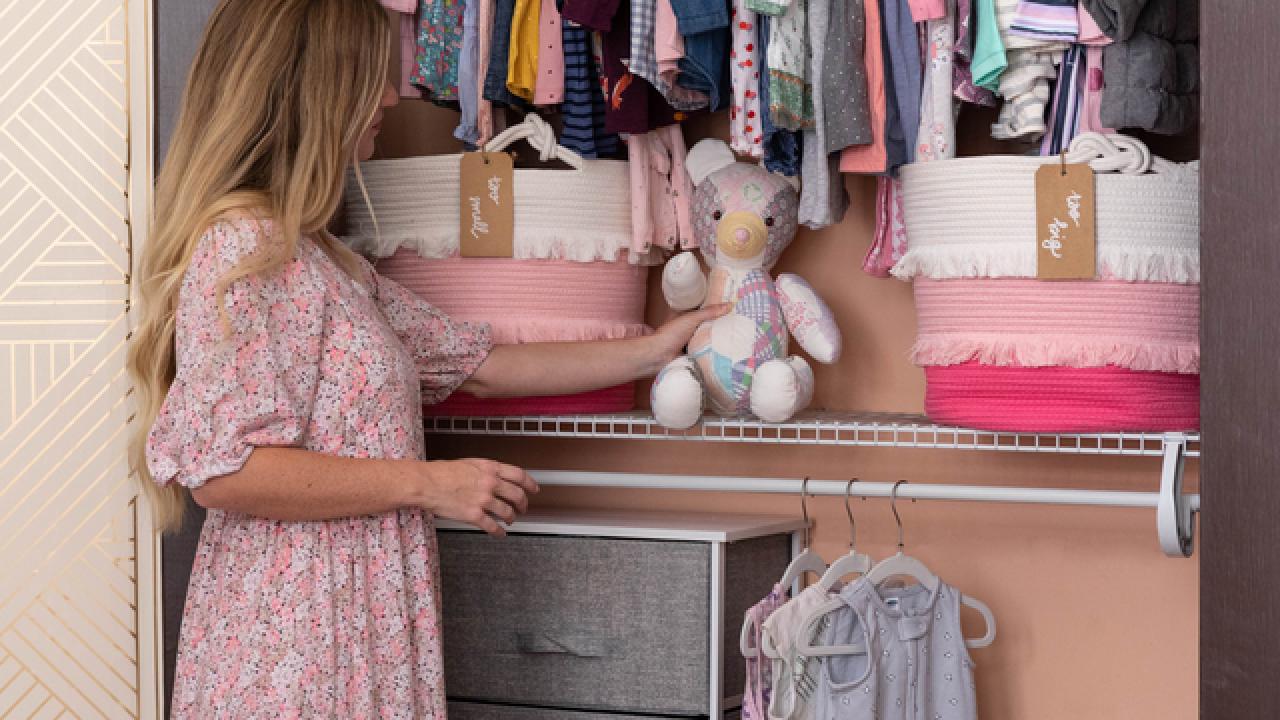 Let's face it. Organizing a nursery closet can be a little challenging. Baby clothes, accessories and other products don't always play nicely together, and it can be difficult to arrange them in a way that is both functional and aesthetically pleasing. That's why we've put together our favorite tips and tricks for making the most out of your nursery closet and setting you and your baby up for year-round success.
To maximize the functionality of the closet, install pop-in slider brackets and rods. While the standard closet shelves technically have space to place hangers, the design doesn't allow for easy sliding, sorting and organization. With rods, you can easily make space for new additions, sort through outfits and organize with dividers. If available, install two tiers of rods on each shelf to double down on storage. The top rod is perfect for everyday essentials while the bottom shelf can be reserved for longer items such as sleep sacks.
Since most parents buy and receive baby clothes in varying sizes for a fast-growing baby, labeled clothing dividers are the perfect way to keep things in order. Simply write the clothing sizes on each divider and pop them into place. We chose to organize by month sizes, but as baby grows, you could also use dividers to sort clothes seasonally or by type of outfit.
Your little one looks so cute in those adorable matching sets, but they can be a pain to store and pieces tend to get lost. Circumvent the hectic search for matching tops and bottoms by pinning the matching pieces together on hangers. Your future self will thank you.
If you don't already have drawer storage in your nursery closet, it's worth the investment. We recommend organizing smaller items in drawers by type. For example, diapers go on the top for easy access. Next is a drawer designated for onesies and socks.
Pro Tip: Take the time to match up socks before storing. This will save you tons of time searching when it's time to get baby dressed.
You can save a lot of space just by putting a little thought into your folding methods. For awkward items like onesies, start by folding in half with the sleeves touching (Images 1 + 2). Next, tuck the sleeves and fold the bottom up to the top (Image 3). Fold again once more in the same direction, then store vertically with the folded edge sticking up (Images 4 + 5). This makes it easy to save space while also allowing a visual reference for easy identification.
To smartly store swaddles, opt for a roll rather than a fold approach (Image 1). Okay, you technically will have to fold in half a couple of times before you can roll, but once you roll your swaddles up like burritos, drawer storage will become a piece of cake (Image 2).
Store Unusable Sizes in Baskets
With babies, clothing can fit one week and be too small the next. Because of this, parents often end up buying clothes a little too big in anticipation of this unpredictable growth. To make storing these varying sizes of clothing a little easier, keep a couple of baskets in the closet labeled "too big" and "too small." This will make things much easier when searching for new clothes that will fit and deciding what to do with clothes that no longer work.
To store small items that you use often but never know where to put, look no further than your door. Over-the-door storage is perfect for storing things like bath supplies, medicine, baby wipes and diapers. It can keep less-than-safe items out of the reach of children as well as make items you use often more accessible. Organize in whatever way works for you, keeping the most-used items close by for easy grab and go.