Get all the info you'll need on open kitchen cabinets, and explore this airy and efficient option for your kitchen design.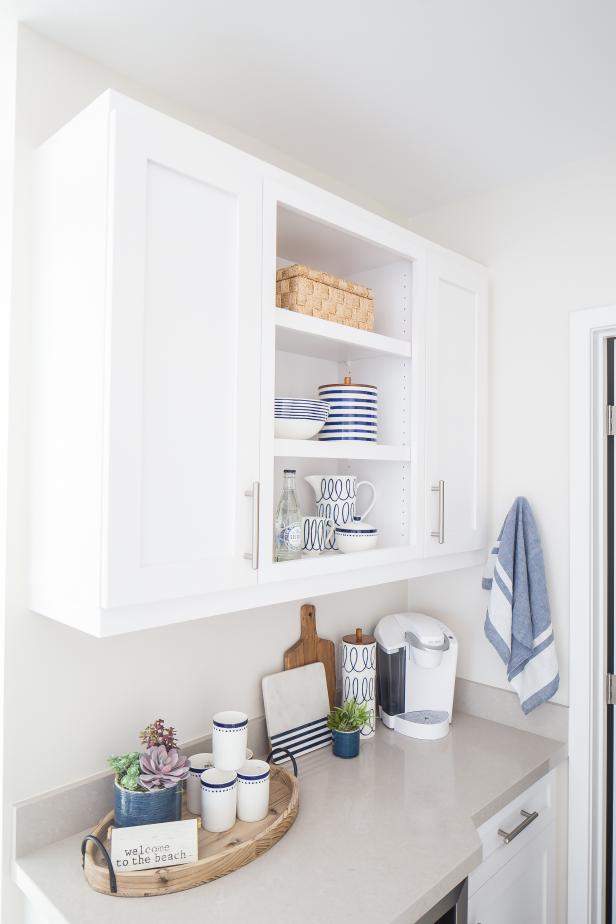 Contemporary White Kitchen Cabinet Detail With Open Shelving
This contemporary white kitchen cabinet detail features open shelving and cabinets, neutral countertops, modern brushed chrome hardware, and blue accents.
Open kitchen cabinets are a definite trend in kitchen design, and with good reason—their combination of efficiency, attractiveness and economy makes them a great choice for any kitchen.
If you're considering adding open kitchen cabinets to your kitchen design, you'll first need to choose a material. Open kitchen cabinets aren't restricted to any particular kitchen design, but they are generally found more often in kitchens that incorporate some semblance of casual style. They put forth a less restrictive design approach, and they also allow for the display of dishware and decorative items.
If storage space is at a minimum, open kitchen cabinets can be a great option. Doors will never get in the way, and you'll always have full access to all the contents of your cabinets. Additionally, guests won't ever need the "what goes where" tour, as a quick glance will give them all the info they'll need.
More Kitchen Cabinet Options
More Kitchen Cabinet Ideas