Maximum Value Home Exterior Projects: Siding
What do you see when you picture your dream home's exterior? These days, almost anything is possible thanks to the many different home siding options available.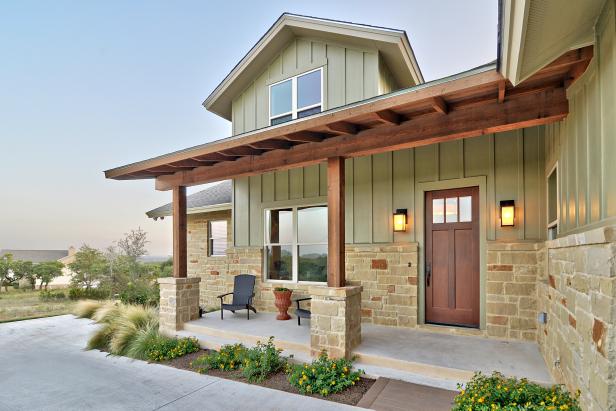 Sage Green Craftsman Farmhouse
Sage green board and batten siding mixes with neutral stone accents to create this beautiful farmhouse. A warm wood front door and coordinating awning complete the Craftsman-inspired exterior.
The siding material you choose defines the look and style of your home and serves the important purpose of shielding it from Mother Nature. Thanks to technological advances in siding materials, longevity and durability have become key elements in their design and can vary over a wide range of budgets. They can also boost the value of your home.

New grains, textures and colors. In years past, homeowners were weary of implementing synthetic materials into their siding choice, afraid that the materials would look cheap and more like plastic then value-adding wood. But thanks to technological advances, new grains, textures and colors are taking over the siding market.

Gone are the days of "plastic" siding. Today, rich colors and textures, with deeper and more detailed grains, are very close to the real thing, making even the pros do a double-take.
When installing siding on your own, take caution. "One of the biggest mistakes homeowners make when doing the project themselves is not understanding how to properly install the siding," says appraisal expert Leslie Sellers, president of the Appraisal Institute. When it comes to synthetic materials like vinyl siding, it is important to remember that the material will expand and contract. Therefore, do not nail it too tight, because as the weather changes, the siding can completely pop off the home's exterior. This would make it nearly impossible to replace because it is warped, in turn creating an entire siding renovation. The expenses of such a small miscalculation could be detrimental to a homeowner's budget, says Sellers.
On a Budget: Cost effective and easy to maintain, vinyl siding is one of the most popular choices for the home's exterior. It is rot proof, termite proof and much less expensive than the product it masterfully imitates-- wood siding. Vinyl siding comes in a variety of colors and is relatively easy to install, compared to wood siding. If you're an experienced DIYer, remember to do your research and make sure installation is done properly to avoid warping and having to replace the entire project.
Mid-Range: Fiber cement siding, a mixture of sand, cement and cellulose, is tougher and stronger than vinyl siding and imitates wood-grain remarkably well. It can be imprinted with designs and painted in a variety of colors and comes in various sized shingles, allowing you to create a unique look for your home. This siding choice is more expensive then vinyl siding, but can be cost effective when compared to a full-scale refurbishment of wood clapboard. It is important to note that fiber cement siding is typically not a DIY job, so it's best to leave the installation to professionals.
High-End: Higher budgets can allow for more permanent materials, such as brick and stone. By implementing masonry into your siding project, it gives the home's exterior a solid appearance and high durability. The most common materials are brick and stone veneers, traditional cement-based stucco and newer polymer finishes that mimic the look of stucco. Masonry is durable, requires little maintenance and gives your home a distinct appearance, adding value and curb appeal.
Learn how the roof of your home can attract or detract from its selling potential and how improving it can add value to your home.